2023 Engagement Ring Predictions (According To Experts)
Article by MiaDonna
1. Larger Diamond Engagement Rings

One of the hottest engagement ring trends we're predicting in 2023 is the BIG center stone for solitaire rings. In a solitaire ring, this is a super-sized version of the classic. This look pretty much says "all eyes on me!" And who doesn't want that?
So how big are we talking here? Under 2-carat diamonds used to be the norm, we predict a lot of brides will opt to go bigger, at 3 and even 4-carat engagement rings. That sounds expensive, but it might be less than you think. Because of the latest in technology—from only the top Lab Grown Diamond companies in the world, of course—you will pay up to 40% less for a conflict-free Lab Diamond than an earth-mined diamond of the same size.
Translation: You get way more diamond for your dollar! So dream big, because now it's possible.
A big center stone ring says a lot of things. It is simple, elegant, and classy. With the right setting and a round brilliant cut Lab Grown Diamond, you maximize the brilliance, scintillation, and fire. These are the three things that make a diamond sparkle so brightly. (Cue Rihanna's song.) People will notice it on you from across the way and as they come closer, it only gets more vibrant and beautiful: just like you, right?
2. Delicate Engagement Ring Setting

This trend dovetails the big diamond movement.

What do you get when you pair a big diamond with a slender, classic setting? You get a diamond that looks even bigger. No need for complicated designs or side stones, let your diamond do all of the talking. Delicate bands and settings are chic and feminine, contrasting gorgeously with that big, stunning stone.
Expert Tip: Pair this with a bold stack of abstract diamond bands and you will have the ultimate engagement ring look! #engagementringgoals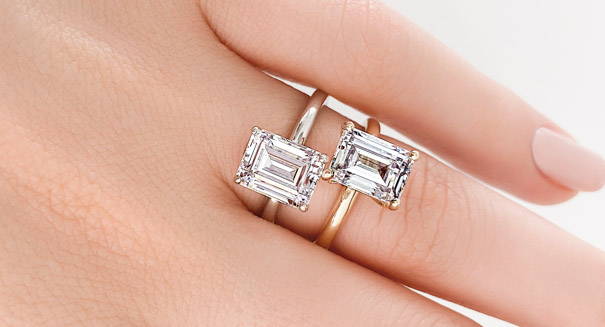 As many know, the round brilliant is the most popular diamond shape. They are absolute classics for a reason! However, different-shaped diamonds have had a big resurgence lately which is refreshing to see as more people begin to feel free to express their style in non-traditional ways.
The reigning queen of non-round diamonds is the Oval Shape diamond. It has been hot for the past few years, but is only getting hotter. Besides its unique shape and symmetry, there might be another reason.
When you compare an oval shape diamond to a round round diamond of the same carat, it looks a lot bigger! The reason why is that the round shape diamond is a lot deeper. Most oval-shaped diamonds have more surface area creating an illusion or a larger carat weight that most people are very happy with.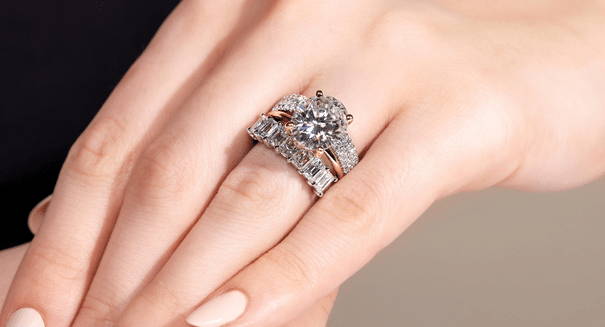 We are also loving the Emerald Shape diamond. It's vintage step cut is very sophisticated and will compliment a classic solitaire to show off the diamond or a vintage style setting to show off a nostalgic royalty vibe. Emerald shapes have a way of confidently expressing a sense of understated refinement. So consequently, the shape speaks to a lot of women. To create an even more unique look, many are getting their emeralds set sideways, known as an East-West setting.
Expert Tip: The Emerald Shape's famous Step Cut will show more flaws than a faceted cut like the Brilliant Round Shape. This is because there is more light return in a faceted cut that masks imperfections to the naked eye. This means, in a Step Cut, you will have to go up in clarity and color and, traditionally, this will cost you more. Yikes!

But at MiaDonna, all our diamonds are classified as Type IIA diamonds (the rarest type of diamonds on the planet), these diamonds have such a pure form of carbon they are harder and brighter than regular diamonds (either lab-grown or earth mined) making MiaDonna's Emerald Shape lab diamonds the best on the market and are up to 40% less the price? Win/Win/Win/Win
4. Toi et Moi (aka, Two-Stone Rings)

What's better than one stone? Two stones! The "you and me ring" (toi et moi, en français) caught on last year and continues to flourish in 2023. As an engagement ring, this can be quite meaningful. A daughter might inherit or be given her mother's wedding ring diamond. That diamond could be added next to a new diamond the daughter chooses. It's a nice juxtaposition symbolically, if not visually too. The sentiment is great: old and new, past and future, classic and modern.
Many also take the toi et moi translation literally, with one stone representing each person in the couple. Maybe you're a pear-shaped diamond and your partner is an emerald-shaped diamond? You can even bring in Lab-Grown Gemstones! There are truly so many ways to customize this one to create a look that is uniquely you.
Of course, you could choose to wear it as a high-fashion right-hand ring. But if price is an issue, you can replace one or both stones with a Lab Grown Gemstone. And these can be arranged however you like to meet your aesthetic.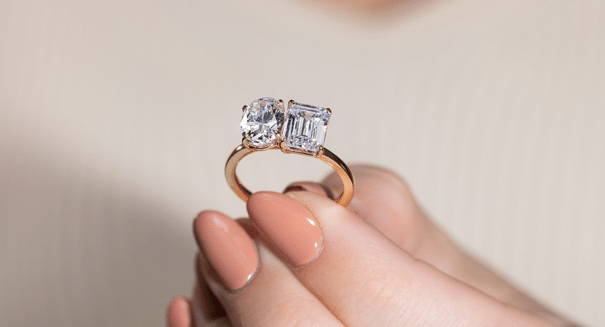 5. Custom Engagement Rings

Speaking of creating a one-of-a-kind ring, custom engagement rings will continue to be in great demand. With it, you get a completely original ring because it was designed by you, your partner or both. You can start with an image, a sketch or just a vision. You can go fully abstract with mixed shapes, stones, metals, and angles. Or, you can meet with a jeweler to create something from stones or settings you already possess.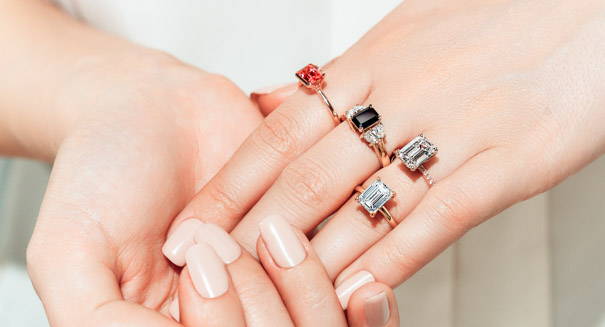 6. Double Engagement Rings

This trend may be on the brink of getting a lot of traction. We've spied celebrity Hilarie Burton doing this: The double engagement ring.
So it's not a two-stone ring. It's two independent solitaire rings worn together. This looks great as an unintentional offset ring stack, and it's hard to miss for sure!
We hope this really catches on because it's a bit of a conversation starter. Why two rings? Is the second ring really a homage to a close relative? Is the second ring an anniversary ring? Marry yourself and your partner! Why not?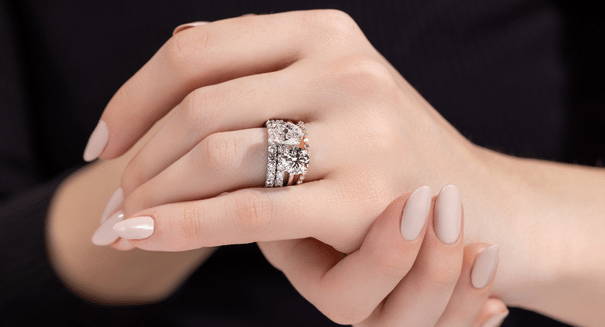 A matching band that hugs the contour of your engagement ring might be just the perfect pair. Contour rings are designed to enhance the overall look of an engagement ring, it is not an afterthought, completes the look. While many are sold in sets, you can custom make a contour band after that is made for your engagement ring.

Expert Tip: Just make sure that the contour ring nicely wraps around and under your engagement ring so it's flush. Otherwise, it might look odd if there are big gaps or ring height conflicts.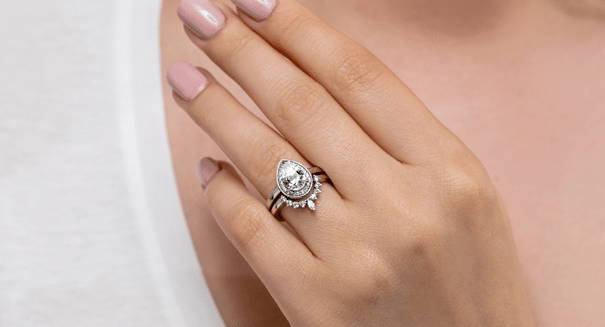 8. Colorful Engagement Rings

As mentioned above, colored gemstones are in with Toi et Moi, solitaire, and custom rings. You can mix or match. It seems like this trend is either coming back or never went away. Princess Diana's famous sapphire ring is now Princess Kate Middleton's engagement ring. And recently, Jennifer Lopez's second engagement ring from Ben Affleck is a 6.10-carat green diamond
The lighter hues of Champagne Sapphires are absolutely going to be huge in 2023. Their color is a soft contrast to the more predictable jewel tones of other gemstones.
Expert Tip: How brides are modernizing this look in 2023 is that we're seeing it done with Lab Grown Gemstones. Again, for the conscious consumer who steers clear of any form of conflict gemstones or diamonds, this is a great choice. We only see this trend becoming more popular over the years as Lab Grown gemstones phase out earth-mined stones.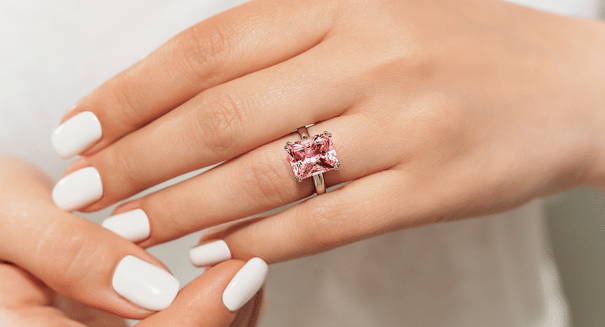 Lab Grown Diamond Engagement Rings will continue to be the hottest trend 2023, as consumers continue our crusade for pushing for ethical and sustainable products in fine jewelry.
Not to mention, you can also get a bigger, better diamond for a lot lot less! The past few years have been lean years for many. Saving money and judiciously spending has been a necessity. But life goes on. We meet someone special, fall in love, and eventually get married. Ethically-sourced Lab Grown Diamonds empower brides to get that luxury look in their dream engagement ring for a fraction of the cost.  
Expert Tip: When the LVMH group purchased a foreign Lab Grown Diamond manufacture in 2022, it continued to validate our stance since we started: Lab Grown Diamonds are superior luxury items. However, we have to point out that not all lab-grown diamonds and the companies that sell them are conflict free and ethical. Only purchase from truly positive impact companies that are B Corp Certified to prove their environmental and social claims.


Discover the finest Lab Grown Diamonds and build your conflict-free engagement ring today!
---