How Weddings are Changing in 2021
Article by
It's no surprise that the wedding industry has confronted many obstacles in 2020 amidst the coronavirus pandemic, but what exactly has changed? Will traditional big weddings make a comeback in the next few years? How has the planning process changed now? With restrictions on guest limits, taking fire seasons into account, and local vendors working harder to stay open, there's a lot to think about when planning a wedding, but some wonderful things have grown from this change in the wedding world.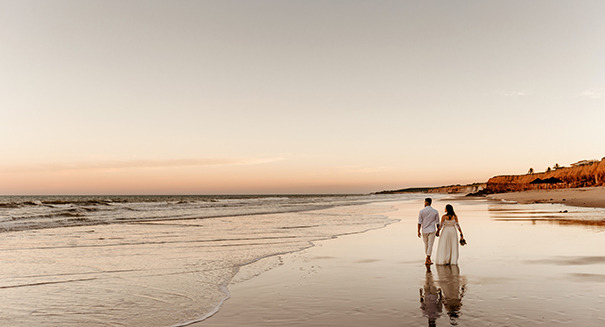 Say it with me: elopements! While they've been on the rise in recent years, elopements are all the rage now. Whether eloping with only two witnesses, someone to ordain, and a photographer, or with both sets of parents or small family present, elopements have had a huge rise in popularity in 2020, and for many good reasons! Aside from it being the safest option to have a beautiful ceremony space and amazing photos, elopements have brought the couples themselves to the forefront. Elopements focus on the couple and their vows to one another, instead of on planning a large party for guests. Instead of worrying about a plated dinner, you can share a pizza on a mountaintop. Instead of dancing in front of everyone (despite working on those moves for MONTHS), you can sway together among the trees to a romantic song that you both love.
What we're seeing now is a newfound sense of freedom for couples! Many are opting to have a celebratory gathering once it's safer to do so, or using the money from their intended reception towards a new home or a honeymoon in the future. With elopements trending, couples are getting creative on location, attire, vows, and ways to include family. Having a Zoom session for their ceremony for their closest friends and family is a popular option, as well as a micro wedding! For those choosing a micro wedding, we've seen all kinds of health and safety inclusions, from custom designed masks and bracelets to mini sanitizer bottles and sanitizer stations present in outdoor receptions.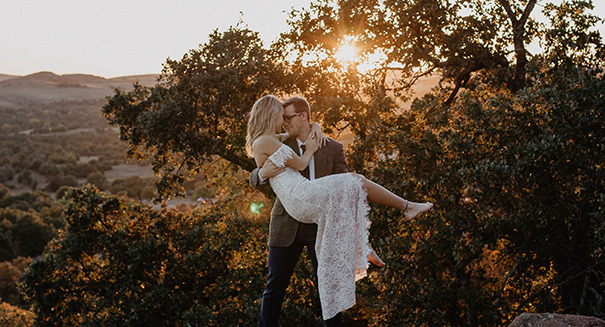 We reached out to a few local vendors here in Portland, OR to get their perspective on the changing wedding industry, and how 2020 has affected future wedding planning. Chas Thompson from Wildflower Portland has noticed that dates are sentimental. For couples that postponed their 2020 wedding to 2021, many are keeping their same date instead of opting for a Friday/Saturday wedding. Social justice has also had a part in wedding planning, with many of Chas's couples opting to support local businesses that are owned by people of color.
While the choice to elope isn't a new one, it is one that is growing in popularity, with many couples opting for a private elopement and a larger reception in the future. Casi Yost, from Casi Yost Photography, has had many couples still follow through with their original wedding, but drastically reducing the guest count to below 50 or eloping and delaying the larger reception for a later date. One of her couples even chose to traverse the great outdoors the day before their wedding to take epic wedding photos, and then had an intimate ceremony in-home with their parents the following day. Emma, from Emma K Films, has noticed an increase in videography demand, due to the circumstances of 2020. Choosing an adventurous elopement and booking a videographer has allowed couples to share their wedding day in a beautiful way with family members and friends that weren't able to attend. Emma has also noticed that videography has become more of a necessity than a wishful add-on for many weddings, and that is likely to continue to increase in 2021.
For those of you reading along, I'd like to give a little introduction! I'm Stephanie, the Marketing Assistant here at MiaDonna. I also got engaged during the height of the first wave of the coronavirus pandemic, and have had to make numerous, innovative plans for our future nuptials. I can definitely say that one of the struggles of wedding planning for 2020/21 is needing multiple options, and especially a fallback plan. My fiance and I originally wanted a small, intimate ceremony in March of 2021. We quickly realized that there was no way this was going to be possible for us, especially with all of our close friends and family living many states away. We still wanted to have a wedding celebration, so we hesitantly decided to push back to 2022 in the hopes that we could both afford and plan our dream wedding. Well, that didn't pan out too well either, because so many other weddings have already been pushed back. Pair that with higher venue prices than we could afford while also saving for a home and paying off debt, and we were back to square one.
We finally decided to plan an elopement in Mt. Rainier national park for October of 2021 with only our parents present. We rented a cabin, hired a photographer who is also a certified officiant, and boom! That's what ultimately came to work best for us. We'd love to have a celebration planned at a later date, but we're not sure if it's in the cards for us. It has taught me that there's no "perfect" way to plan your wedding and celebration; you have to team up and find a compromise that works best for you and focuses on your love and happiness, and the rest will fall into place.
While many weddings have been postponed due to the pandemic, we can see that love and engagements are still thriving! We're so excited for all of the couples planning their unique celebrations, whether they're planning to elope somewhere special to them or continue a longer engagement and celebrate at a later date with their friends and family. No matter what curveballs life may throw at a happily ever after, love always finds a way! Let your love shine in 2021, and don't fret about the planning process!

Looking forward to forever together? Shop our beautiful engagement rings and wedding bands here.