Featured Couple: Erin & Connor
Article by
Erin and Connor were dating for 5 years when Connor got down on one knee for a gorgeous proposal in Jackson Hole, Wyoming. The happy couple met in Madison, WI while Erin was still in college and Connor was working as a nurse. There was a football game in their university town which meant they were both out celebrating- and as luck would have it they ended up at the same dive bar to party! Erin saw Connor hanging by the popcorn machine and decided to come over for a chat. They ended up talking all night and decided to go on their "first date" the very next day. They have been inseparable since!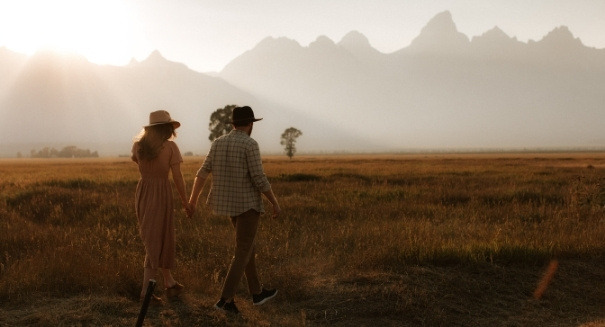 They had a big trip planned for Jackson Hole at the beginning of August and Connor decided he would propose during their vacation. Erin's identical twin sister, Shannon, is a professional wedding photographer and she and Connor figured out a plan of attack to surprise Erin by having her fly out for the beautiful engagement at Grand Teton National Park. On the last night of their trip, Connor took Erin to the Mormon Row barn outside of the park where her sister was hiding for the surprise. He took a chance on Friday the 13th and beat the bad luck- as he got down on one knee, and Shannon emerged to capture the moment, Erin said yes! The lovely couple were engaged on August 13th 2021.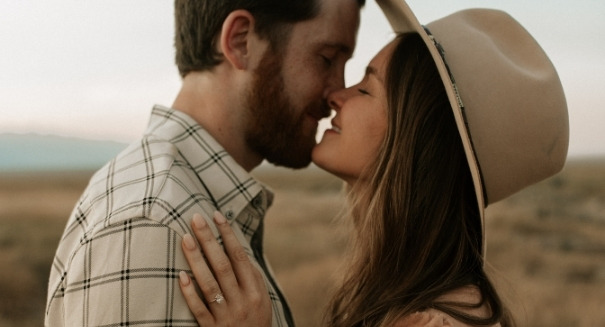 We asked why they chose MiaDonna and they said,
"MiaDonna popped up on Google when I typed in lab grown diamond engagement rings. I reached out to 3 jewelers but Annie and the team were extremely responsive and helpful throughout the process which was very calming for this stressful event."
Connor asked Erin what she liked in terms of style for her ring and together they chose to custom-design a simple thin gold band with an oval diamond shape that is held down by 4 small prongs. It's a beautiful minimalist style which is exactly what they were hoping for. "I love the diamond Annie helped pick out. My entire car was illuminated the moment I opened the box and the sun hit the rock. Erin loves the minimalism and elegance of the ring. We both love that MiaDonna is eco-friendly too!"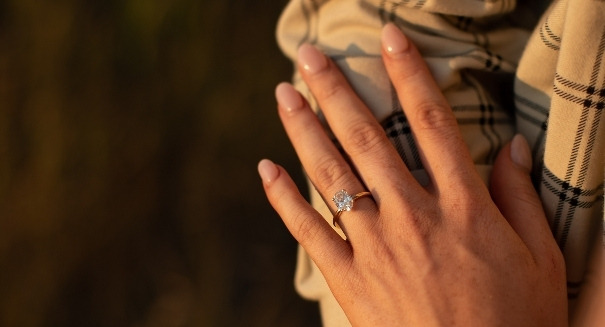 Thank you for being #miadonnaheroes and congratulations to the two of you!
Photo credit goes to Shannon St. Clair. She was able to turn a smoky day in the mountains into a beautiful backdrop for a memorable engagement. Her Instagram is @shanstclair and her website is https://www.shanstclair.com.