8 Ways You Can Include Pets in Your Wedding
Article by
You've just got engaged, and the first thought that pops into your head is, "How will I include my pets in the wedding?" Don't worry, that would be my first thought too! Ideally, we would have all our pets at our weddings dressed in little tuxedos being extra adorable and polite. Now, before you get all excited about the idea of a guinea pig ring bearer, let's go over some logistics on incorporating pets into your wedding. Whether your pet will be able to attend your wedding depends on quite a few variables, including the location of your wedding, the wedding venue, and, of course, on your pet! That raccoon you befriended by your recycling shouldn't be on the guest list, and it'll probably eat the cake during your ceremony anyway.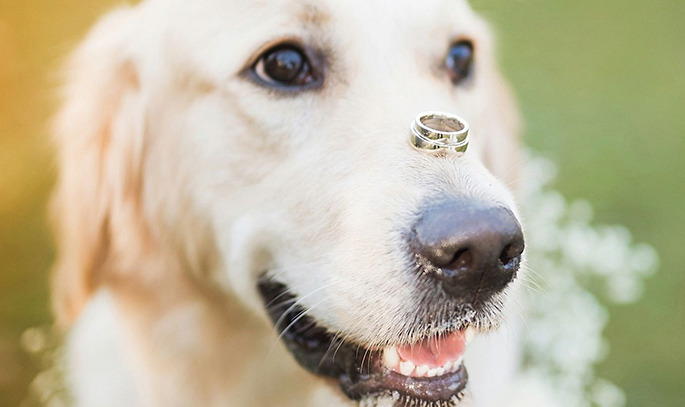 There are a few considerations before setting your best friend off down the aisle to maybe deliver the rings or possibly end up in the pond just beyond the ceremony. While it can be an exciting idea to involve your furry family member in your wedding, make sure having your pet physically there is a good idea for everyone. Here are some things to think about before planning:
Talk with your partner - You may want your lovable pup or cat to be there on your wedding day, but communicate with your partner prior. Is having your pet present something you would

both

enjoy on the big day?

Consider your pet's personality - Do they do well in large groups? Does your pet listen well? If the answer is no you may want to reconsider having them there. At the end of the day, you want everyone to enjoy themselves, even your pet! And that may mean having them patiently wait at home.

Check-in with the venue - Is your venue pet-friendly? Ask beforehand and plan accordingly to see if your pet is allowed on the property.
We will go over a variety of ways for your pet to be incorporated in your celebration depending on their temperament. From making them your pet of honor and standing by your side to incorporating them in your decorations, your pal is sure to make a special and memorable appearance. We've put together some great tips and ideas for a pet-approved ceremony.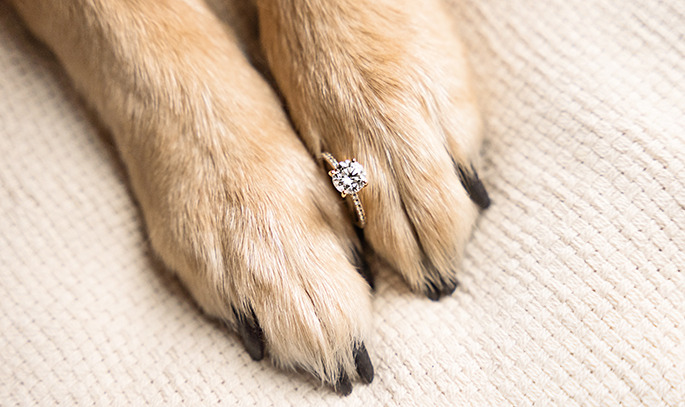 Whether you have a family member in the form of a cat, dog, horse, pig, or even reptile, one thing is for sure - they deserve the Pet of Honor title! We recommend flaring up their collar with an adorable bowtie or silk flowers- a fashion statement that is classy, but not uncomfortable. If your pet is familiar with being dressed up in more elaborate costumes, you may be able to put them in a tux, dress or other fancy outfit.
Your companion can accompany you or another wedding member down the aisle for an "aww" moment. Depending on how well your pet behaves you may want to hand them off to someone in the front row, or if they are well-behaved, they can stand with someone in the wedding party. We recommend running them through the journey down the aisle with treats before everyone arrives. Whoever is in charge of holding your pet, or their leash, during the ceremony should have some treats on hand just in case. They will also need waste bags for when your pet needs the loo.
PRO TIP: Stress less and dedicate someone to be the pet-sitter during the ceremony. Make sure this is someone with whom your pet is comfortable and familiar.
If you've seen How I met your mother then you've seen the part where Barney surprises Robin with an actual ring bearer. Spoiler alert- a bear comes down the aisle with rings. We don't recommend that, but we do believe nothing is cuter than a furry creature carrying wedding bands. This is a good job to give well-behaved dogs. Some breeds absolutely love the training and task, while others may kill the moment by running off.
If you decide to have a pet be a ring bearer make sure the rings are securely fastened to them. It's quite common for animals to shake off foreign objects, flinging them across the room.
Another great way to incorporate your pet in your wedding is with photography! Set up a few shots with your pet before, during, or after the wedding ceremony. If you have a particularly rambunctious fellow you may want to get some shots of them with you while you are getting ready instead of the ceremony. We recommend getting some photos of them after the first look (if you have a first look). That way you are together as a couple with your pet for some beautiful candids before the guests arrive.
If you're having an engagement shoot, you could bring your pet along and use those images as decor during the wedding. The photos could also be used during the reception in a video or slideshow of your best memories as a couple. Looking back on your wedding day, your heart will smile when you see your cuddle buddy in the photos.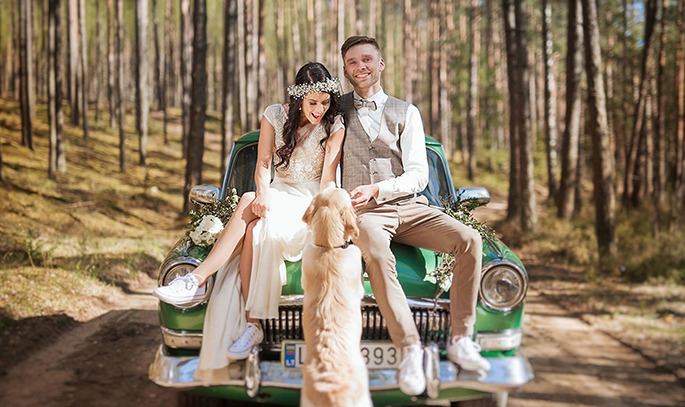 Have a pet sitter bring your friend for a visit
If you have opted to leave your child, I mean pet, at home then you may consider having a sitter or dog walker keep them company. Some weddings are an all-day event, make sure your BFF isn't crossing their legs until you get home.
In addition, you may consider having your pet sitter bring your pet for a visit at a convenient time! This will give you the chance to relieve some separation anxiety, get some photos, and create some memorable moments. Depending on how well they behave, maybe they can stick around for the first dance!
Have them made into a cardboard cutout
Your furball can't make it to the wedding? Don't worry, you can still honor their presence by incorporating them in the little details. A large cutout of your pet's face is a must-have in your photo booth props arsenal. This way, they can photobomb all of your guests' pics.

You can also leave the cardboard cutout by the bar so every time you get a drink you can say 'hi' in spirit. Although we hope drinks are being delivered to you! It is your day after all.
There are plenty of charming ways to decorate your wedding with your pet in mind without going over the top. Illustrations of your precious fluff ball are a fun personalized way to include them in your special day. Have a drawing of your friend peeking out in the bar menu or on the ceremony sign.
Name tables after your pet or include them in the centerpiece. One table could have a photo of your pet when they were a baby and another could be a photo of them that one time they got covered in mud!
Order dessert look-alikes by creating cookies or cakes that look exactly like your pawsome pal. You can have them passed around during cocktail hour or have them at the dessert table for the cake cutting. What a sweet addition to your reception!
Adding a sweet surprise cake detail can spice up the cake decor, but also remind you of your loyal companion! Your baker can sneak your pet into the details by having your pets climbing up the tiers or peeking out from under the icing. You can even add them to the cake topper, and get some beautiful shots of them before it's all gobbled up!
A more subtle way to incorporate your pet is by wearing something that reminds you of them. At MiaDonna, we have personalized pendants that you can add their name to or we can work with you to create a custom designed ring. Have you seen our Crush Turtle Ring? It's possible to create any pet inspired ring! Whether you have a detailed ring in mind or a scribbled drawing on a napkin, our designers are happy to bring your dream ring to life.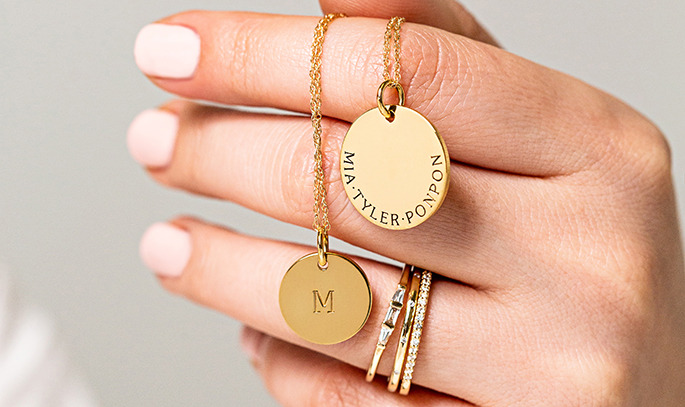 There are plenty of ways to make sure your furry friend is part of your special day. Will you have your pet walk you down the aisle or include them in the decor - or both!? It's up to you if you want your pal to be there physically or in spirit.
At MiaDonna we exist to give back. We suggest instead of gifting traditional wedding favors, pay it forward with a donation to an animal rescue program or the ASPCA. Lots of animal charities will print up cards for you in recognition of your donation, and by using a photo of your pet, you can then leave the printed cards on the tables for your guests.
Let us know how you incorporated your animal into your wedding by tagging #miadonnaheroes on Instagram! So excited to see your ideas!