With warmer weather inching its way closer we get to reveal a little more skin and finally show off all our gorgeous jewelry. Layering your rings, necklaces, and bracelets allows you to make your everyday outfits more exciting and fun! Whether you already have a collection of beautiful fine jewelry to mix and match or are looking to build inspiration, we at MiaDonna are excited to share with you our complete guide to stacking jewelry.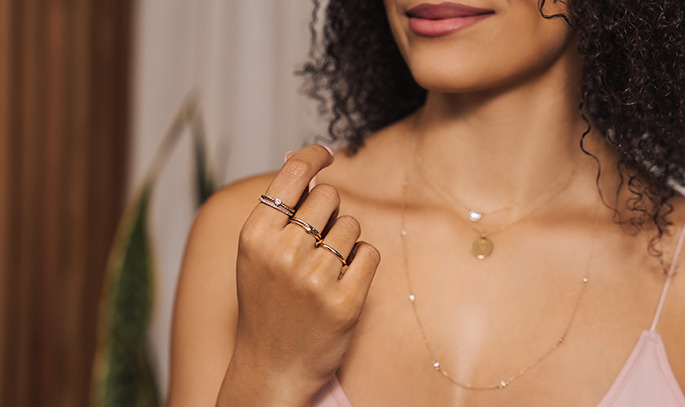 When stacking jewelry we would love to say that anything goes, but there are a few methods to perfect this playful art-form! After all, we don't want you to look like a child who has raided their mother's jewelry drawer. This is your chance to get creative and play with your jewelry while keeping in mind a few tips to keep your jewelry in excellent condition. We have spoken with Justine, our Sales Manager at MiaDonna, to get a professional opinion on various topics and concerns on stacking jewelry.
Stacking Rings Like a Pro
How many rings should I wear? Well, we say wear more rings than you have fingers! And don't be afraid to mix-up metals. You can mix and match yellow gold, rose gold, and white gold - they all work well together. For example, Justine says you can have a yellow gold Paris Vintage Band at the base stacked with a plain white gold band and topped with a sparkly Lab-Grown Diamond Willow Band, all on the same finger!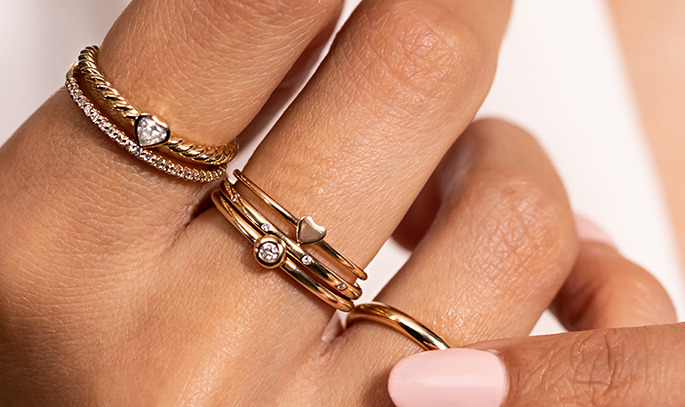 Layering on Different Fingers
How to layer different rings can be a process of trial and error. What order to stack is often determined by the sizing of the ring. On one hand, you may want to have three rings on the middle finger, two on the pointer, one bigger piece on the ring finger, and leave the pinky bare. On the other hand, you could have three rings on the ring finger, a standalone on the pointer, leave the middle finger bare, and rock a midi ring on your pinky. A few good options for standalone rings are the Deep V and Criss Cross Ring.
The exciting part of stacking is you never have to wear everything in the same order. You can have a different look with the same bands.
How to Size Stackable Rings
When purchasing a ring, keep in mind the sizing. My ring finger is a size 4 and my pointer finger on my right hand is a size 6. What fits perfectly on one finger, will slip right off on another. When visiting our store in Portland, OR we can size each finger for you so you know which fingers will work with your latest ring purchase. We also want to note that if you plan to have many rings on one finger you may want to go up half a size as they will take up more surface area.

You can also measure your ring size using either string or floss. Wrap the string around the base of your finger, marking where the string or floss first overlaps with a pen. Then, line that up with a ruler and take down its length in millimeters. The millimeters to ring size guide can be found here. In addition you can also purchase a ring sizer for home. If you purchase a ring with us, and it doesn't fit as you hoped, you can return the ring within 30 days and get the right size!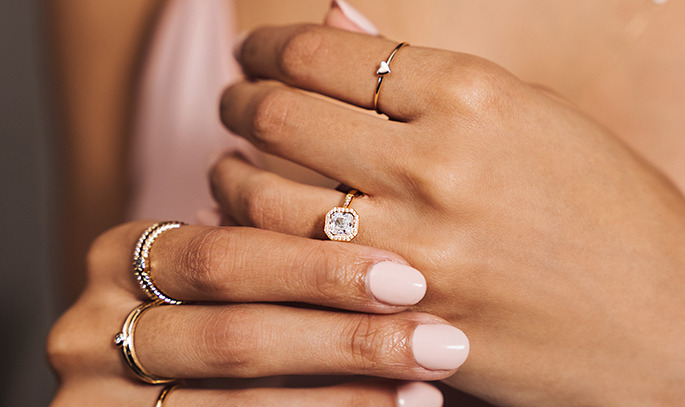 Does stacking rings damage them?
Stacking rings does not damage them when done correctly. Although we suggest mixing up the metal colors we recommend staying with the same metal types. The metal type being the same will help your rings to wear better, and your rings won't rub down on each other. If you stack a 14k band below an 18K metal band then the rings can get scratched up. No one wants scratched jewelry, so stay with the same metal type! If your favorite ring is 14K, and you're looking to purchase more rings to stack with it, make sure to buy all 14K.
When stacking bracelets you'll want to make sure they are quite tight to the area you want them to sit on your wrist. It's fun to diversify with different metals and charms. A combination we recommend is the tennis bracelet, initial bracelet, and gold bangle. We can resize bracelets so you have the perfect fit for your wrist size.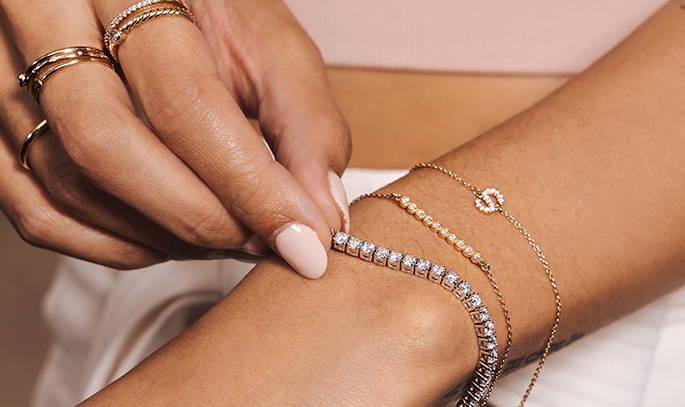 From cute chokers to elongated bezel chains and personalized pendants, layering takes necklaces to a whole new level. Justine recommends a shorter French halo pendant, with a medium-length disc pendant and a longer accented bezel necklace. Again, play with different metals! Maybe one necklace has a charm, the other has a few small diamonds and another is just a chain. Experiment with different lengths of necklaces, but always keep in mind the neckline of the top you choose to wear.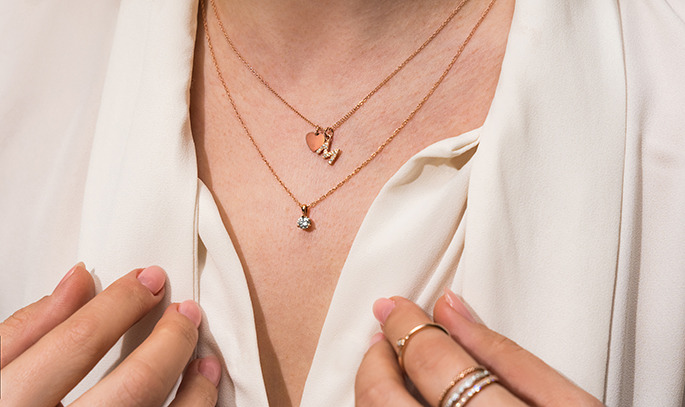 It takes time to build a stackable collection. There is a lot to consider when stacking pieces with different stones, shapes, and colors, but once you find your style, the possibilities are endless! When you have a full collection of all your favorite pieces, stacking will become second nature - you'll be telling us how to wear fine jewelry! For now, reach out to us for more ideas and inspiration on stacking - we are more than happy to help! We love seeing what you all come up with… tag your MiaDonna stackable jewelry at #miadonnaheroes.