8 Most Affordable Engagement Rings That Look Expensive
Article by
Are you on the hunt for a stunning engagement ring that everyone will stare at while also keeping your budget in mind? The ideal situation is to spend less while getting the look you want- having some money left over to put towards the wedding, honeymoon, or new home! Various styles, such as halos or accented rings, can look more impressive due to the design that offers more bling and gives the overall appearance of a larger center stone. You deserve to look down at your ring and feel like you got exactly what you were hoping for, without breaking the bank for it! A few of the following styles have diamond accenting, halos, or both to give you that stunner of an engagement ring!
The Amore is a charming vintage-style ring with diamond accenting on the band. The intricate detailing gives this ring an elegant feel. We recommend a round shape for your center stone of choice.
Amore Engagement Ring: Starting at $883
---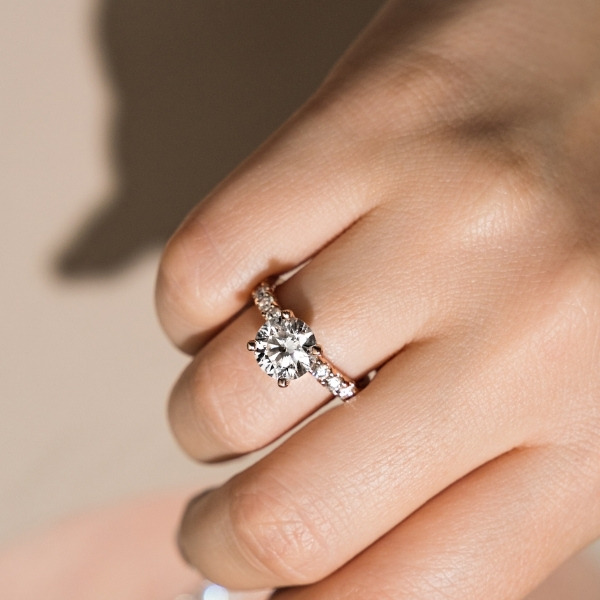 The 10 Stone Accented Engagement Ring has a band of Lab Grown Diamonds and they light up the room! We love this ring in rose gold, and if you go down in color grade for your Lab Grown Diamond, the color of the metal will mask any color in the diamond.
10 Stone Engagement Ring: Starting at $1,040
---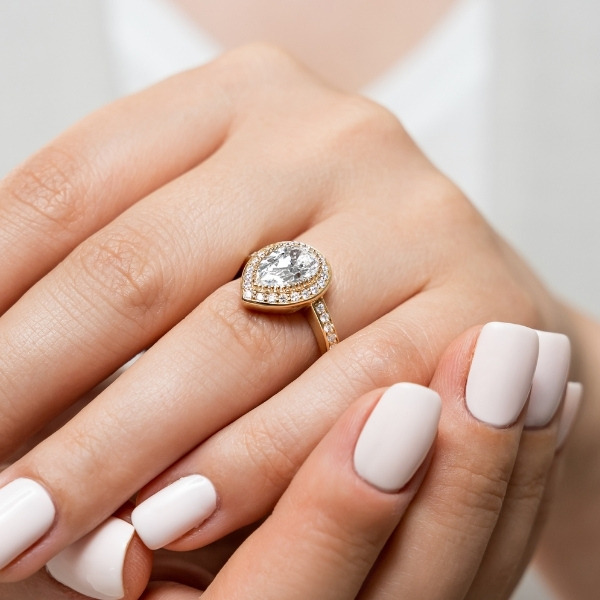 The Katherine was designed to replicate Katherine Heigl's stunning celebrity engagement ring. Both the pear shape and halo design on this ring give the appearance of a larger center stone.
Katherine Engagement Ring: Starting at $1,487
---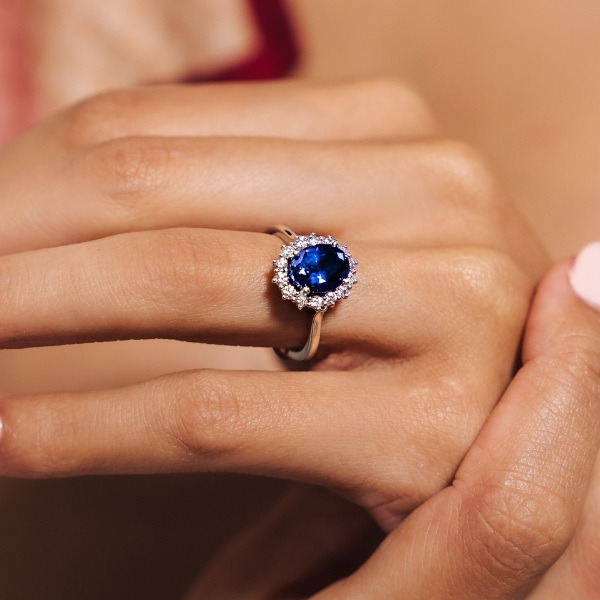 The Flora has an oval shaped center stone which helps to elongate the fingers. A halo of round recycled diamonds gives the illusion of a very expensive ring. Get a Lab Grown Sapphire for your center stone to mimic Kate Middleton's engagement ring.
Flora Engagement Ring: Starting at $1,929
---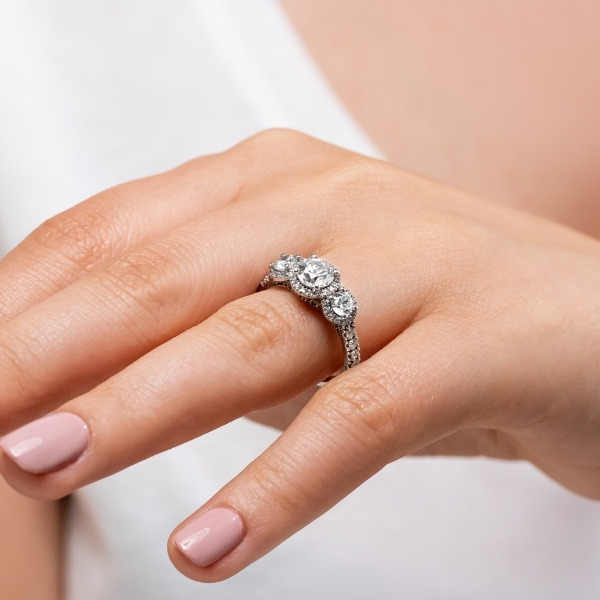 The Amabella is a gorgeous three-stone ring! Each stone has a halo of recycled diamonds making this ring look extra big and sparkly. With recycled diamonds running down either side of the band you have all the elements for a ring that looks like you splurged!
Amabella Engagement Ring: Starting at $1,764
---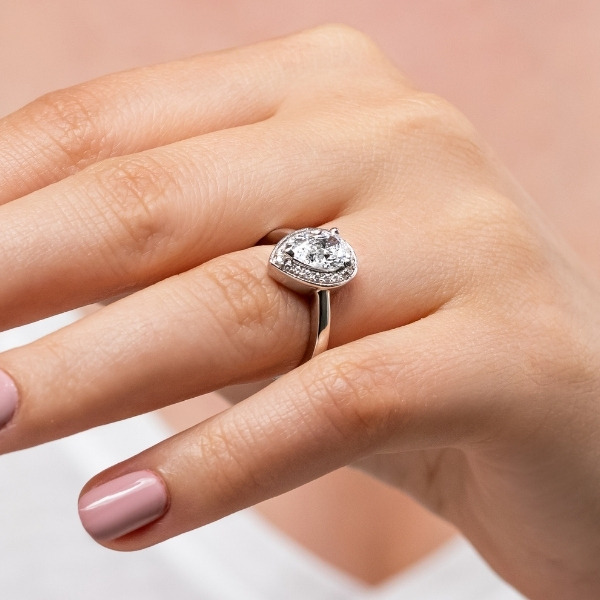 The Estelle is set with a French tip pear shape center stone in a halo of channel set recycled diamonds. You can get a center stone that is less in carat weight that will still look massive with the halo setting.
Estelle Engagement Ring: Starting at $1,245
---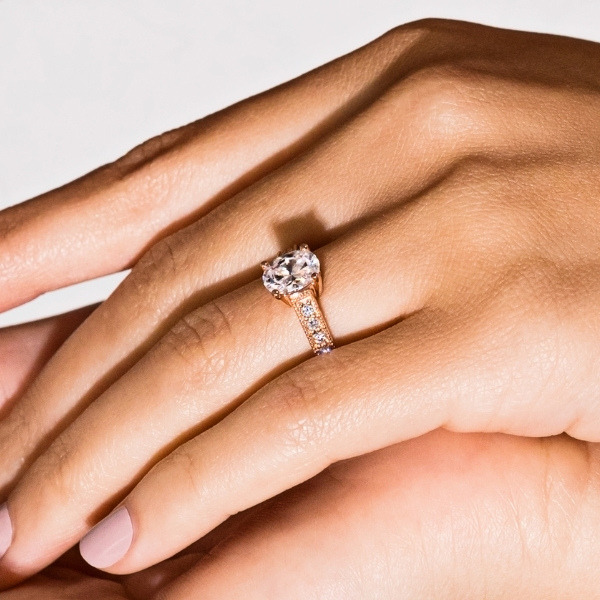 The Honey has a 4 prong cathedral setting with channel set recycled diamond side stones in a beautifully engraved and beaded band. The delicate detailing of this stunning ring makes it an expensive-looking style.
Honey Engagement Ring: Starting at $923
---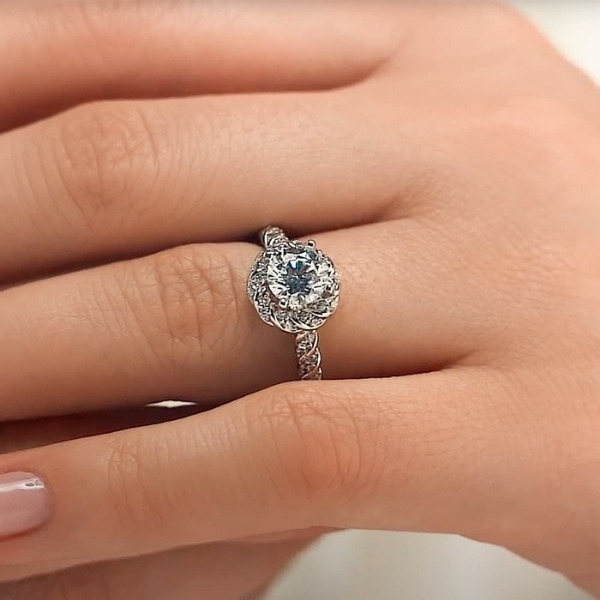 This is a truly unique style with a halo and band that twist creating a sparkly, mesmerizing design! This ring will make a 1.5ct center stone look like a 1.9ct- most people will be too mesmerized by the halo to even notice the difference.
Diamond Entwined Engagement Ring: Starting at $1,143
When choosing your affordable engagement ring keep in mind the various ways that will make it stand out even more. We are here to help you build your dream ring and get something you are truly happy with. Please reach out to us with any questions!