Top 6 Must-See White Gold Wedding Ring Sets
Article by
Our white gold wedding sets are elegant, simple, and versatile. White gold is a durable metal that provides a timeless look for any style setting! When selecting a wedding set you can choose any of our designs with your preference of recycled metal type, but for those of you with your heart set on white gold, we wanted to share our favorites! We chose a collection of Stackable Wedding Ring Sets in solitaire, halo and vintage styles.
While each of these engagement rings has a matching band, they can also be layered with additional stackable bands for a bolder look. Having the option to stack with other rings can make purchasing a set that much more fun. This gives you the option to buy a band for an anniversary and wear it with the wedding band and engagement ring while stacking on other fingers as well! Can you tell we are a little obsessed with stacking right now?
Our wedding sets are purposefully designed to enhance the overall beauty of both your engagement ring and wedding band. Buying a matching set as opposed to the individual engagement ring or wedding band is also a more affordable route. You get 10% off of the wedding band when purchased together with an engagement ring (only applicable to matching sets)!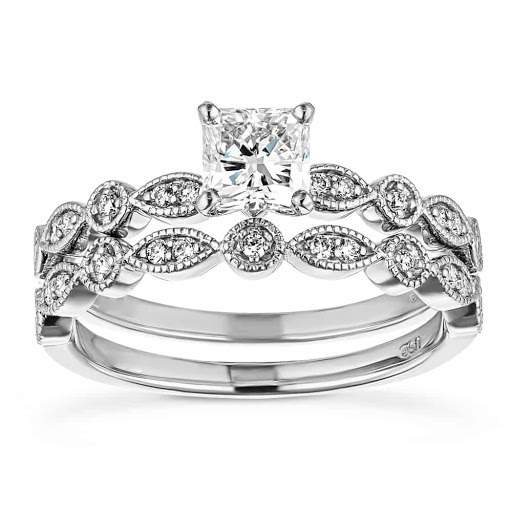 We absolutely love this set which is why we named it the Italian word for love, Amore. This beautiful vintage wedding set is accented with recycled earth-mined diamonds in a delicate milgrain multi-shape band. The Amore band looks beautiful by itself or when worn with the engagement ring, but we want to wear it all!
Amore Wedding Set: Starting at $1,533
---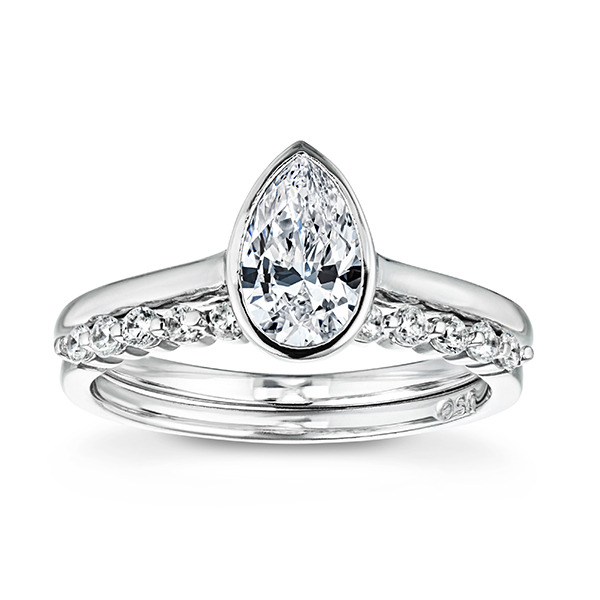 The Lilac rings are part of a unique bridal set that features the Lilac Engagement Ring, a petite ring with thin bezel halo surrounding your choice of center stone on a thin metal band. This ring has flat sides so it sits perfectly flush with the recycled diamond accented Lilac Wedding Band. We love the Lilac Engagement Ring with a pear cut center stone!
Lilac Wedding Set: Starting at $1,264
---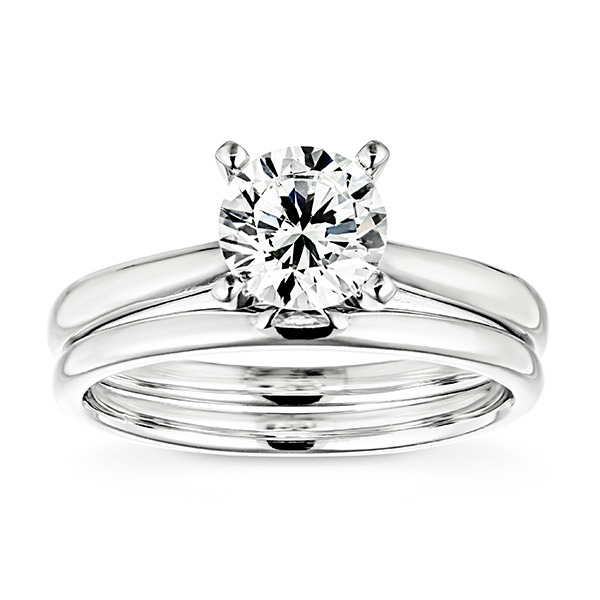 The Dior Solitaire Stackable Ring Set features the gorgeous cathedral style engagement ring with a high profile setting holding your choice of center stone atop a delicate thin shank with a matching plain metal wedding band.
Dior Wedding Set: Starting at $940
---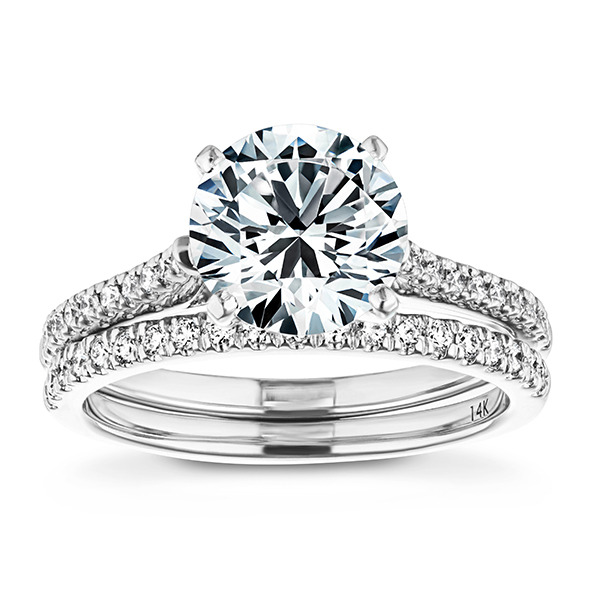 The Idyllic engagement ring is a comfortable petite prong set with recycled diamonds going just over halfway around the shank, perfectly matching the straight fit wedding band. We love the delicate style of this set. We recommend stacking bands on either side for the ultimate sparkle.
Idyllic Wedding Set: Starting at $1,515
---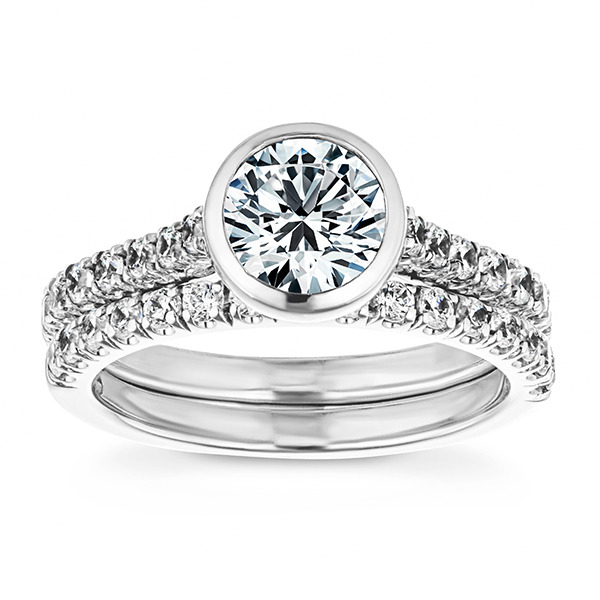 The Venise Stackable Ring Set is classy and sparkly with a modern feel. The engagement ring has a smooth low profile bezel setting for your round cut center stone, and recycled diamonds accenting the shank. This ring's flat sides allow it to sit flush with the Venise Stackable Band.
Venise Wedding Set: Starting at $2,128
---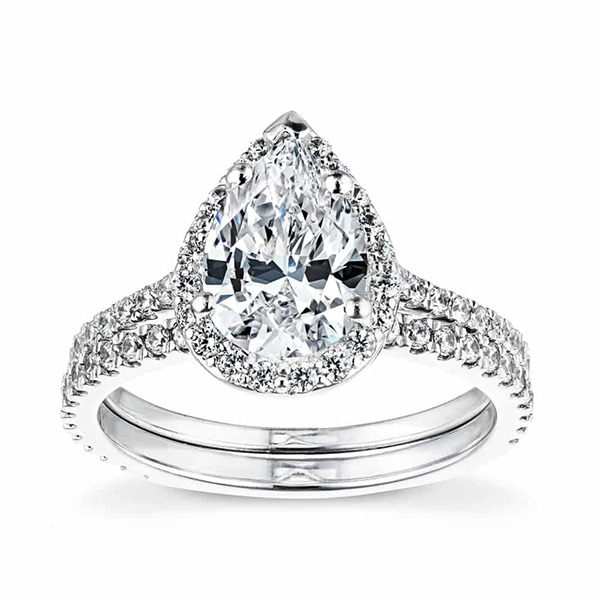 The Heroine Wedding Set comes with the beautiful engagement ring set with your choice of center stone accented by recycled diamonds in a surrounding halo, and running down the delicate shank. This set is completed when paired with the petite matching wedding band.
Heroine Wedding Set: Starting at $2,718
Choosing the right wedding set can seem daunting, but knowing what kind of metal type you want is a good first step. And remember, there is always the option to use these rings as inspiration in the process of creating your custom engagement ring and band! We hope you enjoyed browsing our favorites in white gold, and if you have any more questions feel free to reach out to our personal shoppers!