100+ Engagement Ring Inscription Ideas That Aren't Boring
Article by MiaDonna
How do you give a gorgeous engagement ring a personal touch? You get it engraved with something special!
Sometimes this is a good idea if you have a very traditional ring. Getting it engraved makes it a little different. As a bonus, since it's never seen when the ring is being worn. Only you know about it (unless you tell someone). It's like a fun little secret message between couples. There's a special joy in coming up with the right words together or revealing them to each other in a special moment. The best part is seeing their face when they first read it.  

There are many engagement ring inscription ideas. Below we'll list a few categories and examples that go beyond traditional inscriptions. However, nothing is wrong with using one of the tried and true classics!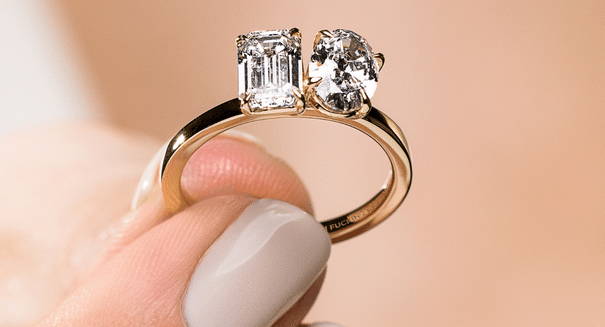 Engagement Ring Inscriptions Are Medieval And Modern

Before we get into inscription ideas, let's look into what it is and where the idea of engraving words on rings even comes from. Ring inscriptions started cropping up around the medieval ages in both France and England. People called this type of ring a posie or posey, and they were almost always made of gold.
The name posie derives from poetry which is a short rhyme, of course. Inscriptions were mostly put inside of the rings, but at first, they were done on the outside. Regarding the former, it was believed that wearing the words against the owner's skin increased their effect! And just as today, people used symbols and different languages to convey their sentiments.
Posies were gifts amongst friends or lovers with a special relationship. They were also used for couples that moved beyond a simple promise ring. Many princes and princesses started their official journey together with posies that were used as wedding rings. It's exciting to know that entire kingdoms and family legacies from the middle ages started with a single inscribed ring! That's something they don't emphasize much in Game of Thrones.

Today, many celebrities get wedding ring inscriptions. For example, Ben Affleck had "Not. Going. Anywhere" engraved on Jennifer Lopez's five million dollar engagement ring. Given their romantic history, this might seem odd. However, this is how Ben signed off on his emails when they started dating again.
Most places will engrave your ring for a small fee. At MiaDonna, depending on our promotions, we do it free or at cost. Other places might charge up to one hundred dollars, but compared to the ring it's an insignificant amount.
How Is The Engraving Done?

Most ring engravings are done through the concentrated heat of a laser. That tiny laser acts like a chisel that removes layers of surface material. Once the desired design is achieved, it leaves a noticeable impression. The laser engraving is shallow, so it does not weaken the ring. The machine engraving is usually finished in under a minute and several different fonts are available. Also, any metal can be engraved.
What Can You Get Inscribed?

Because inscribed rings use a computer-programmed laser, you have a lot of choices. From symbols like the infinity sign to foreign languages: almost anything can be engraved. Some engravers will even replicate someone's handwriting.
There are a few parameters, though. Think about the space you have to work with. Some Engagement rings are delicate and thin, while others, like men's bands, have an abundance of room. We suggest you limit the number of characters to around 20 because a ring is only so big, but the sky's the limit with your inscription ideas and font choices. The most popular options are Edwardian Script, Helvetica, New Times Roman, Arial, and Old English.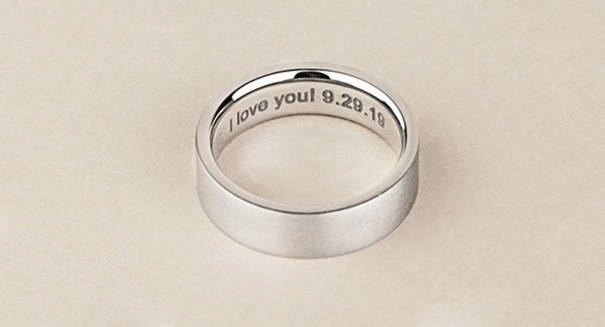 Helpful Tips (And Things To Avoid)

There are lots of things to consider before you get your engagement ring or band engraved. Here are a few quick tips to help you decide on what's best.
First and foremost, remember: Once it's inscribed, you cannot return it! (Triple-check the size, style, etc.)

Choose the right font. Fancy cursive fonts look cool, but sometimes they are hard to read.

Keep it super brief! Err on brevity and use a short phrase. A single word can be a perfect choice. Or try to shorten/combine words like "You're" instead of "You Are," "I'm" instead of "I Am," or use a ♥ instead of the word "love."

Use an evergreen special message. Make it something that will sound good today and countless years from now.

Triple-check the spelling and dates.

Engravings might disappear or be faint after polishing and/or redipping. You'll need to redo it.

If you resize the ring, that's a redo too!

Get the inscription off-center on the bottom. All resizing cuts are done at the bottom, under the finger. (Or get it done at the top.)

The wider the band, the better the inscription will turn out. You need enough room to see it.

Maybe skip inscriptions on a super-thin solitaire band. The text will be tiny.

If you're stumped for the right words—even after the exhaustive list below—look to love languages for inspiration. It will be different and hardly boring.
Do you love the idea of inscriptions, but not 100%? Wait then: You can always engrave later! Well, are you ready for some old and new engagement ring inscription ideas? Here we go!
Taken

Mine

(Secret Code)

Non-Refundable

Legally Mine

Property Of (Your Name)

Resistance Is Futile

You're My Person.

Good Choice

I Do! (+ Date)

You're Stuck With Me.

To My Last First Kiss!

You're My Lobster, Or, I'm Your Lobster.. [From

Friends

]

To The Moon And Back. Or, To The Moon (In Reference To "I Love You To The Moon And Back")

Special Nickname Or Pet Name

Finders Keepers

Morse Code

Binary Code

(Inside Joke)

Ride Or Die

One And Only

Your "Safe" Word :)
Song Title Ring Inscriptions
Endless Love

Let's Stay Together

At Last

Big Day

Crazy For You

Let Love Rule

First Day Of My Life (+Date)

Forever And Ever, Amen

Always On My Mind

Your Love Keeps Lifting Me

Best Of My Love

Can't Help Falling In Love

Nothing Compares 2 U

I Only Have Eyes For You.

It Had To Be You

Vision Of Love

Eternal Flame

You Make My Dreams

Alive With The Glory Of Love

Crazy In Love

We Found Love

My Girl/ My Guy

Unforgettable

Thinkin Bout You

You Make Loving Fun

I Will Always Love You

Hopelessly Devoted To You

My Cherie Amour

Crazy Love

You're Still The One
  (or use short song lyrics)
Hopeless Romantic Ring Inscriptions
Forever Yours

(Initials) + (Initials) 4eva

I Choose You Always

I Got You. Forever

True Love Forever

To Have And To Hold.

I Choose You

Always And Forever

Adventure Awaits

Everlasting Love

Soul Mates

Happily Ever After

All My Love

Only You

One Love

Worth The Wait

(Theme Of Your Wedding Vows)

You're Safe With Me
Foreign Languages - I Love You
Je t'aime (French)

Я люблю тебя (Russian)

Mahal kita (Filipino)

我爱你 (Chinese)

Ninakupenda (Swahili)

Amore mio ("My love" - Italian)

I LUV U (English)
Pairing
Ring 1: Little Spoon, Ring 2: Big Spoon

Ring 1: "I Do" Ring 2: "Me Too"

Ring 1: "To Have" Ring 2: "To Hold"

Ring 1: "I Love You" Ring 2: "I Know"
Authentic Posie Ring Inscriptions
(These are from the book English Posies and Posy Rings by Dame Joan Evans)
A Loving Wife During Life

After Consent Ever Content

Acsept My Love

Amor Vincit Omnia

As Gold Is Pure, So Love Is Sure

Continew Faythfull

En Bon Desir

Feare Not Mee, Ile Faithful Bee

Fe Y Fidalgula

God Above Increase Our Love

God Made Us Two One

I Am Free For God & Thee

I Live In Hope

I Rejoyce In The My Choice

In Love Abide Till Death Devide

In Loyalty Ile Live And Dye

+ Let + Trvth + Tryall +

Let Love Continue

Let Us Share In Joy And Care

Let Vertue Rule Affection

Let Vertue Still Direct Thy Will

Live & Love

Live And Love Happy

Loyalte Ne Peur

Meet Me At Midnight

My Hart Is Thine

Of All I See I Chose The

The Love Of Thee Is Life To Me

True Love Is Endless

Vertue Paseth Ryches

You And I Will Lovers Dye

You Have My Hart
Traditional Ring Inscriptions
First names

Both initials

Wedding date (So you don't forget!)

Bible verses

Religious quotes

The date you first said "I Love You"

(important date)

A Blessing

Tiny quote/phrase

Significant location

Phone number
Do you have a few good engagement ring inscription ideas now? And even if you're still thinking about it for your special day, head over to our engagement ring collection now for a great selection of fine jewelry and lab-grown diamonds. You have to find the right ring first!