Lab Diamond Tennis Bracelets: A Symbol of Everyday Luxury
Article by MiaDonna
Some things never go out of style. Like a classic movie or a fine wine, we're drawn to things that have a sense of timelessness and beauty. The tennis bracelet is one of these classics. Lately, they have surged in popularity—and for several good reasons.
We'll take a look at this remarkable piece of fine jewelry and why the Lab Diamond Tennis Bracelet is the best version ever.
Everyone Loves Tennis Bracelets

In 2021, Prince Harry had Meghan wear a special tennis bracelet on the now-famous interview with Oprah. It once belonged to his mother, Princess Diana. The couple decided that it was important to honor Prince Harry's mother, but it also made another subtle statement. Even across generations, tennis bracelets are still elegant and desirable pieces of jewelry. (You might want to follow what Princess Diana wore because she's somewhat of a jewelry tastemaker. Kim Kardashian just bought her Attallah Cross for nearly two-hundred thousand dollars!)
Before it was officially called a tennis bracelet, these bracelets had a long history. They were simply called diamond bracelets (and sometimes eternity bracelets). In the 1920s, the French designer René Boivin popularized the Diamond Line Bracelet with social elites.
It was a tennis player that unintentionally rebranded the diamond bracelet to how we refer to it today. The women's tennis star Chris Evert always wore hers on the court. In an early match for the 1987 US Open, her bracelet slipped off of her wrist. As millions watched, the entire game was halted so she could find it. And the rest is fashion history. From there on out, people referred to diamond bracelets as tennis bracelets.

Types of Tennis Bracelets

There are many types of bracelets to choose from, and the arrangement of diamonds will vary. Though most form a straight line, they can also come staggered. Also, they can have one or multiple rows of brilliant diamonds. However, there are two types of tennis bracelets you should consider:
The Bolo Tennis Bracelet - This style features diamonds going halfway around the bracelet, with a chain that cinches like a bolo tie allowing the clasp to slide up and down to secure the jewelry in place around your wrist. This is perfect for those on a budget because it gives the appearance of a full diamond bracelet without the cost.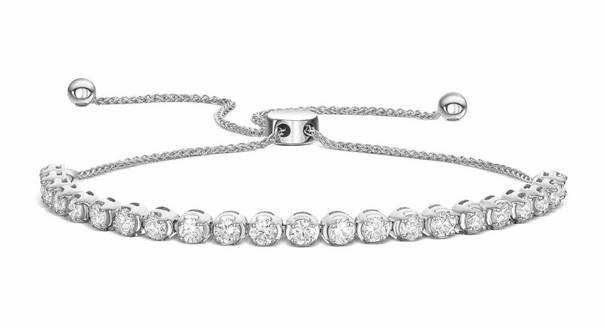 The Four-Prong Traditional Bracelet - This bracelet is a full set of diamonds that go all the way around your wrist. This is what most people might think of when they hear about the tennis bracelets. It's a classic design.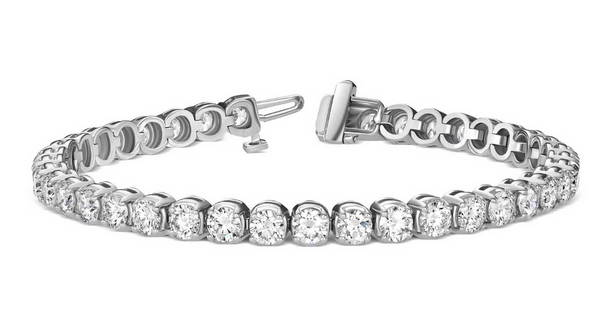 Occasions To Wear Tennis Bracelets And How To Style Them
In the past, women were the main wearers of tennis bracelets and only reserved for fancy and elegant attire on special occasions. If you were attending a high society event, jewelry like a tennis bracelet completed the look.
Today, tennis bracelets look fabulous on men and women and there is no need to dress up just to merit wearing one. The trend is to wear your tennis bracelets with your everyday style. Wear it by itself with a cool cocktail ring or diamond eternity band, or use the diamond bracelet as the base piece to stack with other bracelets or a watch. For example, match with a thin paperclip chain bracelet, herringbone bracelet, and initial bracelet. Any combination of the various styles of bracelets will be a great choice if they're thinner than your diamond bracelet.
Then wear it with jeans and a leather jacket or a couture outfit.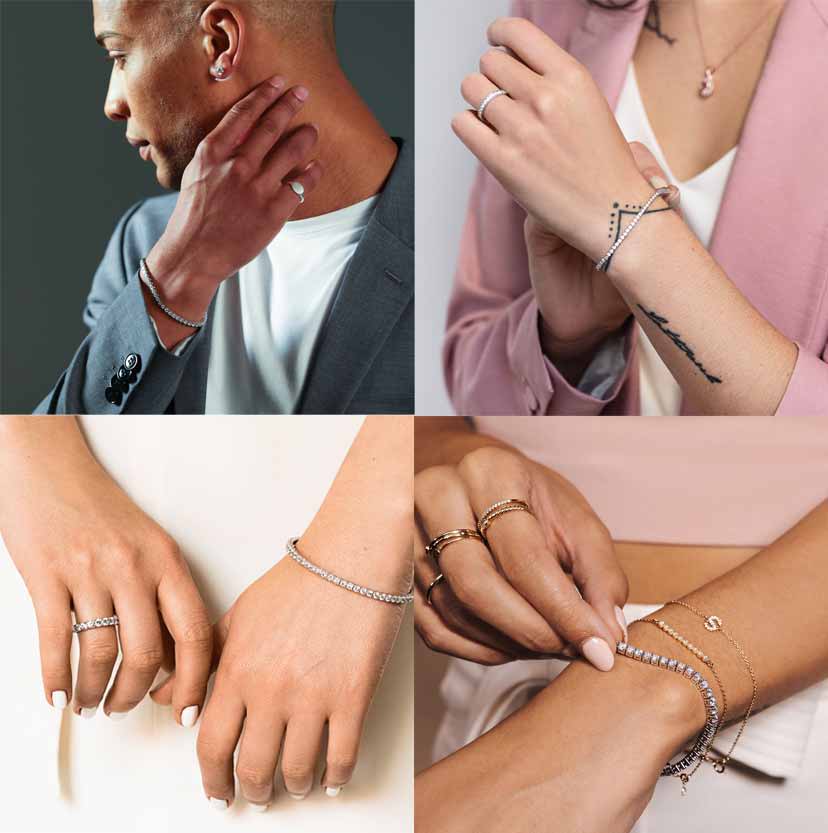 Don't worry if they're not all a perfect match. It's diversity that counts. There are no fashion rules here. Diamond tennis bracelets are timeless and versatile.

When To Gift A Lab Grown Diamond Tennis Bracelet
There are lots of occasions when you might gift a tennis bracelet. Beyond the traditional wedding set (a diamond ring and matching band), this is a really thoughtful bridal gift. A complete look can include a diamond tennis bracelet, necklace, and a pair of earrings. And don't forget anniversaries, birthdays, Mother's Day, Father's Day, Christmas, and other important events!
For those receiving this breathtaking gift, not only do they get brilliant diamonds on a special day, they attach all the personal sentiments of this item to the gift giver. Tennis bracelets really are the perfect gift.
You can also gift this item to yourself, of course. The influential break-out Tik Tok star Christina Najjar, AKA Tinx, has bought them for herself for achieving certain milestones in her career.
You've worked hard in life: maybe you deserve something like this too! Reward yourself. Plus, tennis bracelets are a must-have for every wardrobe: men and women. It should be a staple in your diamond jewelry collection because it goes with everything, and takes your best outfits from a 9 to a 10. And if you love diamonds, this is a good piece to start with. If you don't want to buy it for yourself, put it on your wish list.

Why Lab Diamond Tennis Bracelets Are Superior
Lately a lot of people have been eyeing Lab-Created Diamond bracelets. Lab Grown Diamonds are up to 40% less than earth-mined diamonds, yet they're identical in every way except their origin. In fact, companies like MiaDonna can produce diamonds that are harder and brighter than most earth-mined diamonds.
Many people have adopted the fact that earth-mined diamonds are terrible for the environment and society. Mining companies leave gigantic holes in the ground, ravage local inhabitants, and some of these diamonds are still used to fund terrorist regimes.
Who wants anything to do with that?!
Conscious consumers should demand more from their jewelry. You should choose a company that only produces Lab Grown Diamonds that far exceed industry standards. This level of value and care should carry over to all aspects of the brand including its products, ethics, and customer service.
We're biased, but the most ethical kind of diamond tennis bracelet you can buy is one from MiaDonna because of what it stands for and because they look gorgeous! We only use recycled precious metals and conflict-free Lab Grown Diamonds. You can get the bracelet in platinum, rose gold, yellow gold, or white gold. However, the latter will hold up the best for everyday wear. Each diamond is secured with two or three prongs. You take it on or off by using the box clasp.
Lab Grown Diamond Bolo Tennis Bracelet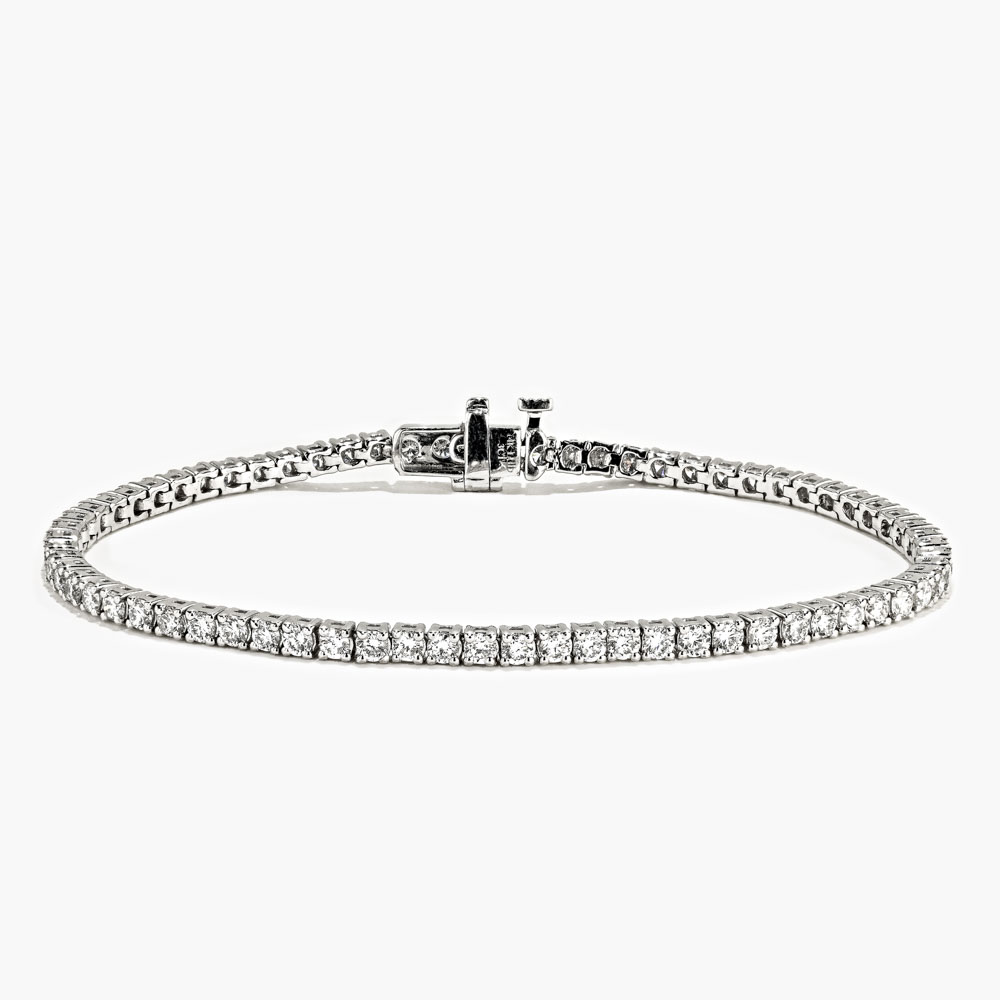 Lab Grown Diamond 4 Prong Tennis Bracelet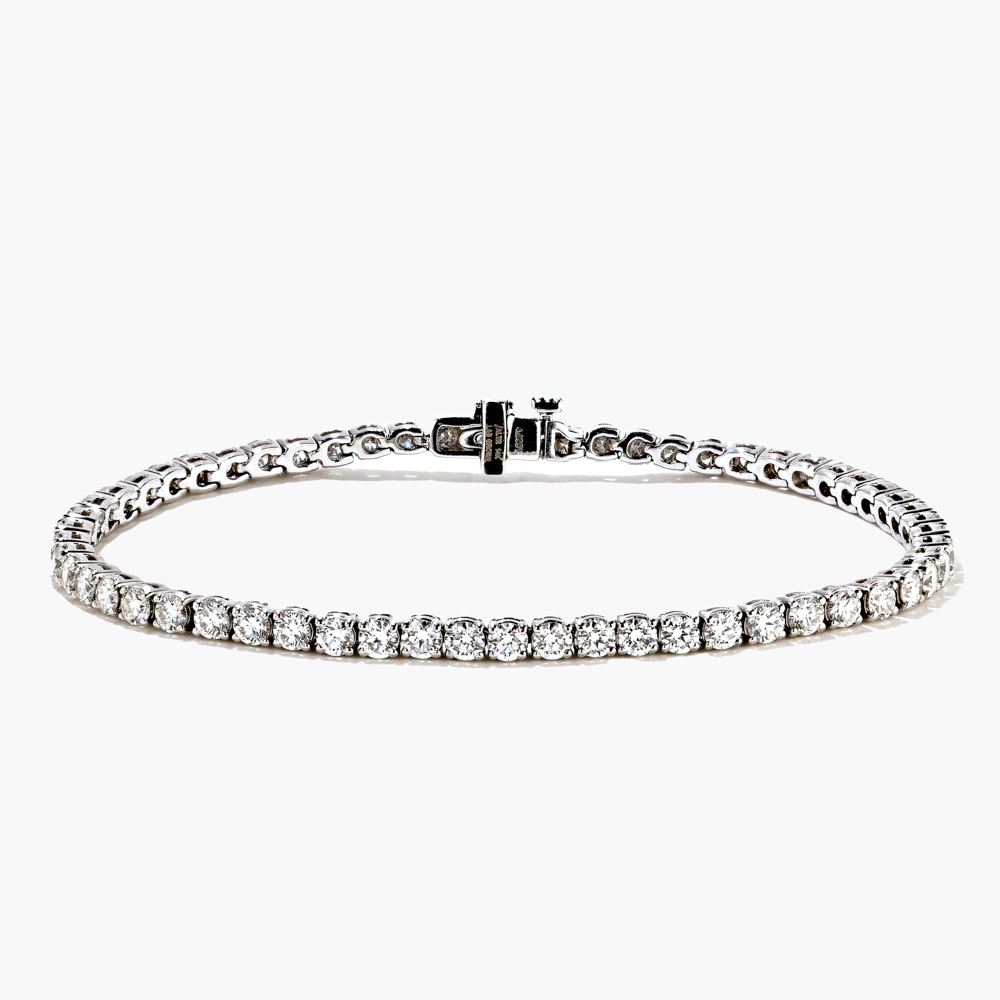 Lab Grown Diamond Tennis Bracelet
Now Is The Best Time To Buy

Whether it's for you or for someone else, now is the best time to buy a Lab Diamond tennis bracelet. The trend will continue to grow with people from all walks of life. You don't have to be a celebrity to feel like one with a diamond bracelet!
And because of the prevalence of Lab Diamonds, tennis bracelets are now affordable for many people. Given a choice between expensive earth-mined diamonds and the lower price for Lab-Grown Diamonds, why would you overpay?

Lastly, you can feel good about your purchase when you buy from MiaDonna because the Lab Diamonds are conflict-free. Ready to take your style to the next level? Book a virtual appointment or come to our store to discover the beautiful world of Lab Diamond Tennis Bracelets.