Your Guide to Creating Your Own Engagement Ring
Article by MiaDonna
With the growing popularity of custom engagement rings, we've made it easy to design your own engagement ring. Whether you're creating a new style or modifying an existing one, we're here to handcraft exactly what you want. Custom engagement rings are a balance of art and physics. By combining beauty, talent, math and advanced technology our skilled artisanal team can take your vision and turn it into reality. Before getting into the design process, it's important to understand the three different ways to build your ring.
Building Your Very Own Personalized Engagement Ring
All MiaDonna jewelry is made-to-order and can be customized using the ring builder on the product page. You start by selecting a style you love, center stone shape and type (including diamond, gemstone or diamond simulant), metal type, size, and optional engraving.
Modifying an Existing Engagement Ring Style
Love an existing MiaDonna style but want to make a slight change? We can tailor many of our rings to your liking. Examples include, but are not limited to, setting a different size or shaped center stone than those available for your setting, using gemstones as side stones along bands, changing the shape of the side stones, selecting a basket setting instead of a prong setting, and creating a two tone design. Contact us for questions about modified styles.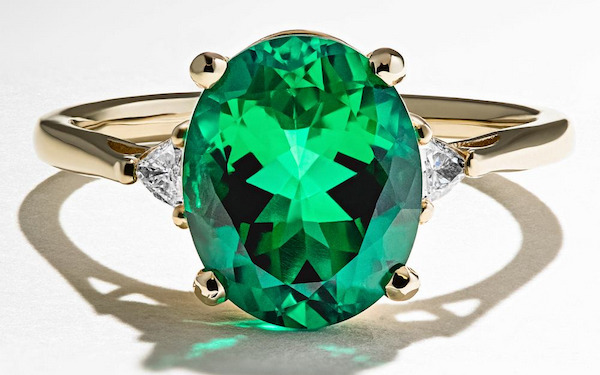 The most common types of custom design we do are original designs and those inspired by a combination multiple design elements. In order to begin the process, we need to see your vision. With the visual references and product specifications collected in your free custom quote request form, we create a digital illustration using computer aided design (CAD). If you're looking for sources of inspiration, look to Pinterest, Etsy or other reputable online jewelers.
In addition to visual references, you will also need to provide your desired specifications in order for us to provide an accurate quote. If you're not quite sure which details you want your ring to have, browsing our current collection of engagement rings is a great starting point. Specifications you'll need to provide include:
Center stone type (lab grown diamond, lab created gemstone, Diamond Hybrid® simulant)

Center stone shape (round, oval, princess, emerald, cushion, etc.)

Center stone carat weight

Preferred eco-friendly metal type (14K or 18K white, yellow or rose gold, platinum)

Ring size and budget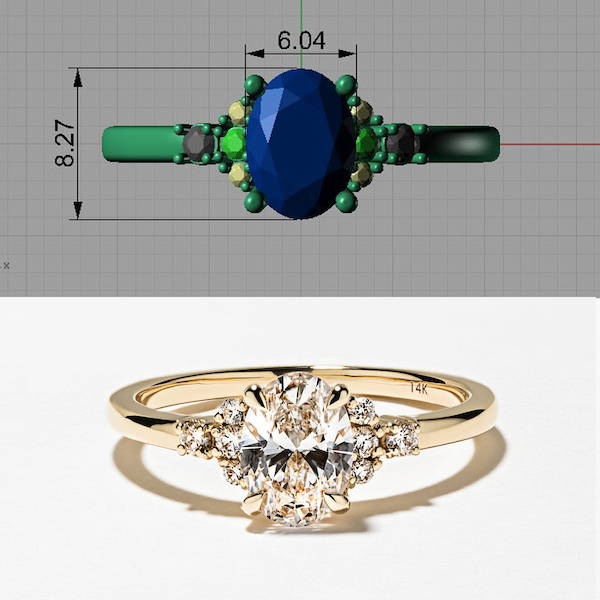 Learn more about custom design services and follow these tips when creating your own ring.
On average, custom rings take about 4 weeks to complete. Give yourself plenty of time in case there are any delays and be sure to check your email frequently throughout the process. If we don't receive replies quickly, it will further delay the process. Be as specific as possible. Ask your personal shopper if you have any questions relating to jewelry terminology you're not familiar with. Don't worry about sending too many emails or asking too many questions. We prefer you did so that you get all the details you need!
A custom ring does not necessarily cost more than a standard ring. You can work one-on-one with your custom design specialist to create a design that fits within your budget. You can use your pre-owned diamonds. We often get asked if we can set heirloom diamonds or recently purchased stones. The answer is yes! We can use any of your personal stones in your custom design. The only thing we cannot reuse is the metal from a pre-owned setting.
Don't limit yourself to custom engagement rings! Our team can help you custom design any type of fine jewelry including engagement rings, wedding bands, everyday rings, necklaces, bracelets, earrings, and cufflinks!