Featured Client: Rachel Lowenthal!
Article by
We are delighted to share the story of Rachel Lowenthal and her new ring that she had custom-designed with us! The ring has huge sentimental value to Rachel as the diamonds were originally her great grandmother's who traveled with them in hand from Europe in the early 1900s. Her grandma, who Rachel was close with, had the two diamonds reset into two yellow gold rings that she wore all the time. "My grandmother was a sweet, kind-hearted woman who never had a bad thing to say about anyone," Rachel remembers. Her dad inherited the rings after Rachel's grandmother passed away in 2010 at the age of 98, and for Rachel's birthday earlier this year, he gifted her the rings so she could repurpose the diamonds. Like her grandma, Rachel took the two beautiful diamonds and had them reset into a piece that she would wear daily.
2021 was a milestone year for Rachel because she had a big birthday and she bought a condo for her and her fur babies to live in! A native Oregonian, she enjoys spending time with her friends and family that live nearby. When we asked Rachel why she chose MiaDonna she said that her sister knows the owner and had nothing but great things to say about MiaDonna! She checked out the website and liked what she saw and decided to come visit us, "Once I walked into the showroom I knew I was in good hands."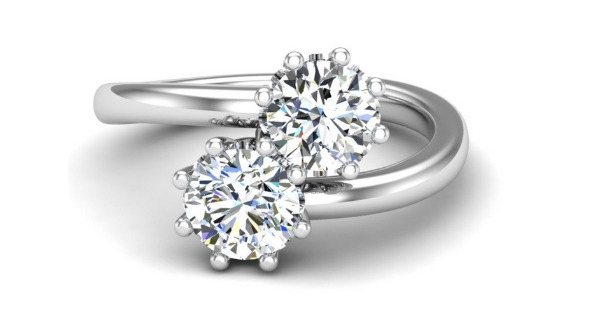 Because Rachel was restyling two pieces, she chose to custom-design the two diamonds into one unique ring. We asked what her experience was with custom designing the piece and she said, "I really had no idea or vision of what the ring would look like so I really relied on their expertise. Justine was amazing and walked me through the process. She recommended the setting and gave me options to choose from to personalize it. Once I got the rendering, I was thoroughly impressed and couldn't wait to see the finished design!" She was amazed to find the ring was even more beautiful than she had expected.
Rachel wears her gorgeous ring every day and chose the Toi et Moi style to accommodate her active lifestyle. The clean, simple design makes it perfect for a casual look, but as a bonus, it also goes well with a dressier outfit for a special occasion. It's a classic, timeless piece that she will be able to pass down in the future. Rachel says, "I love absolutely everything about it- the sentimental value of it means more to me than anything. This ring was my dad's gift to me and the fact it came from my grandmother means even more."
At MiaDonna, we love to work with you to restyle your existing jewelry into unique designs that you'll cherish and wear every day. Our high quality, handcrafted fine jewelry is made to last and can carry sentimental value from generation to generation. Feel inspired to restyle your heirloom jewelry? Reach out to our Design Team to begin creating your special piece today.