How To Save Money On Buying An Engagement Ring
Article by MiaDonna
For many, buying the engagement ring of their dreams feels out of reach. However, there are several tips that smart consumers can utilize to get a gorgeous ring—without compromising quality or breaking the bank. Let's go through some of the inside secrets of the 4 C's to save money buying an engagement ring.
Buy Diamonds Below Full Carat Size

When you shop for diamonds, you're probably thinking in whole numbers like 1 carat or 2 carats. It's just easier that way. But here's the secret: Round-numbered carats tend to be more expensive than fractional ones.

To save the big bucks, opt for a center stone slightly below a full-carat weight. For example, let's say we have two diamonds. One is a 1.98 carat round center stone, Ideal cut, "G" color, and VVS2 clarity. The other is a 2.0 carat diamond with the exact same cut, color, and clarity. To the naked eye, there is no size difference. However, the current price savings is about $1,500!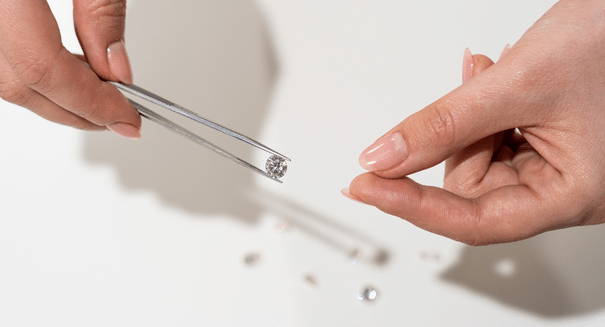 Make Color Work For Your Ring

Color is another price saving factor to work with. Diamond color grades range from D to Z. The less color in a diamond, the more expensive. Grades D, E, and F are colorless, while grades G, H, I, and J are near colorless with a little splash of faint yellow depending on the grade.
To save big, go down in color by choosing a diamond from the second tier and set it in a Yellow Gold ring setting. The color of the Gold will actually hide the yellow tint in the diamond. No one will know!
If you have saved money by going down on your diamond's color, increase the cut grade to Very Good or Excellent. The Cut should not be confused with the Shape, as Cut refers to how well the diamond's facets have been positioned to create the best brilliance and sparkle. A well cut diamond is probably the most important of the 4c's because it will reflect more light to hide any small color and or clarity imperfections.

The Brilliant Round shape diamond is the most popular shape in a diamond. It's a classic and timeless shape that will never go out of style. Round diamonds are ideal because the way they are cut maximizes brilliance, fire, and scintillation. Those are all the things that give diamonds that alluring sparkle and can hide more imperfections than some other shapes.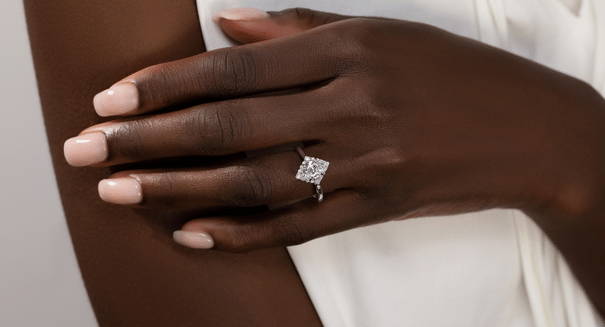 Solitaire settings are fantastic, especially if you have a big high-quality diamond. However, what can you do when you don't? One option is to jump on the big trend of using thin-band engagement ring settings to make your diamond look bigger.

Another exciting option is to set a smaller diamond in a halo setting. This type of setting complements the center stone by surrounding it with a channel or halo of much smaller diamonds. It's a nice contrast that makes the center stone look bigger than it is. Also, halo settings add more glamour to the overall ring.
With most rings, you have three choices of metal: 14K Gold, 18K Gold, or Platinum. Additionally, the colors of gold in jewelry include white, yellow, or rose. Platinum is a lustrous white/gray color.
All metals have their pros and cons, but 14K is the lowest-priced and the most durable metal, so it's a great way to save money on your engagement ring. 18K Gold has a higher percentage of gold content making it softer and priced higher than 14K Gold.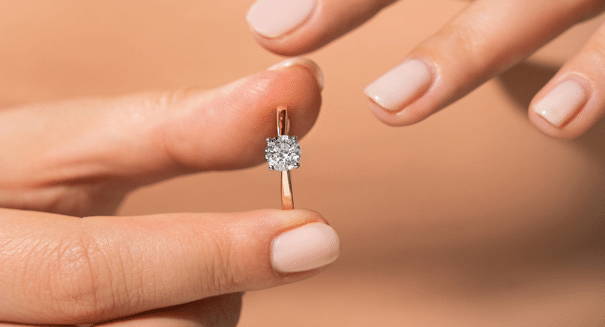 Gold will need maintenance every few years because regular usage, exposure to the elements, sweat, and detergents will alter your PH balance affecting the color of the metal. But a quick polish and dip will bring it back to new.
Platinum is a luxurious white heavy metal (it's 60% denser than gold), making it the most expensive metal choice. Many people love the look and feel of Platinum because it will develop a nice vintage look over time called Patina. However, it is more malleable than gold and can dent, and reshape over time.
The Regional Sales Tax & Duties Hack

If you're lucky enough to live in Oregon, Alaska, Delaware, New Hampshire, or Montana you don't have sales tax. All other states have it—California has the highest state sales tax rate of over 7%. Because MiaDonna is located in Portland, Oregon, there is no sales tax or duties. Customers from all over the continent drive or fly over to save hundreds of dollars on jewelry. The money you save could be a free vacation to Portland. If you plan on doing this, start your order online. When you're at the checkout page, choose the "Store Pick Up" option and pick it up in Portland.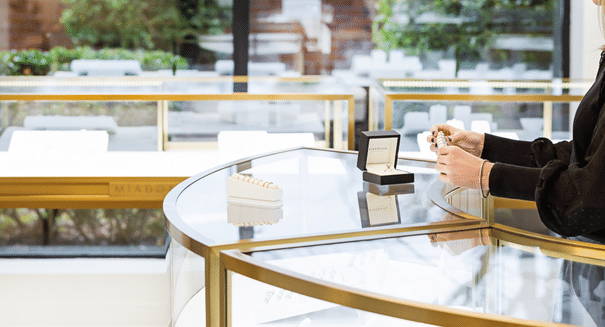 Buy With Cash Or A Wire Transfer

Ideally, you should buy your ring using cash or by wire transfer instead of credit or charge cards. You'll save a ton of money on interest fees and potential late fees. Also, it's nice to start your life together with minimal or zero debt. To help you with this, we created a complete guide on how to save up money to buy an engagement ring.
Buy Lab-Grown Diamonds Over Earth-Mined

You can expect at least 40% or more savings on Lab-Grown Diamonds over earth-mined diamonds. So by this variable alone, you'll be saving the most money on your engagement ring. Both diamonds are identical in every way except Lab-Grown Diamonds originate in a lab thus bypassing a lot of the heinous damage diamond mining can do to the earth, humans, and the environment.

Just a quick note: Not all Lab-Grown Diamonds are created equal. In fact, through advanced science and years of experience we continually create diamonds superior to other Lab-Grown Diamond brands. MiaDonna's diamonds are harder and brighter than any other diamonds on the market.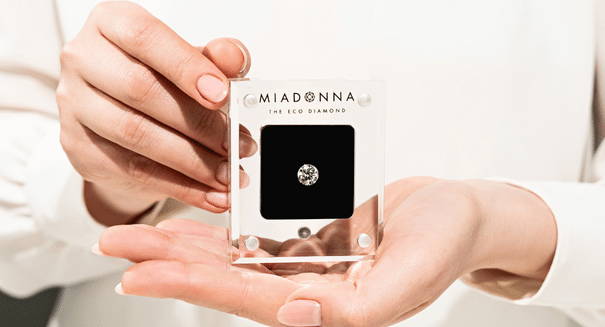 Save The Most Money By Starting At The Right Place

The best tip to save the most money is to visit a reputable jewelry store with non-commissioned diamond experts. Book a personalized one-hour appointment with a MiaDonna Lab-Grown Diamond expert so you can get all your questions answered and start building your perfect engagement ring. You can do this virtually or in person. We will give you even more hacks on saving money and how to meet your budget. Education is the best way to save the most money on a diamond engagement ring and we are here to guide you through every step of the process!

View our best-selling engagement rings and start saving money today.