Choosing the Perfect Diamond Carat Size for Your Engagement Ring
Article by MiaDonna
Updated June 2021
Have you chosen the perfect engagement ring for your loved one, but are left wondering "what diamond size should I choose?"
First, it's important to keep in mind that how big the stone is or the carat weight you've chosen does not determine how much you love your significant other or are loved by them. While it might be hard to imagine, we feel that bigger is not always better – choosing the most complementary stone size is relative to personal style, stature, hand size, setting preference and budget.

Tip #1: Standard & Average Sizes
Depending on where you live the average engagement ring size will vary. The 1.0 carat center stone used to be the most desired size chosen for engagement rings, however, more recently we are seeing this shift towards a slightly larger stone, with couples choosing diamonds averaging 1.25 to 1.50 carats.
Tip #2: Consider Their Lifestyle
Does your partner have an active lifestyle or career? For example, someone who works with their hands (like a teacher or stay at home mom) or enjoys active hobbies (like gardening or the gym) may be better suited for a smaller center stone.
Does your partner wear any other jewelry? If they do then they might prefer a larger center stone, however, if they don't then something more understated may match their personal style better.
Tip #3: Think About Your Budget
Does your partner like diamonds? Many eco-conscious consumers might like the look of a diamond but not the cost or ethical and environmental abuses that come with them. Lab grown diamonds are the perfect answer. 100% identical to earth mined diamonds, lab grown diamonds are truly conflict free and are up to 40% less than traditional diamonds. Additional options include our Diamond Hybrid and lab grown gemstones.
One of the great things about the affordability of MiaDonna's lab-created diamonds and gemstones is that you likely won't be stuck compromising your preferred stone size because of budget restraints.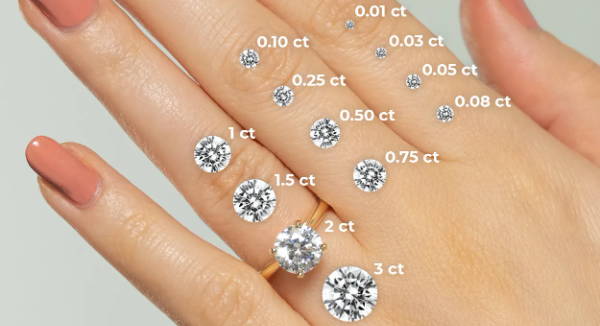 Our Sizing Recommendations
If your hands are smaller than a 6.5 ring size you might want to consider a 1.0 carat or a stone that is under 1.50 carats. However, if your hands are larger than a 6.5 ring size you can go with something larger, like a 1.50-2.0 carat.
Keep in mind that the smaller the finger, the larger the diamond will appear. A 1.5-carat diamond solitaire looks much larger on a size 4 finger than a size 8. Now that you know what to look for, you are ready to find the perfect engagement ring and center stone.