Find the Perfect Sapphire Engagement Ring for Sapphire Month!
Article by
Sapphire gemstones continue to be a crowd pleaser! When it comes to jewelry, sapphires are second only to diamonds in popularity and shoppers are flocking to sapphire engagement rings. But what do they mean, and why are they so popular?!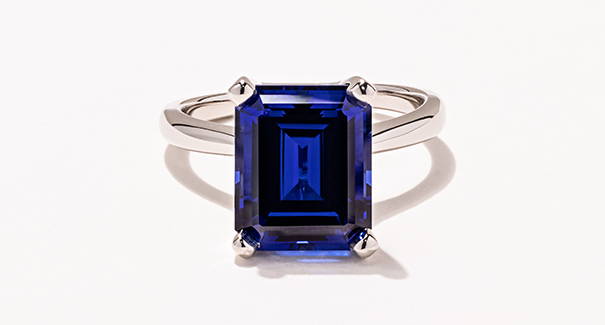 Along with being the modern birthstone of September babies, sapphires have a long history, dating back to Ancient Greek times, when oracles used them as a means to gather knowledge from the future. Sapphires are also believed to represent the planet Venus, and are thought to promote wisdom and spiritual truth. They have been noted in numerous religions in the past, such as Buddhism and Christianity, and are also said to bring internal balance and calm emotions.
Sapphires belong to the corundum family of gemstones, which is also the family that Rubies belong to! All colors of corundum gemstones, except for red, are considered sapphires. Sapphires come in at a 9 on the Mohs scale for mineral hardness (diamonds are a 10), making them an excellent choice for engagement rings and everyday wear. While the royal to navy blues are the most popular sapphire colors, they come in a wide range from colorless, to pink, to the newly popular champagne!
Sapphires have been worn by royalty for centuries as a sign of wealth, with many believing in the stone's power to keep them safe from envy and poisoning. The most well-known royal sporting a sapphire ring was the late Princess Diana, whose ring was given to Kate Middleton when Diana's son, Prince William, proposed to his now-wife. Diana's ring choice came as a major shock to royals and their followers alike, because the ring itself was not a custom-made piece for the soon-to-be Princess! No matter the origin, Diana didn't care and adored her ring, continuing to wear it after her divorce from Prince Charles. The ring was set with a 12-carat sapphire center stone surrounded by 14 smaller diamonds. In a very similar style, our Flora Engagement Ring has a vintage halo of 14 recycled diamonds, and looks stunning when set with a royal blue lab grown sapphire.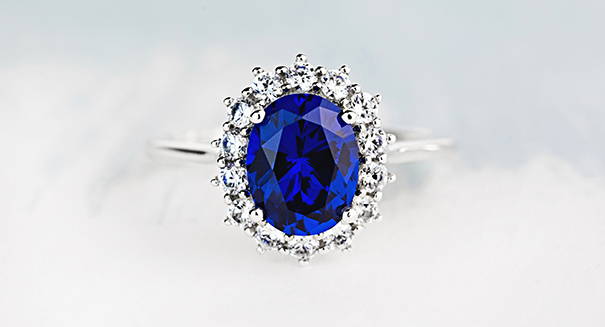 Another style that looks incredible with a lab grown sapphire is the Arya Engagement Ring, a gorgeous vintage-inspired setting with a milgrain bezel and north/south accenting recycled diamonds. This setting in particular sits quite low, so it's perfect for active lifestyles!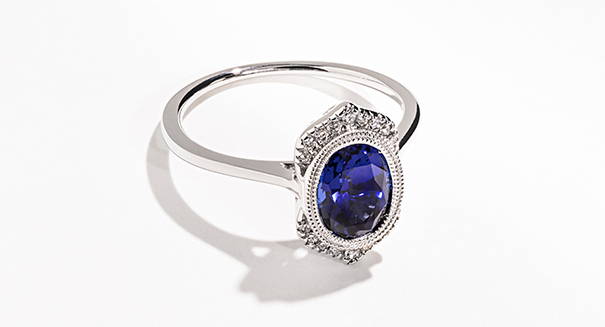 The Grace Vintage Engagement Ring looks absolutely stunning when set with a lab grown sapphire gemstone! Our favorite combinations have been a blue sapphire set in White Gold, and a champagne sapphire set in rose gold!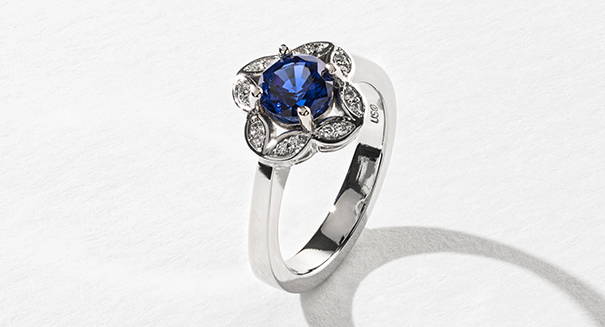 There's no way we could write about lab grown sapphires and gorgeous ring settings without including the Delphine! Beautiful as an engagement ring or eye-catching right-hand ring, the Delphine is surrounded by a small halo of round recycled diamonds and a secondary halo of elongated recycled baguette diamonds for a show-stopping sunburst effect!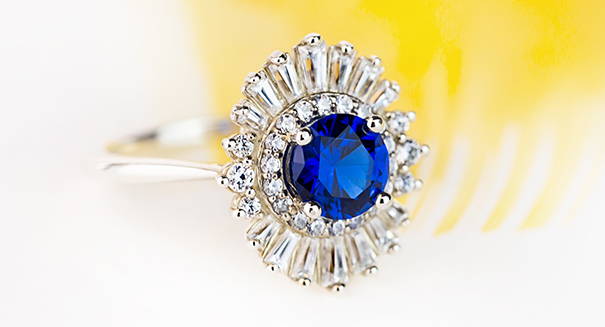 If you're a lover of all things pink, or perhaps wanting something to wear on Wednesdays, our pink champagne sapphires add a bright pop of pink to any jewelry style!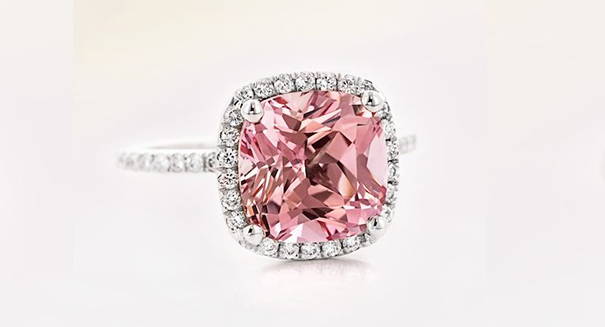 Any of our engagement ring settings, earrings, or pendants can be set with lab grown sapphires of various shades and colors. Browse our lab grown gemstones inventory today and create the sapphire ring of your dreams!