Wedding Band and Engagement Ring Tips and Tricks
The process of choosing the perfect ring for a fairytale proposal goes beyond the engagement ring alone. Consider that your partner may wear this for the rest of their lives. Selecting an engagement ring that blends seamlessly with a wedding band is essential.
Planning ahead will ensure your engagement and wedding bands match. This will complete the look for the person of your dreams. When paired well, two rings will give you a magical experience that lasts from the moment you get down on one knee to tie the knot—and for the rest of your lives.
Keep reading for a complete guide on selecting wedding band sets that work.
Stackable bands sit flush against as many rings as you desire. You can add additional rings for anniversaries, birthdays, and vow renewal ceremonies. The sky's the limit with stackable wedding band sets because they come in all shapes and sizes. Let your imagination run wild. A beautiful example of stacked matching wedding bands is the Paris. While the show-stopping antique halo draws in the eye, the intricate wedding band sits flush, enhancing the mesmerizing glimmer of the engagement ring.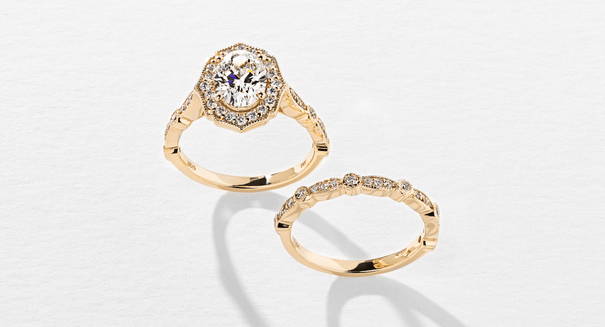 Your partner is your soulmate, your best friend, and your other half. Opting for a ring that resembles the blending of your lives together will symbolize your good fortune as you move into married life. The Estelle ring embodies this concept because it's made with a French tip Pear Cut center stone surrounded by a halo of channel set Lab-Grown Diamonds. Choosing a ring like this creatively blurs the lines between your wedding and engagement ring.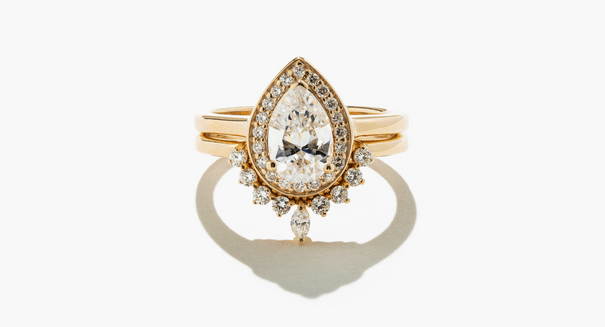 A solitaire ring is an iconic style of ring and is a consistently popular choice as an engagement ring. Pairing an extravagant solitaire with a more understated wedding band is ideal to accentuate the stunning solitaire. The Dior Solitaire Stackable Ring Set features a high profile cathedral style Lab Grown Diamond, which will shine atop a smooth wedding band. Though an original style, solitaires are far from basic.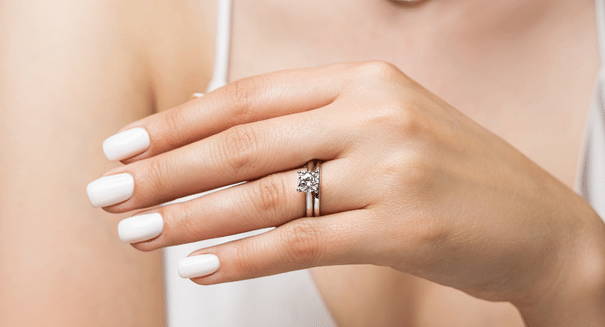 Transform your ring into a work of art by selecting a style that twists, turns, and blends into the other. Like a wave or a mountain, the Crescendo bands bring dynamic energy to a traditional wedding ring set. Wear this unique and eye-catching contour set and be amazed at how each Lab Grown Diamond builds upon the last. Dare to be different with your wedding band sets, and choose a dazzling duo design.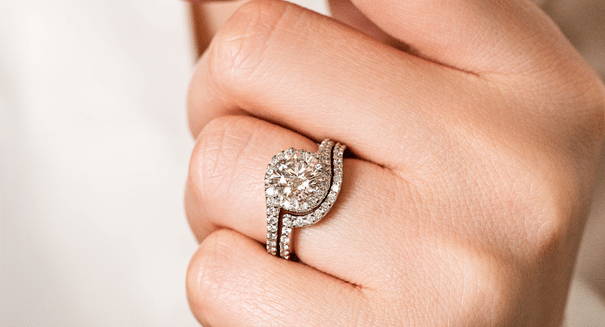 Finding the best wedding band for your engagement ring is easy, as wedding bands for women are more diverse now than ever before. If you want to buy them separately rather than in a set, contact the jewelry experts at MiaDonna for more matching and stacking tips and tricks.