Tips for Traveling with Expensive Jewelry
Article by MiaDonna
Have you ever experienced the anxiety of misplacing your most loved piece of jewelry? Us too! The relief of finding your lost ring or necklace can feel like the sun bursting through the clouds after a stormy day.
I remember the first time I had lost a necklace and it stuck with me forever. My mom and I had been to see the play "Annie", and at the end of the night, she gave me a golden heart locket. It was so special to me that I wore it everywhere that week, until one day when I couldn't find it anywhere. It was gone. For months I felt guilty, and I couldn't tell her because I felt so ashamed. The locket was never found, even after turning the whole house upside down. It had been swallowed by the vortex that claims all lost jewelry, never to be seen again. A lot of us have a lost jewelry experience that teaches us to be very careful, after all, we want to keep those diamonds forever!
With the season of good weather and travel nearing, we want to address an issue that is very near to our hearts, making sure you don't lose your beautiful fine jewelry. Vacation is for reducing stress, and we want you to feel prepared so you have absolutely nothing to worry about! You should be able to dance your heart out during Spring Break without looking down every ten minutes to check that your ring is still there.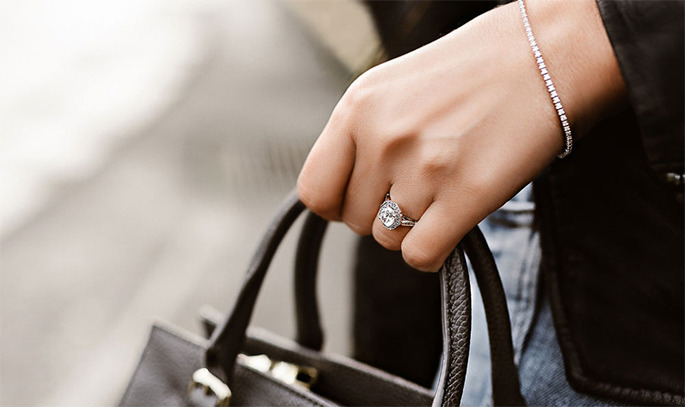 My favorite way to pack my fine jewelry is to put each piece in a compartment of a 7-day pill organizer. When thrown into a suitcase your jewelry can get tangled or knotted up together, and the pill organizer prevents that. By using this method I know there are exactly 7 pieces I am bringing.
A successful process is to put every single item, including what you are already wearing, in the organizer and then take a photo. Email yourself the photo so you know exactly what items you packed, which is a helpful reference if one of the items goes missing! Finally, decide what to keep on while traveling and put the pill organizer in your carry-on, where it is safe. In most cases, you do not need to remove your jewelry before going through security, according to the TSA policy. Smaller pieces such as wedding rings and earrings can usually stay on, but you may want to remove particularly bulky items.
An alternative to the pill organizer is a jewelry case. There are some really beautiful options on Etsy and if you plan to travel a lot in the years to come, it may be worth buying one. I like to have my jewelry protected with velvety fabric so it doesn't scratch if it's jumbled around in a turbulent flight or on the way to the hotel.
Depending on where you are traveling, you may consider leaving your engagement ring behind. If the purpose of your travel is to unwind then keeping your rings at home may be the peace of mind you need.
If you still want the look of your engagement or wedding ring but don't want to risk the loss, consider a look-a-like at a fraction of the cost. You can have our rings made with a Diamond Hybrid® center stone, which is less expensive. For example, a 1.0ct round cut Blonde Solitaire Engagement Ring set in 14K rose gold is $1,765 with a Lab-Grown Diamond, and $795 with a Diamond Hybrid®. The Diamond Hybrid® is a diamond-infused simulant that has a non-precious crystal core and a solid outer layer of Lab-Created Diamond, for a hardness of 8.8 on the MOHS scale. Since they are not as hard as diamonds and can show wear more easily, we recommend using lab-grown diamonds in your everyday ring.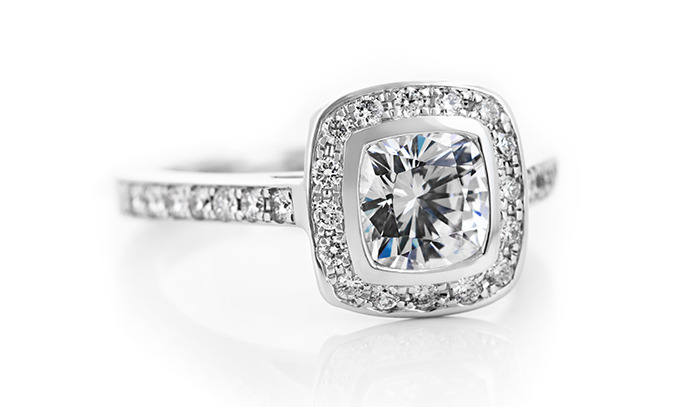 Where are you going? Consider where you are traveling to, and only bring what you need. Will there be lots of sand? Sightseeing through an unfamiliar city? Hiking in the wilderness? If your day will most likely be spent laying on the beach with hourly sprints to the water to cool off- you will want to leave all fine jewelry in a safe in your hotel room. The sand will devour an engagement ring the second it drops. It's not worth the stress of spending the day with a metal detector pacing the playa to find where it escaped. Also, sand and sunscreen can affect your jewelry's integrity causing it to look less brilliant.
There is more to take into account than a sand monster that eats precious jewels. Expensive extravagant pieces may attract the attention of pickpockets. 400,000 pickpocketing incidents occur per day worldwide, and the top cities for pickpocketing are Barcelona, Rome, Prague, Madrid, and Paris. Those are all the cities I wanted to go to next!
Don't fret or let pickpockets stop you from seeing the world, just take precautions and keep safe. Pickpockets are good at causing distraction and they can snag those stunning diamonds right off you. To prevent that from happening, research the place you are visiting and if pickpocketing is a common occurrence, refrain from wearing big flashy pieces. When on a crowded bus or train keep your eyes on your rings. I will sometimes hold my ring finger while I look out the window to see the marvelous place I have traveled to, knowing my ring is still there.
Bring a few key items that match several outfits you are bringing. A pair of Huggies, a small Pendant, and a Tennis Bracelet are all beautiful complementary items that are harder to lose. Only bring what you will actually wear on your journey. It may be in your best interest to leave your most expensive and sentimental pieces of jewelry at home.
Luckily, many hotels have safes included in the room where you can keep your fine jewelry during the day. Then, when you are getting dolled up for dinner, you can retrieve your gorgeous items from their protective chamber.
Jewelry is more than sparkly items to accessorize our outfits. There is sentimental value in every piece. A simple ring might be something that friends exchanged to remember each other by. A necklace might have belonged to a relative that has passed away. Maybe you've had a ring for 5 years that you bought as a self-love gift. Either way, take care of your beautiful pieces, and have a blast this spring and summer wherever your travels may take you! MiaDonna wishes you a safe trip.