9 Highly Unique Hidden Halo Engagement Rings
Article by
If you've been searching for a ring that is unique, different, and adds a bit more sparkle than your traditional solitaire setting then a hidden halo may be just what you need! Also referred to as an "under halo," this style features a halo of pavé recycled diamonds around the girdle or base of your center stone for a surprise shine. While you can't see this exciting feature from the top view of your ring, when rotated to its side it's the perfect addition to spruce up your ring. The hidden halo is a versatile style, working well with a range of ring settings. You can get creative and make your ring stand out even more by mixing metals or using different gemstone shapes and colors.
Hidden Halo settings have the ability to make your Lab Grown Diamond or Gemstone appear larger, especially when viewed from an angle. The Halo also adds detail to an overlooked part of your ring setting. Hidden Halo Engagement Rings have become a huge trend and that doesn't surprise us the least bit! If you were drawn to the halo engagement rings but didn't want an entire halo visible from above, then this sneaky element may be the option for you. Check out our rings below!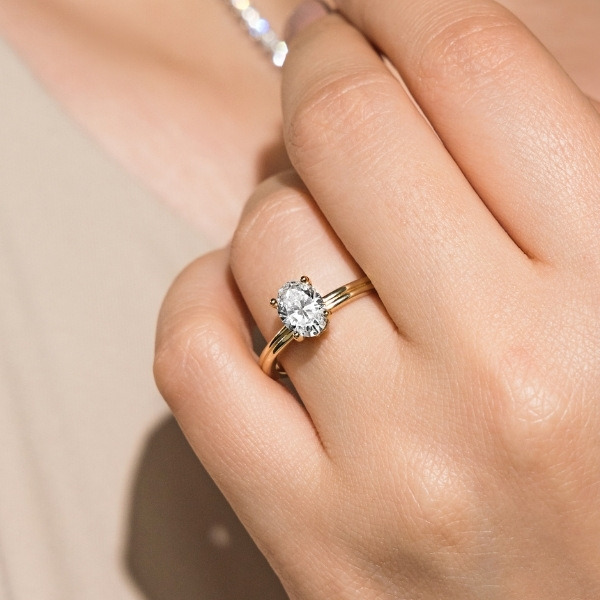 The Clara has a few features making it truly stand out. With a hidden halo of 0.16ctw recycled diamonds and a double band, this is an intriguing style. At first glance, you may see a traditional solitaire, but the subtle features make this ring one of our favorites.
Clara Engagement Ring: Starting at $950
---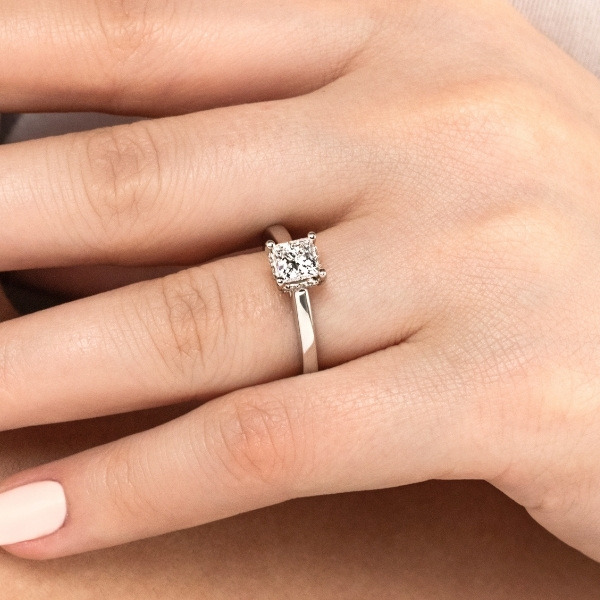 From a bird's eye view, you may see a simple ring, but if this style is slightly tilted in any direction you will quickly notice the subtle accenting recycled diamonds surrounding the center stone. The Stefania has a secure 4 prong trellis style setting so your stone is well protected and secure.
Stefania Engagement Ring: Starting at $975
---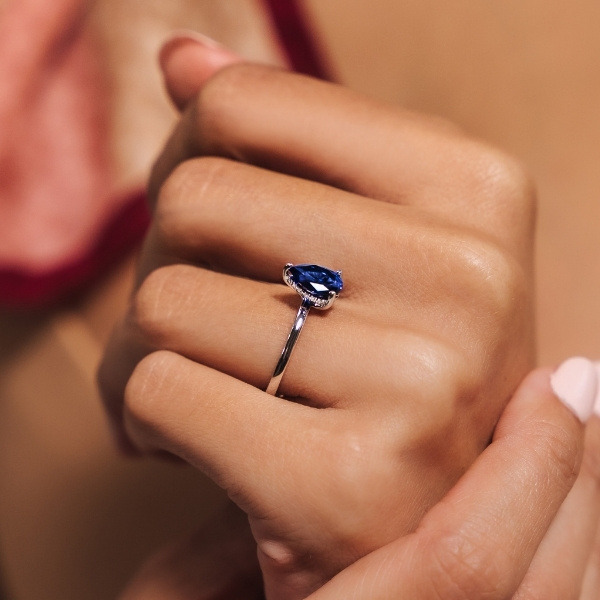 The Cordelia has a beautiful hidden halo of recycled diamonds subtly accenting your choice of center stone in a pear shape. This style works as a unique engagement ring or a right-hand ring! We like this style with a blue sapphire, which is amplified by the hidden halo.
Cordelia Engagement Ring: Starting at $940
---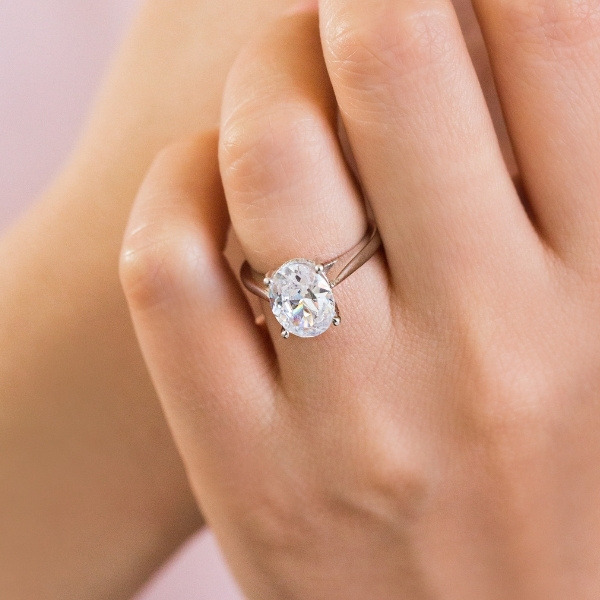 Not only does the Maverick have a hidden halo of recycled diamonds, but it is a two-tone ring giving it a distinctive look. This style features an oval cut Lab Grown Diamond or Gemstone for a setting that will make your fingers appear elongated.
Maverick Engagement Ring: Starting at $998
---
The Millie appears to be a traditional solitaire engagement ring with a thin band until your eyes meet the base of the center stone. A beautiful halo surrounds your stone to amplify its shine. This ring is wonderfully subtle, and we recommend trying it in rose gold.
Millie Engagement Ring: Starting at $1,360
---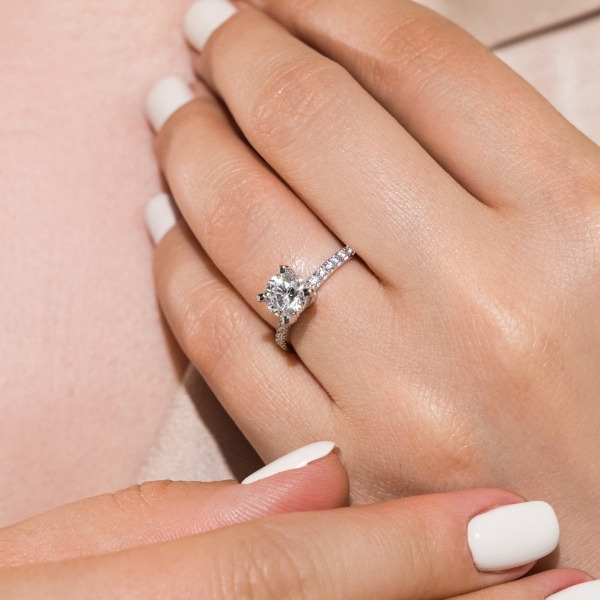 While not technically a hidden halo style, we had to include one of our favorite accented prong styles. The Adelaide has accenting diamonds around the base of the center stone, as well as on the prongs. This ring sparkles from every direction and will astonish anyone who even glances at it.
Adelaide Engagement Ring: Starting at $1,323
---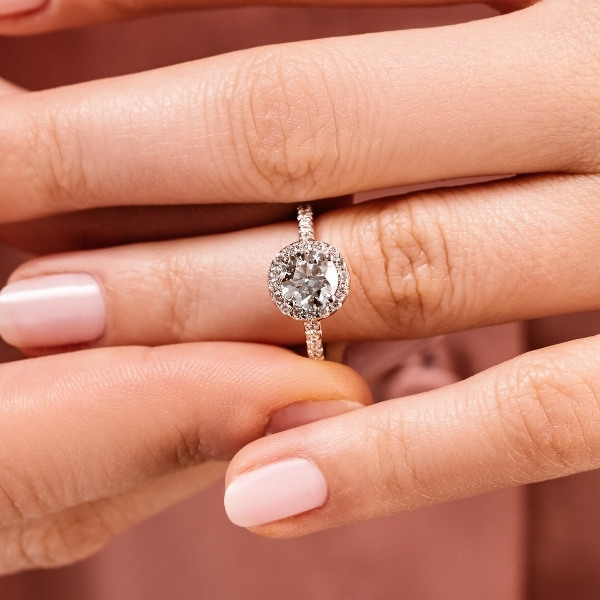 The Darling is another accented prong style, with a bonus! It features a traditional halo around the top of the center stone, and accenting recycled diamonds displayed on the prongs. The accenting diamonds go three-quarters around the shank for a splash of extra sparkle. A stunner, we just couldn't leave this one out!
Darling Engagement Ring: Starting at $1,759

And for the matching wedding band?
The styles above need a shaped wedding band that will sit flush. It's all about your style and preference, but we have a few suggestions you may consider. Each style above would work well with the following wedding bands. If you don't see one you love, chat with our Personal Shoppers about custom designing a wedding band that will stack perfectly with your hidden halo engagement ring.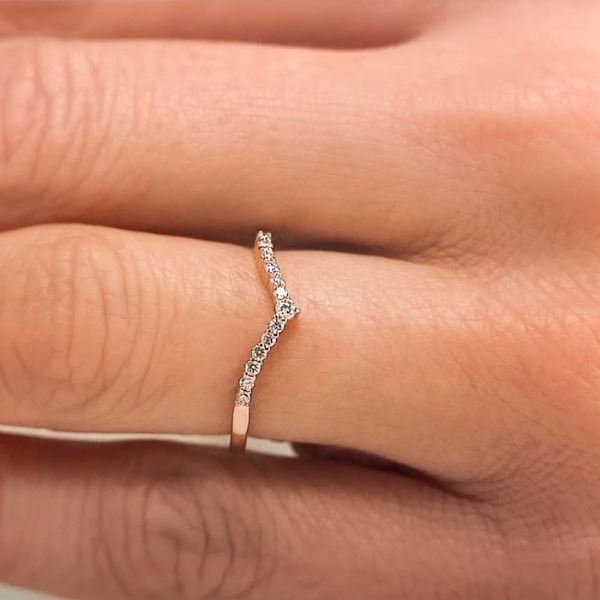 The Penelope has a V-shape setting of round-cut recycled diamonds going halfway around the band. This band looks spectacular all on its own, but will magnify the beauty of any hidden halo ring you choose.
Penelope Stackable : Starting at $738
---
The Cordelia has a half halo of round cut recycled diamonds that get larger in size as they meet in the middle. Made for the Cordelia Engagement Ring, this style can add excitement to any ring style.
Cordelia Stackable Band: Starting at $794
If you don't find the right set for you, simply reach out to our Personal Shoppers and they can guide you on what styles to combine. We hope you found this helpful when trying to choose your Hidden Halo Engagement Ring and we look forward to seeing you rock this surprising style!