Buying an engagement ring is a big investment, both financially and emotionally. You may not want to break the bank, but at the same time, you want to get something that will amaze your partner! Well, it's possible to get a ring you will both love and not feel your bank account has been massively depleted! While composing your budget, consider your partner's expectations, your finances, and ways you can save even more. We have some important things to share with you for your engagement ring budgeting plan!
Let's begin by first mentioning that you can always upgrade your center stone in the future. With our Lab Grown Diamond upgrade policy, you can upgrade your center stone to a bigger size or go from a Diamond Hybrid® to a Lab Grown Diamond. We then give you exactly what you paid for your stone to put toward the cost of your new gorgeous Lab Grown Diamond- the cost just has to be at least double what you initially paid. This way you can start with an engagement ring that fits your current budget knowing that one day you can upgrade to the center stone of your partner's dreams.
There's no magic formula, unfortunately- what is right for you is much more personal than that. The famous 2 months salary rule is a marketing gimmick and we don't suggest basing your decision on that. It would mean that if you are making $75,000 per year, you should spend $12,500 on an engagement ring. But this budget plan fails because it doesn't take into account the couple's debt, expenses, and lifestyle choices. Or the fact that you may hope to put more money toward a new home or travel! It's important to create a tailor-fitted budget that fits you. Maybe you are the disciplined type that can cut out the daily $5 latte for a year- thus justifying a bigger budget toward your dream ring!
It's also vital to consider your partner's expectations. Whether you find out from asking them or through their friends and family, it's good to have a solid idea of their perfect ring, including the style, the diamond shape, etc. This way you can chat with a jeweler to find a way to get your partner's criteria met but also stay within the price range.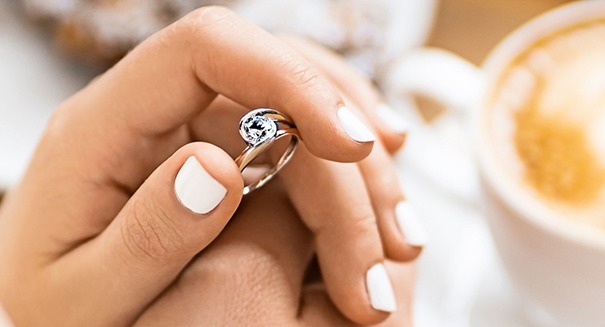 According to The Knot Real Weddings Study, the average cost of an engagement ring is currently $5,680. However, if you take into account that Lab Grown Diamonds are 40% less expensive than earth-mined diamonds, you can get a very impressive ring at a lower cost than the average that most people spend!
Tips and tricks to get a gorgeous stone on a budget
Cut, clarity, and color are important when selecting a Lab Grown Diamond. Tip 1 is to prioritize the cut. The cut determines how your diamond interacts with light, creating captivating visual effects, like brightness, fire, and scintillation. The cut is the most important part of a diamond's beauty, so selecting the highest cut grade your budget will allow is one of the best ways to get a ring your partner will love. We recommend going with an ideal or excellent cut. Tip 2 is to go down in clarity. Clarity is the purity or quality of a diamond and is the relative measurement of the inclusions and blemishes. The jump in price from an SI2 to VVS1 clarity is significant but with an SI, you could still have an "eye clean" Lab Grown Diamond. Check out our table to see the different grades. Tip 3 is to have a rose or yellow gold setting to mask any color in your lab grown diamond. Color grades D, E, and F are colorless, while G and H have a slight hint of color that only a gemologist would notice. With color I and J, the tint becomes a bit more apparent when compared to a diamond of higher color grade- it's still very faint. By wearing yellow or rose gold it will be much less noticeable.
Engagement rings under $1,000
To get the most out of this budget we recommend choosing a solitaire style. With this budget, you will be able to get a 0.5ct Lab Grown Diamond. You can also check out the Lab Grown Gemstones for different price points and carat sizes!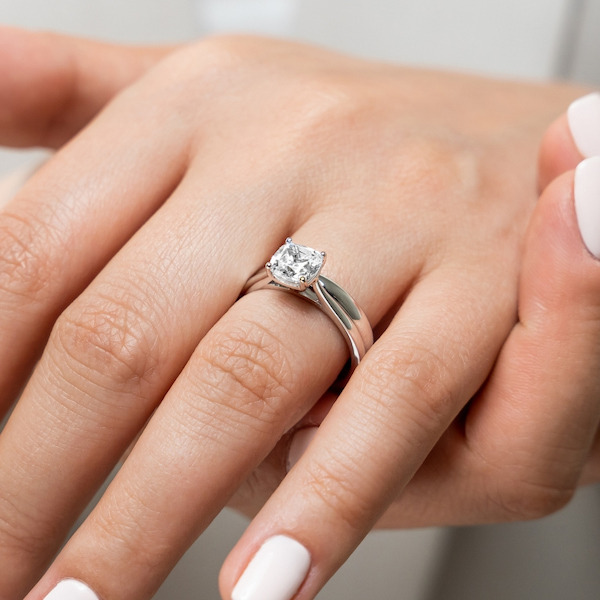 The Blonde is a timeless and elegant setting that keeps your center stone the main attraction. Try this traditional style with an oval or round shape and a brilliant cut to make it stand out even more!
Blonde Engagement Ring: Starting at $578
---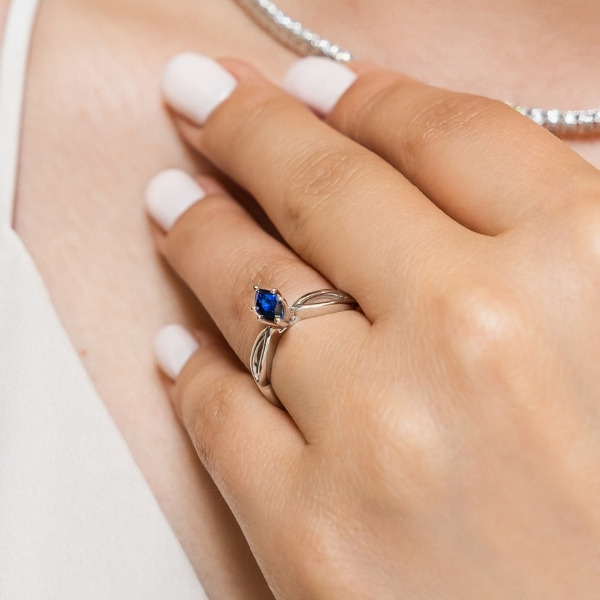 The Karina features a gorgeous twisted plain metal band that goes 3/4ths of the way around the ring. We recommend this style with a pear center stone- both Lab Grown Diamond and Gemstone are stunning!
Karina Engagement Ring: Starting at $578
---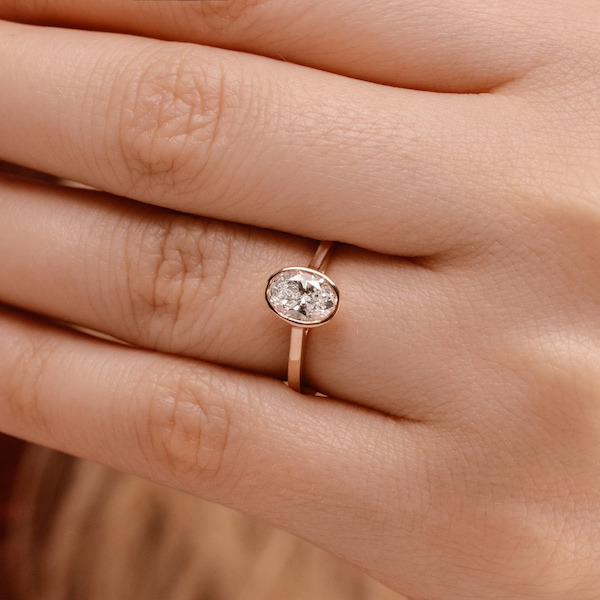 With the low-profile bezel setting holding your Lab Grown Diamond securely, this is another unique design that fits within the budget. Try it in an oval or pear shape to make this style extra beautiful.
Lilac Stackable Engagement Ring: Starting at $572


Engagement rings under $2,000
If you choose a solitaire setting you can have more in your budget to splurge on the center stone. The styles below are very unique but within budget to get a 1ct or even bigger!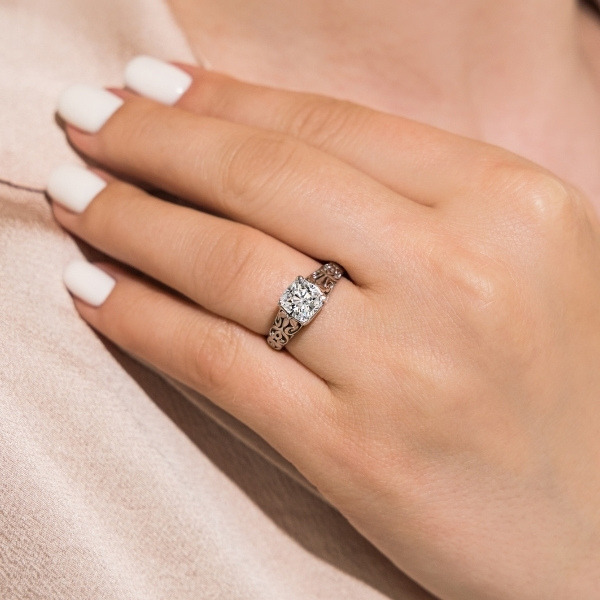 The Tory is a stunning antique design featuring a cushion center stone. This engagement ring has delicate filigree details throughout the band making it one of our most unique solitaire styles.
Tory Engagement Ring: Starting at $683
---
The Lyanna features a pear center stone set on a smooth thin metal band. The band comes to a point accentuating the shape of the pear for a style that elongates the fingers.
Lyanna Engagement Ring: Starting at $683
---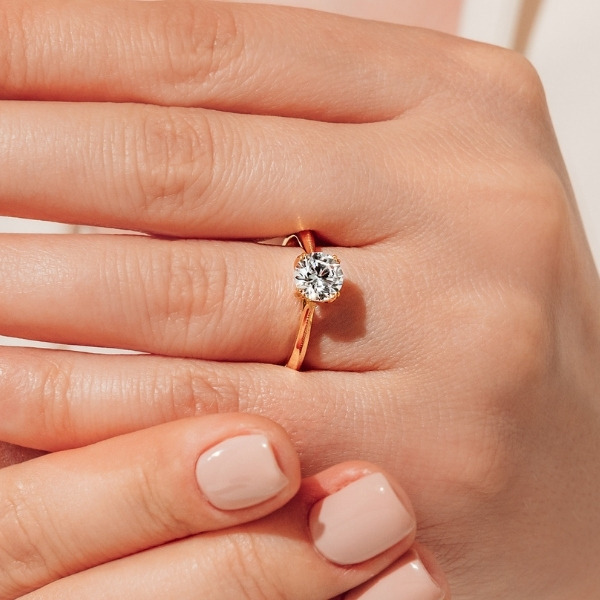 The Amelia holds your choice of center stone set in a double prong head. The band has a knife-edge design with unique milgrain detailing giving it an antique style look.
Amelia Engagement Ring: Starting at $788


Engagement rings under $3,000
With this budget, you can splurge on a halo or diamond-accented ring for a show-stopper style. Or if you choose one of the styles above you can use the extra money to get a whopper of a center stone.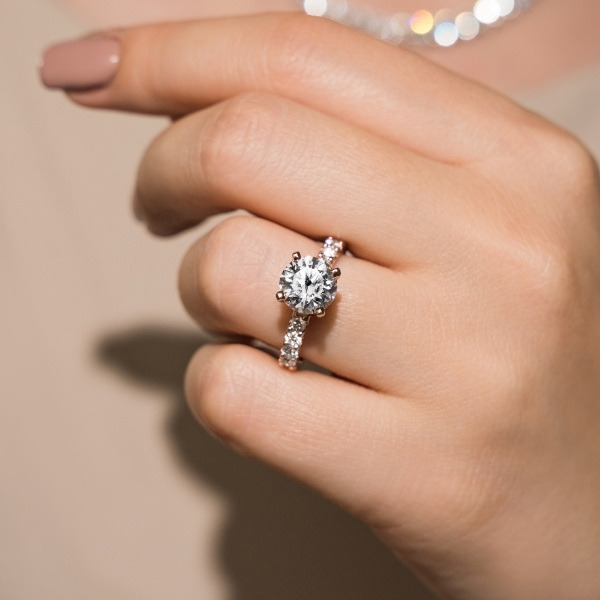 The 10 Stone is stunning with a larger center stone. This is the perfect ring for someone looking for an extra sparkly option. The round shape is our favorite look for this style.
10 Stone Engagement Ring: Starting at $1,040
---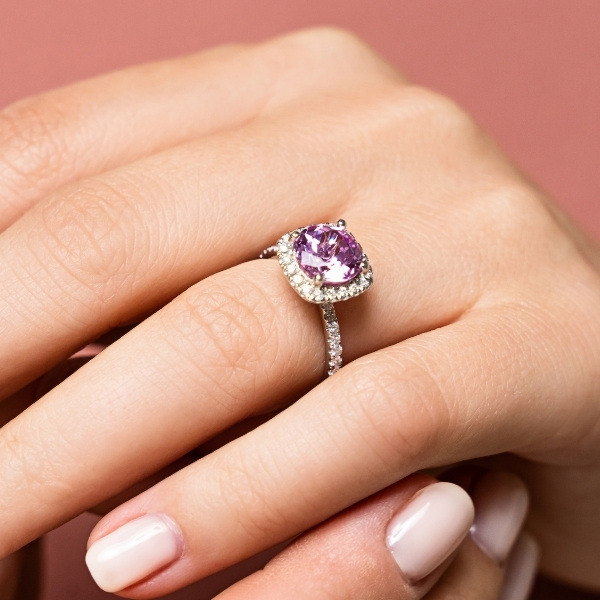 The Venetian is a petite cushion-shaped halo set ring with recycled diamonds circling the center stone and going just over halfway around the band. This style is beautiful with a lab grown sapphire!
Venetian Engagement Ring: Starting at $1,208
---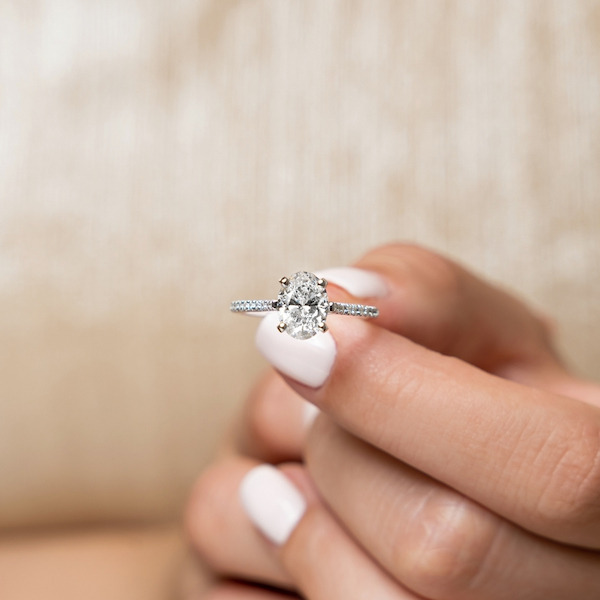 The Idyllic features a comfortable petite prong set ring with recycled diamonds going just over halfway around the band. This ring is stackable and can be matched with an eternity band for even more glimmer.
Idyllic Engagement Ring: Starting at $893
It's possible to get the ring you are dreaming of within a realistic budget. And don't hesitate to reach out to our non-commission Personal Shoppers! They are very helpful with finding the right ring for you while considering your budget.