Fall Wedding Ideas: Planning the Perfect Seasonal Wedding
Article by
With the presence of pumpkin spice everything, changing leaves, sweater weather, and the busy holiday season, it's no surprise that fall weddings are an ideal choice for many couples! There are many benefits to getting married in the fall, but also a few planning details to keep in mind for the comfort of yourself and your guests! We've got all the details on how to incorporate a variety of fall wedding ideas into your perfect wedding day!
Okay, we know budgeting is a huge part of wedding planning, and planning your nuptials for the fall is a perfect way to save a little bit of money! Most venues have a high wedding season, and an off-season. During the off-season, you can find prices for much lower, even up to half of the cost! These discounted months tend to range based on the venue, but are usually from October - March. Given that most of the fall season is during the off-season for weddings, you're also more likely to have your anticipated wedding date available for venues and vendors.
Save that extra money and put it towards a honeymoon destination, which will also have an off-season! For example, traveling to Bora Bora in late October or early November is said to be just as gorgeous of a time to visit as July-September, but for a much lower cost! Traveling during the holiday season isn't always the most fun, but saving a few thousand dollars could make it worth your while!
Worried about the weather? In colder climates and coastal states with a tendency for random rain showers, it's a very real concern! To keep your guests warm, plan to include a recommendation of a sweater or dressing for the weather on your invitation, and keep the weather forecast up to date on your wedding website! You can also have a stache of cozy shawls or blankets placed on seats for guests to enjoy during your ceremony and reception if it will be held outdoors. Keep the bridal party in mind for weather, too! Pair a cute faux-fur wrap for your bridesmaids with a floor-length long sleeved dress to ensure no one catches a chill on your big day! If you're worried about the rain, snag some clear umbrellas for a uniquely romantic ceremony, or have a plan to move the ceremony indoors if the weather isn't going to cooperate!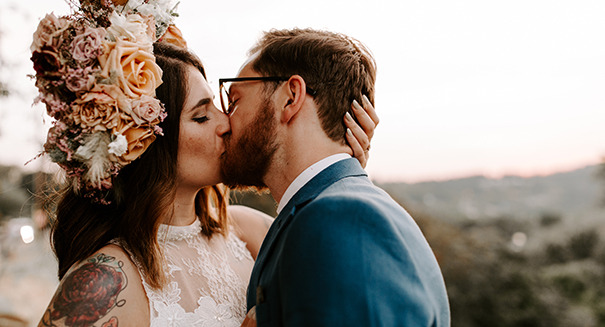 When you first think of autumn and fall wedding ideas, you can't help but think of all those gorgeous COLORS! Whether you're a fan of muted tones, neutrals, warm tones, or bright and bold jewel tones, there's plenty of beautiful combinations to bring your vision to life!
Consider pairing golden, copper, and orange tones with a contrasting rich navy blue or deep burgundy for added depth. If you're a jewel-toned fan, the blues, purples, teals, and emerald greens make for a stunning and stylish color palette! Take advantage of dried flowers and the changing colors by incorporating nudes, peaches, and browns into your palette with pops of orange and yellow! Gray is always a great choice for a refined look with plenty of colors to pair it with.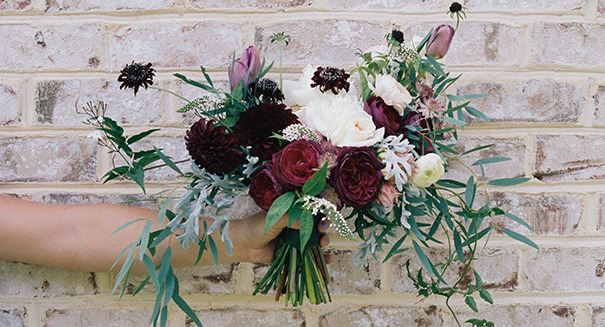 Another way to pinch a few pennies is to stick with florals that are in season. This can include garden roses, sunflowers, dahlias, anemones, and countless other fall-toned flowers to create a beautiful bouquet for the bride and bridesmaids! Pair your flowers with dried grasses and greenery to add volume and beautiful nature-inspired touches. Consider incorporating seasonal fruits and vegetables along with acorns, leaves, pumpkins, and pine cones into your centerpieces and decor for a chic, natural, and sophisticated fall wedding theme! If you're dead-set on a bouquet of peonies, florists can likely provide you with the flowers you're wanting, but greenhouse-grown flowers will come at a higher cost!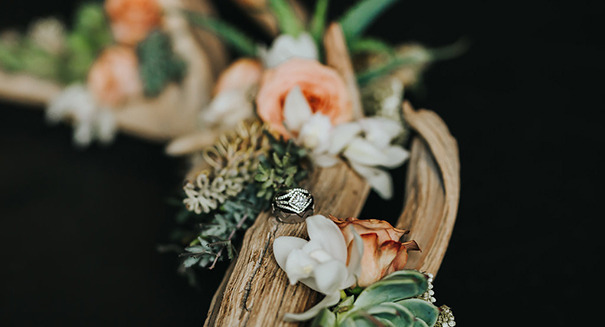 Hot cocoa, mulled wine, and warm apple cider are a delicious and warm pairing for a fall wedding! Consider having a heated beverage offered to guests before your ceremony begins to keep them warm and toasty, and to get everyone in the autumn mood! Highlight fall flavors with root vegetable dishes, a warm squash soup, or even a play on a turkey dinner! Cake flavors such as carrot cake, red velvet, gingerbread spiced, or apple spice with chocolate or caramel drizzle are rich flavors that will pair wonderfully with your day of fall wedding festivities! End the celebration on a sweet note with a take-home s'mores or hot cocoa kit for your guests!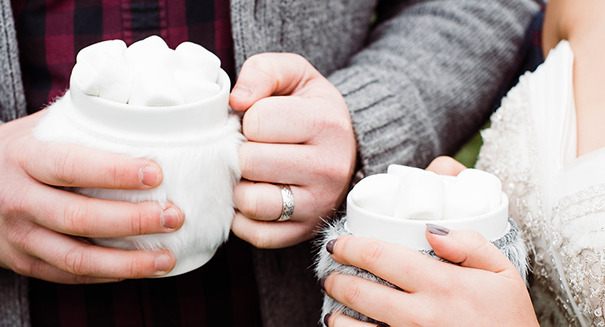 No matter the season you're planning to get married in, we're sure it will be a gorgeous day! We can't wait to brainstorm more ideas to help you along the way! Remember if you choose a gorgeous outdoor park for your venue to leave no trace behind and keep nature as beautiful as it can be!