Our Top 5 Elegant Antique Engagement Rings
Article by
Vintage and antique engagement rings are continuing their trend in 2021! With the rise of secondhand shopping and sustainable fashion, it's no surprise to us that these gorgeous styles are so popular! Browse some of our favorite highlighted styles below for inspiration on how to mix the past with the present, all while making it memorable forever.
The Chapman two tone engagement ring is delicate with gorgeous hand-carved filigree detail floating down the shank, while a floral inspiration on the prongs support a gorgeous round cut center stone. Eight recycled diamonds add a touch of sparkle to this style, and it's available to be made with one or two metal tones of your choice.
Chapman Two Tone Engagement Ring: Starting at $893
---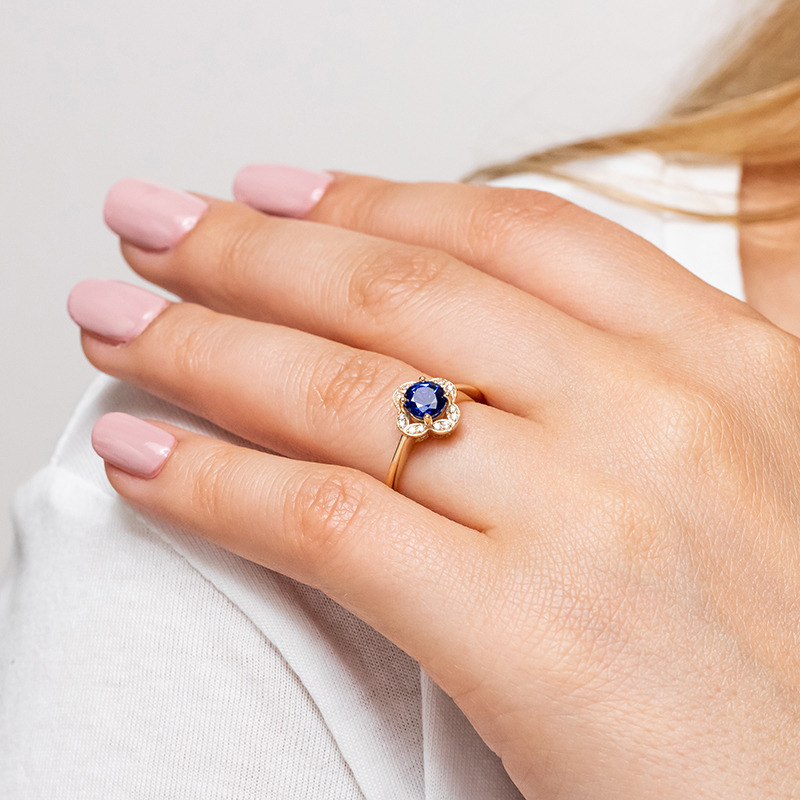 Perhaps the most popular vintage style we've seen lately is the Grace. A round cut lab grown center stone of your choice is surrounded by a beautiful floral inspired antique design featuring sixteen small recycled diamonds. This style has a low-profile, which is great for active lifestyles!
Grace Vintage Engagement Ring: Starting at $1,037
---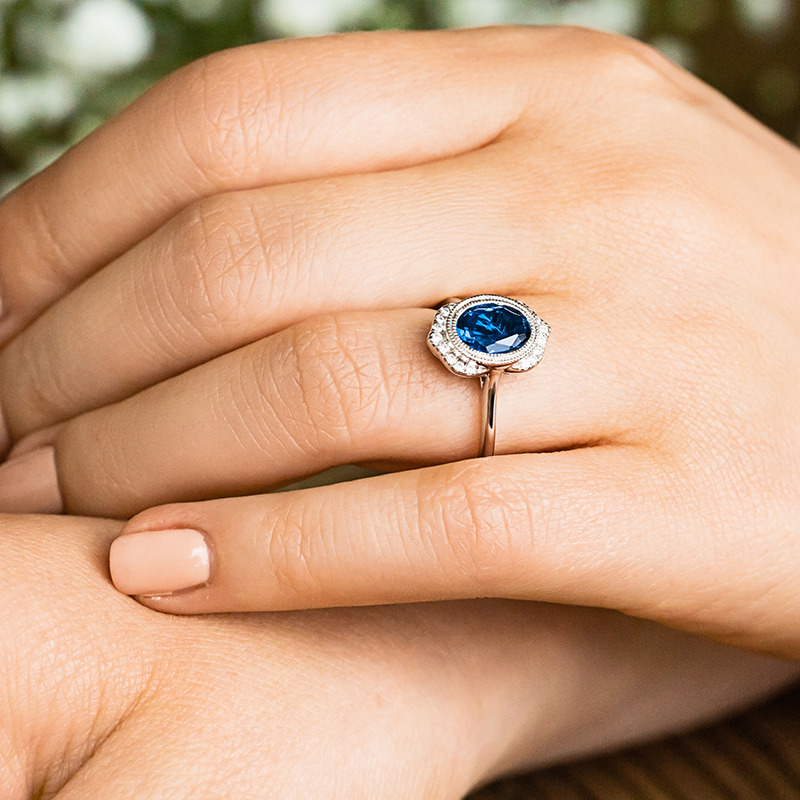 The Arya engagement ring is a truly stunning vintage design featuring an oval cut lab-grown center stone with a milgrain halo accented by small recycled diamonds highlighting the north and south sides. Pair this style with a lab-grown blue sapphire stone for a classic antique feel.
Arya Engagement Ring: Starting at $1,103
---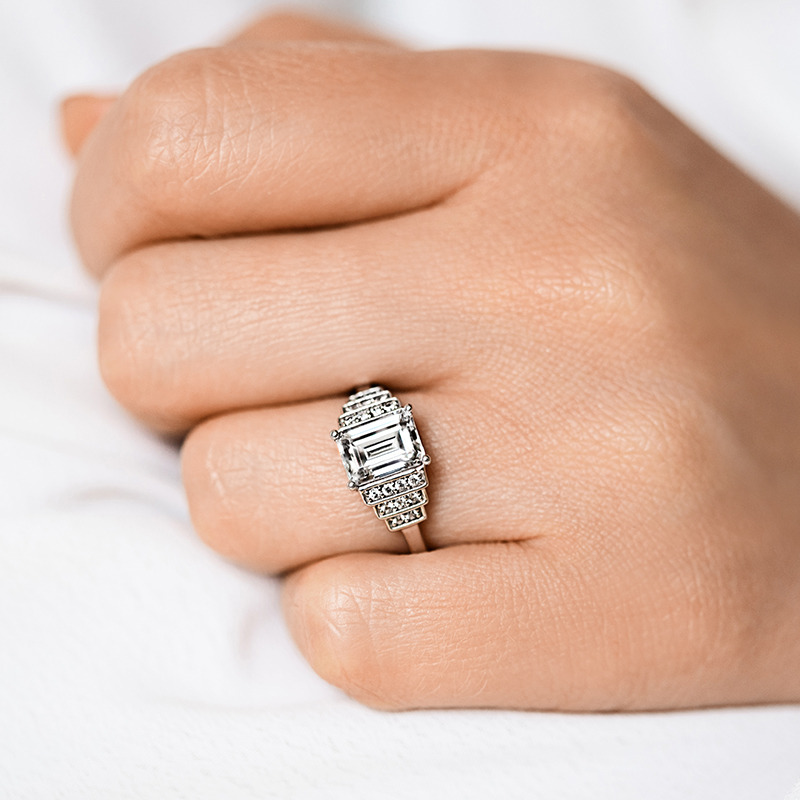 Vivienne is a ring in her own category. Highlighting an emerald cut lab grown center stone are three smaller vertical steps on both sides, each boasting gorgeous recycled diamonds for an added touch of class. This low profile design is unique and a great option for our emerald cut lovers!
Vivienne Antique Engagement Ring: Starting at $1,091
---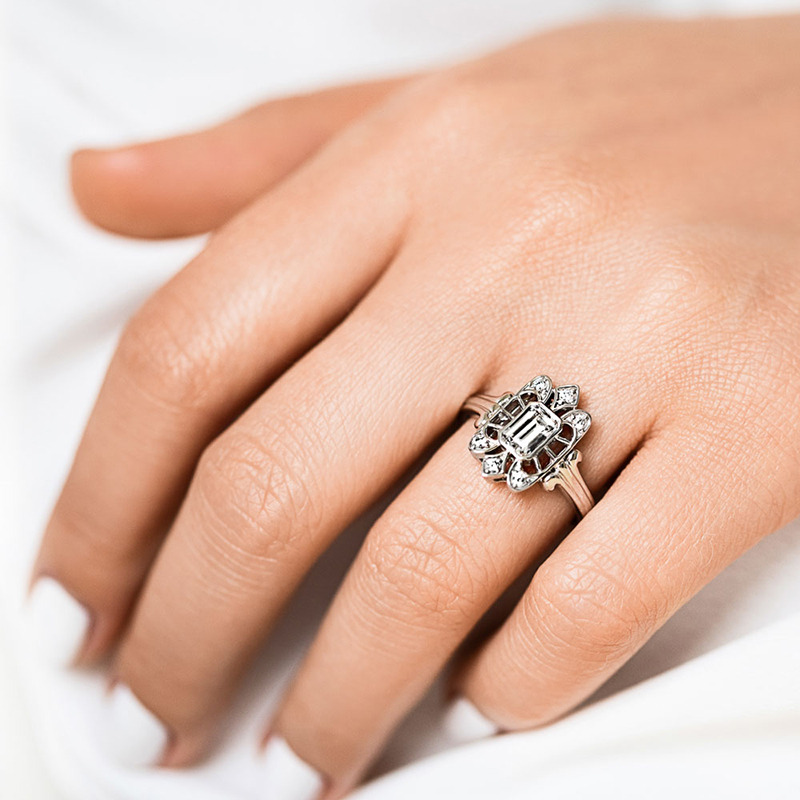 Our Marvel vintage engagement ring will take your breath away with its recycled metal design displaying small recycled diamonds on the north and south sides of the emerald cut center stone. Reminiscent of another era, this setting will steal the heart of any vintage-style lover.
Marvel Vintage Engagement Ring: Starting at $1,147
We love our vintage and antique engagement ring styles! If you have an idea in mind that's not represented on our website, we'd love to custom make it for you! Reach out to our Personal Shoppers or email info@miadonna.com to get started on a free quote for your dream vintage engagement ring!