Featured Couple: Francis and Carol!
Article by
2020 brought many new amazing couples to the MiaDonna family, and with no doubt 2021 will do the same! We're excited to highlight a sweet couple that said "yes!" to forever in October of this past year. On October 9th, 2020, Francis Xayana popped the question to his beloved Carol after four years of a beautiful relationship together. The two met through mutual friends, but decided to take things a step further by going on a date. After the date ended, the rest was history! Francis is a photographer, and naturally took many photos of Carol, which meant she'd never see the proposal coming! They planned a beautiful weekend getaway to Palisade Head along Lake Superior about 3-4 hours from their home. Francis asked Carol to turn away from the camera, looking off into the distance of the lake while he snapped some photos, and then got down on one knee and asked her to turn around.
Clearly, the answer was a resounding YES! Francis proposed with a stunning round cut 1.01ct lab-grown diamond in our elegant Hope engagement ring, which he knew would be absolutely perfect for Carol and her simple yet sophisticated taste. The couple has planned for a late 2022 or 2023 wedding to accommodate all of their family and friends! They're interested in a rustic ballroom with modern touches for a unique and memorable event near Minneapolis, but no concrete plans have been set.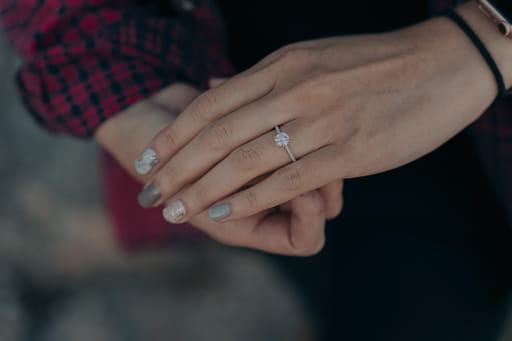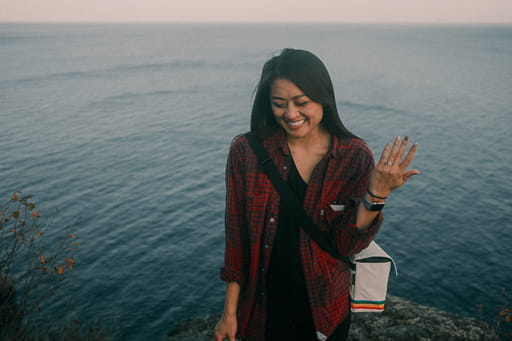 The ring Francis chose for Carol was important to them as a statement of their love, but it also needed to be completely ethical and support sustainable practices. That is why they chose to go with MiaDonna, admiring our commitment to ethical lab-grown diamonds and wanting to support a female-owned business. Carol isn't fond of elaborate or flashy ring styles, so the Hope was perfect for her with its beautiful sparkle on the thin band. While they both love the ring because it's just plain gorgeous, they also love that the ring is ethically made and appreciate the craftsmanship behind it. Join us in wishing the beautiful couple congratulations on their happily ever after!
Francis is responsible for these gorgeous photos of their proposal and moments together. Courtesy of @francisxayana.