The Importance of Black History Month & Black Lives Matter
Article by Anna-Mieke
This is Maria—my greatest teacher, my greatest inspiration.
As Black History Month draws to a close, and in support of the Black Lives Matter movement, I want to share the lessons Maria has taught me about oppression, discrimination and privilege, and how those lessons shaped MiaDonna and The Greener Diamond.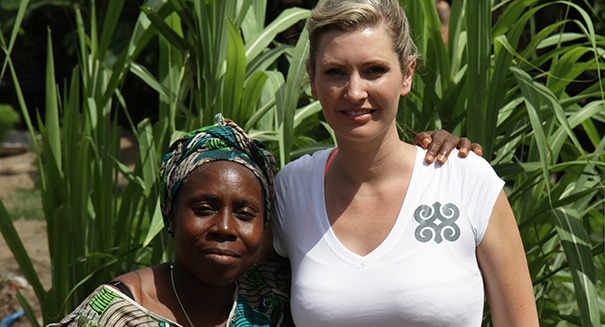 We first crossed paths in 2005 when I began sponsoring her son Ponpon. I was in the early stages of my research into the devastation and suffering caused by the diamond mining industry in West Africa. Reaching out to help one small boy in Liberia seemed a natural first step, but for all I've learned from Ponpon these past 16 years, it has been Maria, through her heartbreaking history and our shared bond of motherhood, who continually fuels my passion to defy systemic oppression.
MiaDonna has never been about the bottom line. Above all else, as a dedicated social enterprise, the company and our foundation exist to redress the inequities faced by generations of families in a number of mining communities.
I have always considered myself an inclusive person, aware that the world is not merely an extension of my needs and values. Since childhood, I have worked to support under-represented groups and done what I could to understand what it means to be overlooked or dismissed by others. In sharing her story, Maria helped me to understand that I will never understand.
She also taught me the value of listening.
Maria gave birth to her first child, Patience, in 1983 when she was just 19 years old. That same year Libera was completely cut off from foreign aid and vicious street fighting swept through the capital city, Monrovia. History books claim the country's first civil war began in 1989, but I've learned that the unrest actually traces back as early as the 1979 Rice Riot, and by 1985 full-blown civil war—funded in large part by the sale of conflict diamonds—had erupted.
By 1990, rebel forces had put a new government in power, but it fell in yet another bloody coup that culminated in the execution of the country's head of state. Years of war had crushed the already fragile economy and daily life for almost all Liberians was a desperate struggle to survive.
In the midst of all this horror, when Maria was 26 years old, she gave birth to twin boys. Within a few months, they died in her arms from starvation. Let that sink in. In a country rich in natural resources—and in a world where one third of all food purchased is tossed in the trash—a young mother could not save her children from starving to death. And don't think this is a problem isolated to one time in one shattered Third-World country. On a global scale, even in 2021, estimates say that every five seconds a child under the age of five dies from starvation.
For those who would turn the blame for this devastation back on the people, bear in mind that Liberia—once one of the fastest growing economies on Earth—suffers under a condition called the "Resource Curse." Common throughout the Third World, the Curse afflicts resource-abundant countries (in Liberia's case these resources include not only diamonds, but gold, iron ore, rubber, and timber) when the people lose control of those resources to elites and foreign corporations. They quickly lose access to jobs, education, food security and basic human rights—all in the name of profits for the West.
The death of Maria's twin sons, and countless children like them, was a direct result of corporate greed.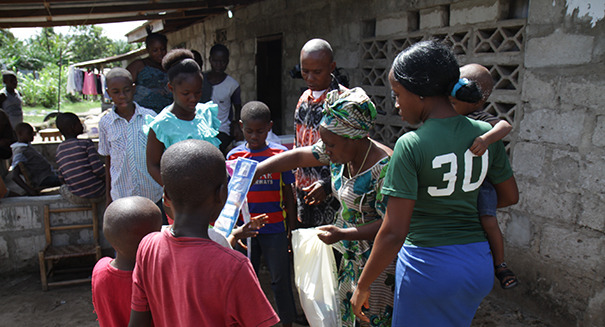 Motherhood. As I said, it lies at the root of my connection with Maria. I lost my mother, Donna, to cancer when I was a child. At 26, the same age Maria was when she had her twins, I nearly lost my daughter, Mia, during her traumatic birth. She suffered multiple broken bones and we were both left fighting for our lives. Our story had a happy ending, however. We recovered and today my daughter is a vibrant young woman, but our doctors told me that if we had not been in a state-of-the-art hospital, we both would have died.
Given the depth of Maria's loss, I constantly reflect on the gift of privilege my daughter and I enjoyed that day, and continue to enjoy, living in a major, and I dare say predominantly white, city in America. Whatever pain I have felt in my life, it cannot compare to Maria's pain, and that realization helped me to recognize that with such privilege comes a responsibility and an obligation to Maria and all the mothers like her—women denied the basic human dignity we take for granted because of the vast wealth beneath their feet.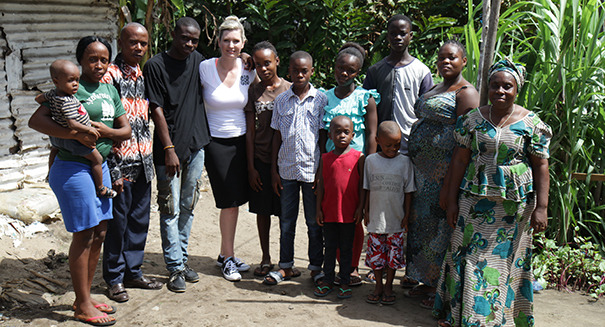 Critics of my mission have tried to dismiss me with epithets such as "Barbie Savior." They can go ahead. Through my work with MiaDonna and The Greener Diamond, I have seen firsthand that sometimes the only card I have to play to help relieve the suffering caused by diamond mining is my place in the world and the color of my skin. Totally sad but totally true.
Maria's lessons were harsh, but I needed to learn them. We all do.
As a culture, we need to embrace and educate ourselves on the persecution and discrimination of minority groups. At MiaDonna, we support the Black Lives Matter Movement and we honor Black History Month so people of color worldwide can know that we see them and we hear them. We pride ourselves on being inclusive, but we also recognize the need to stay open to the consequences of our practices and policies, and continually strive to improve. To that end, we see that we need to do a better job of representing people from all walks of life in our marketing and we are committed to showing more diversity in that arena in the weeks and months ahead. We all have a role in making this world a better place for everyone, and especially for those that don't have the opportunity, nor the means, to speak out themselves.