The Latest News: A Look at Kourtney Kardashian's Engagement Ring
Article by
Congratulations are in order for the newly engaged couple! On October 17th, 2021, Kourtney Kardashian rocked a gorgeous new jewelry item - a stunning engagement ring from her fiance Travis Barker! The stunning ring features a beautiful oval diamond on a delicately accented diamond band. The ring is 6.0ct and estimated to cost around $1M!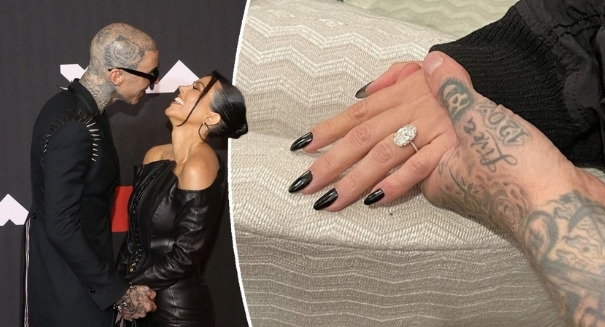 Travis decided to custom-design the engagement ring and was very involved in decisions during the creative process. They ended up with a ring they are both in love with!
Kourtney's family has an upcoming TV show that will air on Hulu, so the entire proposal was captured! Fans will eventually get to see how Kardashian's romantic night unfolded.
With this being Kourtney's first engagement the whole family was there to celebrate. They had been keeping the whole event a secret and did a good job because Kourtney was completely surprised! Barker proposed on the beach in the middle of a massive heart-shaped red rose arrangement surrounded by candles. He chose a location they often vacation at, the Rosewood, Miramar Beach, CA since this is a very special place for them. After she said "yes," they had a private dinner at the hotel with both their families, including Travis's kids.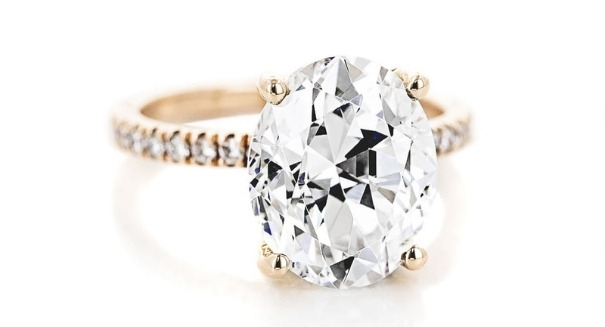 To get a Kourtney Kardashian engagement ring look-alike we suggest the Adelaide! This ring is gorgeous with an oval shape and has a delicate accented band- we like it in yellow gold! In addition to looking similar to Kourtney's ring, the Adelaide also has a decorated prong head! The surprise detailing will dazzle you every time it catches your eye.