Top 8 Timeless Romantic Engagement Rings
Article by
Keep the romance alive with a timeless engagement ring! It's ideal to get a ring that you'll grow more in love with over time- like the love you have with your partner. The styles we've chosen never go out of style, and you can count on never falling out of love with the design.  
If you are proposing and planning a complete surprise, it's wise to choose a timeless setting. This way you can be sure to dazzle your partner with a style that is both romantic and stunning. Whether you choose the Flora, which resembles the ring Kate Middleton wears, or you choose to personalize with the Eternal Monogram, the love of your life will feel ecstatic with your choice.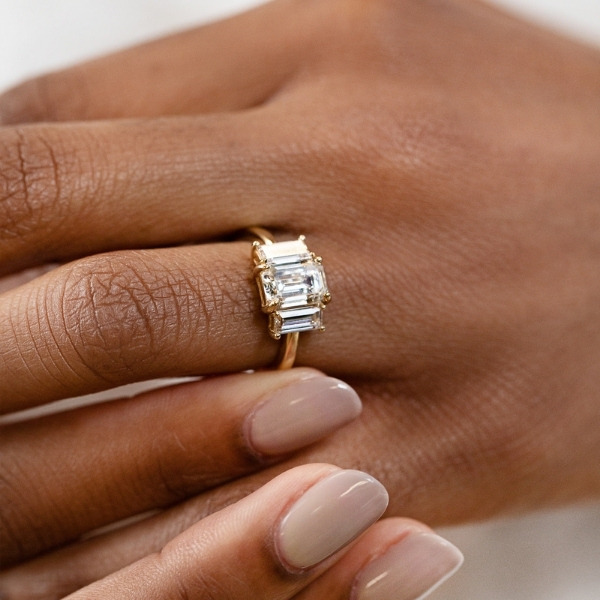 The Isla is a classy three-stone design that features a stunning basket set with an emerald shaped center stone and complemented by smaller emerald or baguette side stones. Three-stone rings represent your past, present, and future love with your partner.
Isla Engagement Ring: Starting at $772
---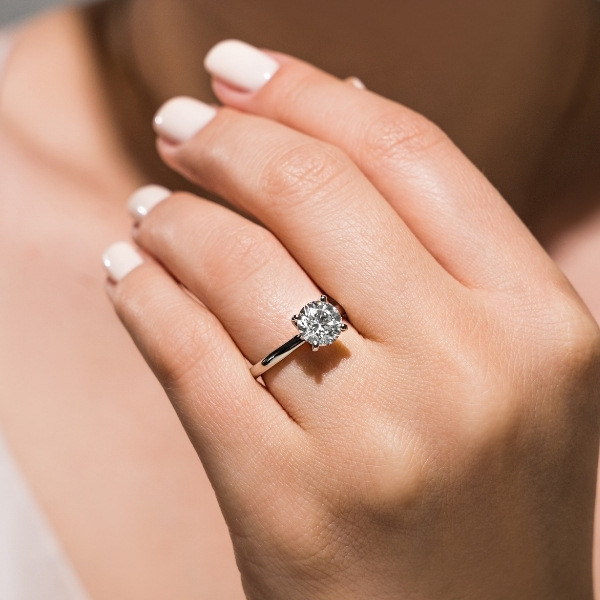 The Traditional never goes out of style. If your partner loves the minimalist look then this may be the style for you both to stare at for the rest of your days. It's also easy to upgrade the center stone should you decide to do that down the road.
Traditional Engagement Ring: Starting at $597
---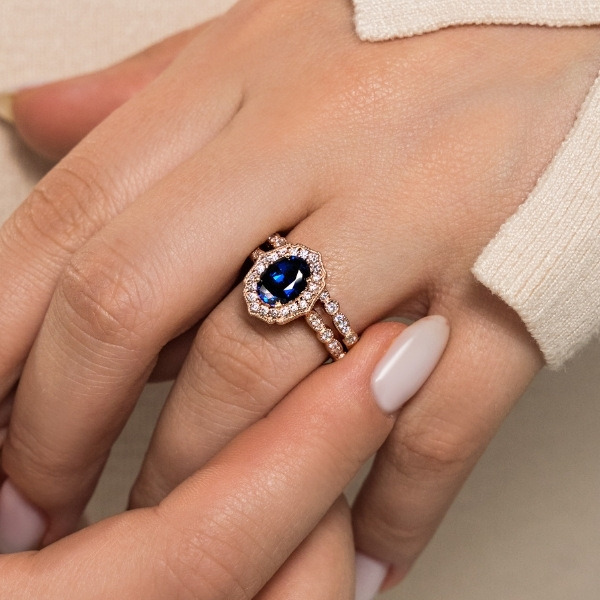 The Paris is an elegant vintage style that captures the attention of all who look at it. The intricate detailing on the halo will keep you in love with this style through the many years together.
Paris Engagement Ring: Starting at $1,313
---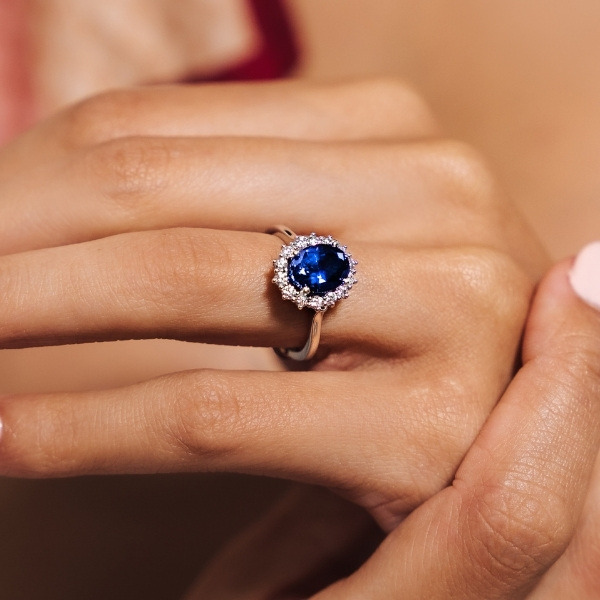 The Flora is a style that was famously worn by Princess Diana. Kate Middleton carried on the tradition of the blue sapphire and it makes us want to also! Fall in love with blue Lab-Grown Sapphires by wearing this ring or proposing with it.
Flora Engagement Ring: Starting at $1,929
---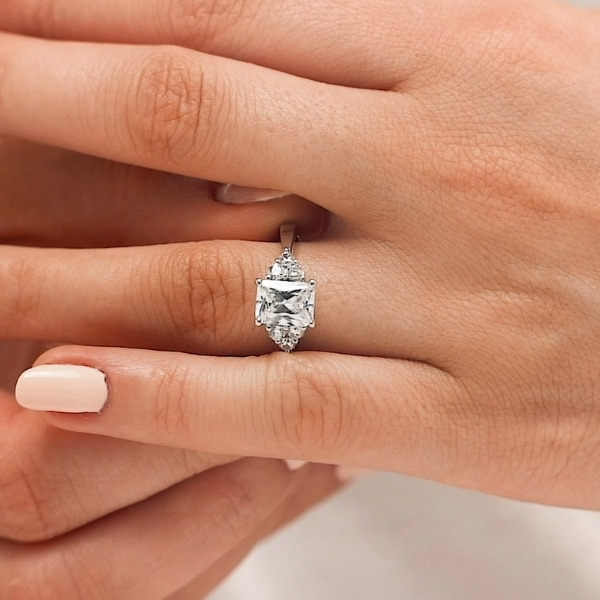 The Wildfire is a timeless setting that features six round recycled diamond side stones set in a triangle cluster on each side of the emerald or radiant shape center stone. This romantic design is truly unique.
Wildfire Engagement Ring: Starting at $1,225
---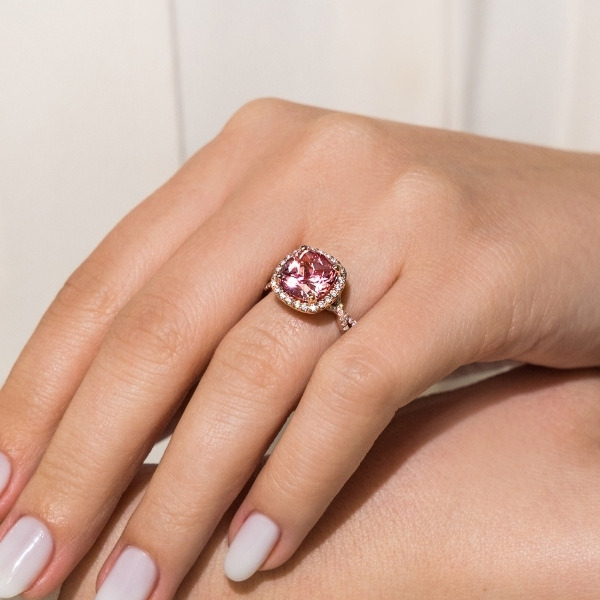 The Eternal Monogram is your chance to make your partner feel extra special by personalizing the ring with your choice of three initials under the center stone. Personalizing adds a romantic touch to your proposal.
Eternal Monogram Engagement Ring: Starting at $1,943
---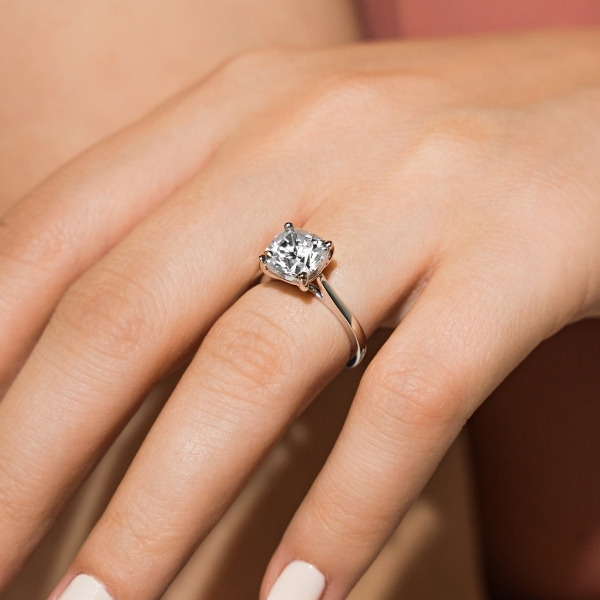 The Dior features a gorgeous cathedral-style ring with a high-profile setting holding your choice of center stone. We love this style with an oval shape in a yellow gold setting!
Dior Engagement Ring: Starting at $625
---
The Kalina features a cushion shaped center stone in a milgrain bezel setting accented with a halo of recycled diamonds. This exquisite vintage style will dazzle your partner on a daily basis.
Kalina Engagement Ring: Starting at $2,129
We hope you discovered some romantic engagement rings you're considering proposing with or buying for yourself! With a timeless design, you get a ring that you will fall deeper for every day. Reach out to us if you have any questions about the designs! It's always an option to take inspiration from these styles and custom-design your own unique romantic ring!