Complete Guide to Upgrading the Diamond in Your Engagement Ring
Article by
Perhaps you didn't have the budget for your dream ring at the time you got engaged, but now you have some extra cash to splurge on a showstopper Lab Grown Diamond or Gemstone! This is your ultimate guide to upgrading your engagement ring and having the ring you've always dreamed of. A common change people make with their fine jewelry is upgrading their center stone for a larger size. You can go from 0.5ct to a 2.0ct or even 3.0ct- you deserve the bigger rock!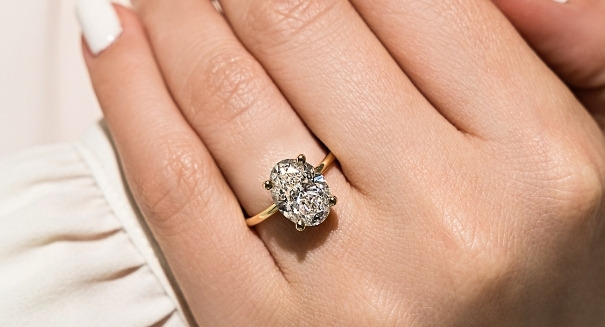 What is the Lab Grown Diamond Upgrade Program?
If you are looking for a bigger stone it's worth checking out our Lab Grown Diamond Upgrade Program. You can upgrade your center stone to a bigger size or go from a Diamond Hybrid® to a Lab Grown Diamond. We then give you exactly what you paid for the Diamond Hybrid® to put toward the cost of a Lab Grown Diamond. The cost has to be at least double what you initially paid- it's worth it for that stunner ring!
Upgrading from Diamond Hybrid® to Lab Grown Diamond
Diamond Hybrids® are gorgeous, but there are a few reasons you may consider upgrading to a Lab Grown Diamond. Diamond Hybrids® are not optically, chemically, and physically identical to earth-mined diamonds like Lab Grown Diamonds are- they are composed of a crystal core with an outer Lab Grown Diamond layer to give you the closest possible stone to the real thing. The hardness of a Diamond Hybrid® is 8.8 while Lab Grown Diamonds are a 10. The Diamond Hybrids® have a higher risk of cracking or scratching whereas Lab Grown Diamonds are very unlikely to be damaged- an important factor in your forever ring.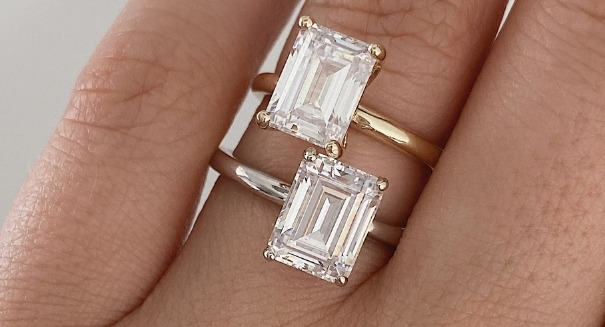 Photographed above is a Diamond Hybrid® and a Lab Grown Diamond beneath it- you can see the difference in clarity! The upgrade from a Diamond Hybrid® to Lab Grown Diamond needs to be equal or greater in value and size as well as be in decent condition. If a client upgrades from a Diamond Hybrid® to a Lab Grown Diamond our sales team evaluates the Hybrid® to check for any scratches or damage before moving forward with the upgrade.
With the diamond upgrade program, you save! For example, if you have a 1.50ct round cut Diamond Hybrid® that was $440.00 and wish to upgrade to a 2.0ct Lab Grown Diamond it would look like this:
2.0ct round lab grown diamond, H color, SI1 clarity, excellent cut, priced at $3,868 - $440, total for upgrade: $3,428
Started with a Lab Grown Diamond and now you just want to go bigger?
The new Lab Grown Diamond must be at least 50% more in cost than the original. For example, if you purchased a 1.0ct round, H color, VS1 clarity, very good cut lab grown diamond for $2,317, you'd need to select a diamond priced at $3,473 or above. You may decide to upgrade in size, quality, or both!
Will I need a new setting?
If the new stone is bigger, typically the jeweler will make a new head for the ring and discard the old prongs. If the stone is the same dimensions they are typically able to reuse them. Some rings will require new prong heads and re-setting if the center stone upgrade is significantly larger than the original center stone, and halo-style engagement rings cannot be reset with larger center stones without purchasing a new setting. If you have a solitaire style and choose to upgrade your size and a new prong head is needed, there will be a $250 prong head and resetting fee.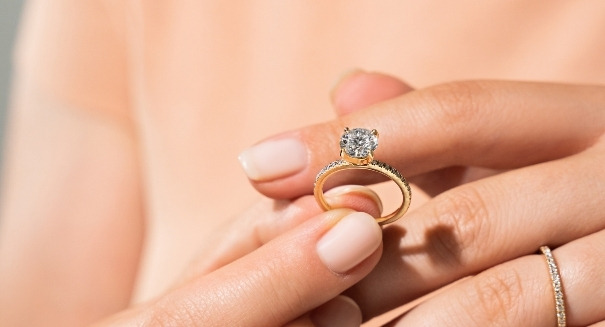 Are upgrades just for rings? What about my earrings?
Earrings can be upgraded too! The upgrade policy is the same as with rings, and we'd love to help you select new sparkling lab grown diamonds to take your sparkle to the next level.
How you can save money and get a bigger diamond
Go down in clarity and color, and up in the cut! An excellent cut diamond will reflect light so well, it will hide many imperfections. In addition, if you want to mask any color in the diamond, opt for yellow or rose gold for the ring setting. A lower color grade diamond (J-K) will be more noticeable in white gold, but in yellow gold, you can't even tell! It's also convenient that yellow gold is a trending style. By using these simple tricks you can use your extra budget for a larger carat size.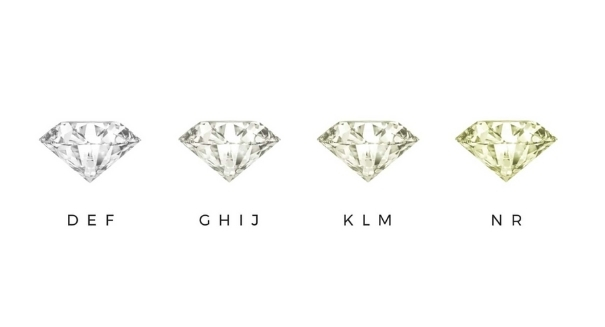 How do I care for my new stone?
If you feel something catching on your ring it may be a sign of a loose prong- it's important to address the issue right away so you don't lose your new stone! Also, the gym has many risky opportunities for your Lab Grown Diamond or Gemstone to become loose- it's better to leave your ring safe at home. This will also avoid any possible theft in the locker rooms. To keep your jewelry at its finest, avoid hand sanitizer and chlorine which strip away white and rose gold!
We hope you learned everything about upgrading, but if you need more information feel free to reach out and contact our Lab Grown Diamond experts!