Top 7 New Year's Eve Proposal Ideas
Article by MiaDonna
Were you dreaming of a white Christmas proposal, but that moment didn't work out? It's not too late. Why not ring in the new year with a new special memory?
The New Year's Eve Proposal
Many people share the belief that New Year's Eve celebrates love, hope, second chances, and fresh starts, and we can think of no better evening to create an everlasting memory with the person you want to spend the rest of your life with.
Here are a few of our favorite New Year's Eve proposal ideas…


1. Get Your Holiday Tree Involved
If your partner had their heart set on a Christmas proposal you can still give them the Christmas proposal experience by including your Christmas tree. Most people don't take down their tree until New Year's Day, so why not take advantage of the twinkling lights and get creative. You can re-decorate by changing up the ornaments with messages sharing the things you love most about your partner, or maybe there was a "forgotten" present under the tree. Either way, we are sure the moment will be a magical, unexpected surprise.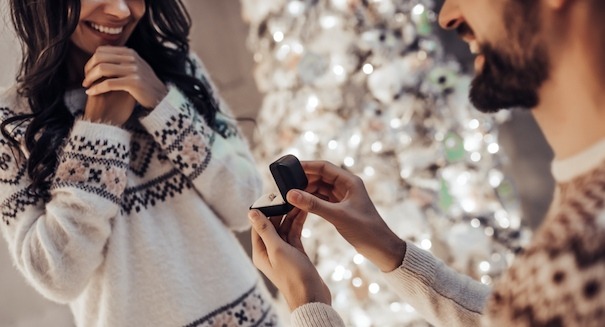 2. Create a 'Year in Review' Photo Album
It would be fun to create a photo album (print or digital) and fill it with memories you created together over the past year. Your album could include only photos or you can mix it up by adding event tickets, letters / emails /texts you've shared or 'date night' trinkets. You could even include funny / loving captions on each page. Then on the last page, write your proposal – keep it simple with "Will you marry me?".
3. Party with Friends & Loved Ones
New Year's Eve is a fantastic excuse to throw a party and invite over everyone you love and cherish to help you celebrate, which is exactly why your partner will never suspect that you are about to ask them the biggest question of their life. Not to mention that already being surrounded by all your friends and family will save you both many calls to share your big news!
4. When the Clock Strikes Midnight
Take advantage of the magic of midnight – as everyone begins counting down the last seconds of 2021 take a moment to tell your partner why you love them and at the stroke of midnight, drop to one knee and propose. It is the perfect way to end this year and start the next, it is also the perfect memory to celebrate each year as you will never forget this proposal-versary.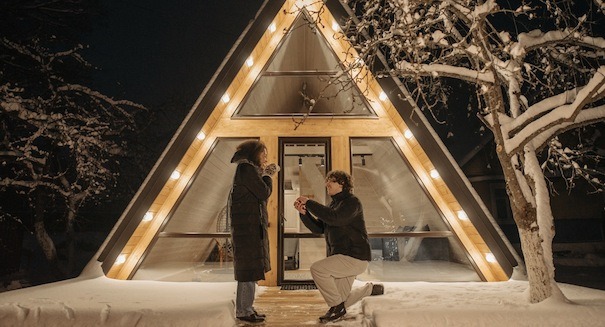 5. Customized Champagne Bottle
Here is a unique idea that is sure to be a surprise. You can get a champagne bottle with a custom label featuring a special message.. It can be something clever that will lead to the moment when you pop the question yourself, or a romantic message such as "I want to spend my life with you". You could even lead the conversation to discussing your future together, and then have the champagne bottle presented with the message "Will you marry me?". If a custom label champagne bottle isn't feasible, you could always attach a special message of your own, either visible or as an enclosed note.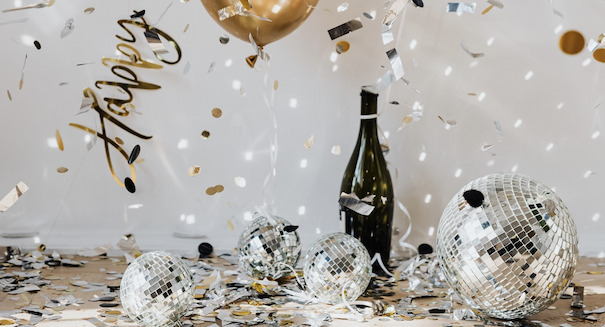 6. Exchanging New Year's Resolutions
This is another activity you can do that your partner definitely won't see coming. Find a nice, cozy intimate setting. Engage in a conversation about some goals and New Year's resolutions. At some point in the discussion, if the moment feels right, bring up your goal, to get married to that special person you love. When they realize what you've said, you can then propose to your partner.
7. Scenic Rooftop Proposal
If your partner loves a beautiful, scenic view, then finding a spot with a great view of the city or nature could just be the best way to go for a proposal. You could find a rooftop restaurant or bar and even have a romantic meal and banter over some drinks. Perhaps you can find a friend or acquaintance with rooftop access overlooking an impressive view. Toward the end of the evening, when the timing feels right, if the view doesn't take their breath away, your romantic proposal certainly will!
No matter how you decide to do it, we all agree a New Year's Eve proposal is a great way to start the year! Ready to put your plan in action? Check out our stunning in-stock engagement rings and get ready to pop the champagne and the question!