The Padparadscha Sapphire: A Breathtaking, Luxurious Jewel That's Fit for Royalty
Article by MiaDonna
Dazzle your princess with an opulent padparadscha sapphire ring.
Take a bow to the new member of the sapphire royal family: the padparadscha sapphire. You're probably envisioning something similar to the iconic deep blue hue most of us are familiar with, but the Sri Lankan sapphire is characterized by a delicate pinkish-orange color.

While there's nothing new about this prestigious jewel, it only recently gained widespread popularity following the royal proposal of Princess Eugenie and Jack Brooksbank in 2018. As soon as these headlines hit, the rarest sapphire in the world stole hearts across the globe.
The padparadscha sapphire is inspired by a lotus blossom.
Derived from the Sinhalese word padma radschen, which means lotus blossom, padparadscha stones come in a similar shade to the beautiful aquatic flower itself. Ranging from pale pink to deep orange, this spectrum of salmon hues offers a unique twist to the classic blue sapphire.
Along with the gorgeous colors, the uniqueness and rarity of the padparadscha sapphire are undeniably appealing. However, this digs up similar ethical issues linked to the diamond industry, indicating that padparadscha sapphires are often sourced from conflict zones.  

There's good news for eco-conscious shoppers, though. MiaDonna offers countless variations of the Lab-Created Padparadscha Sapphire that serve as more affordable, ethical alternatives. You can explore our selection of loose stones to find your perfect cut and color, as well as check out some of our latest creations below which all include stunning padparadscha stones.
MiaDonna's Lab-Grown Padparadscha Sapphire Creations


Even if you're not a royalist, it's hard not to be a fan of Princess Eugenie's sparkler. But unlike her vintage padparadscha engagement ring, ours swaps the cluster-diamond halo for striking baguette-cut Lab-Grown Diamonds. Step aside princess to make room for a goddess!
Goddess Vintage Engagement Ring: Starting at $1,350 (setting only)
---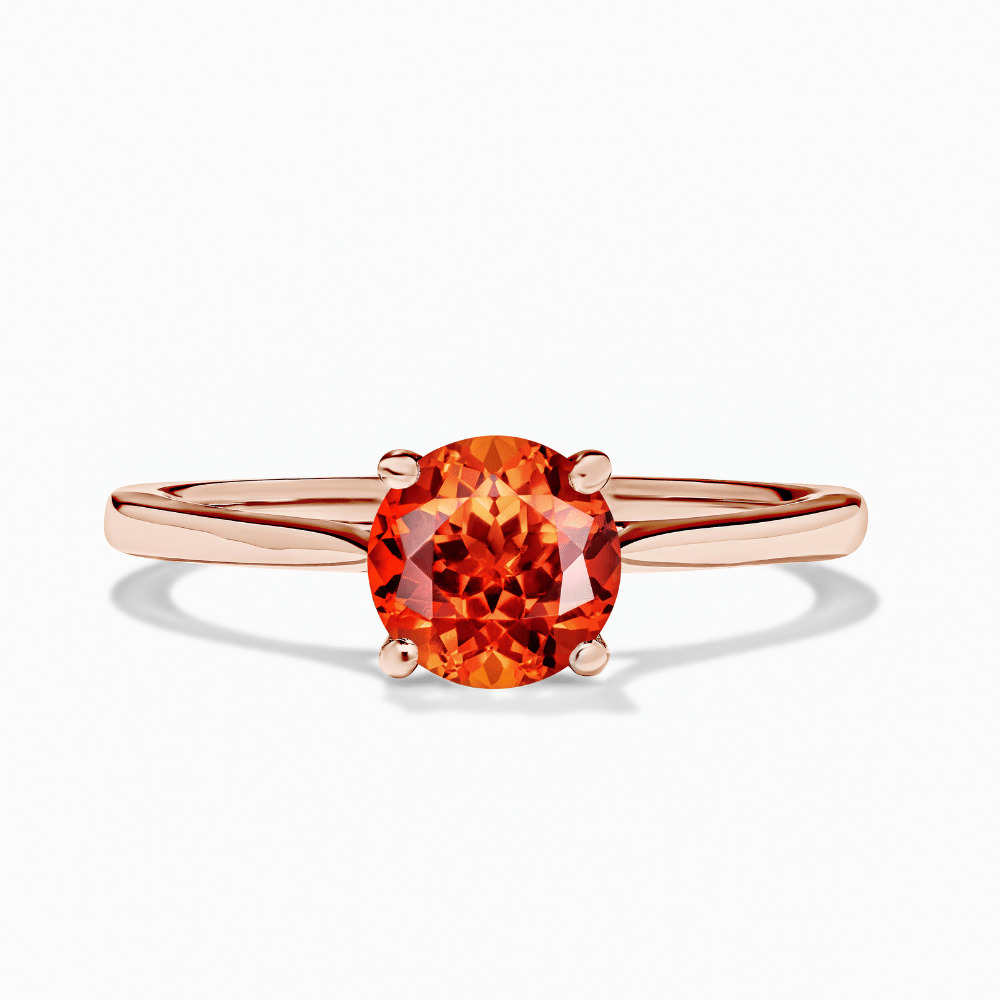 If you want all eyes to be on the breathtaking center stone on your padparadscha engagement ring, you can opt for a more minimalist band. This design perfectly illustrates this concept, displaying a mesmerizing deep orange jewel positioned on a sleek, lustrous gold band.
Blonde Solitaire Engagement Ring: Starting at $595 (setting only)
---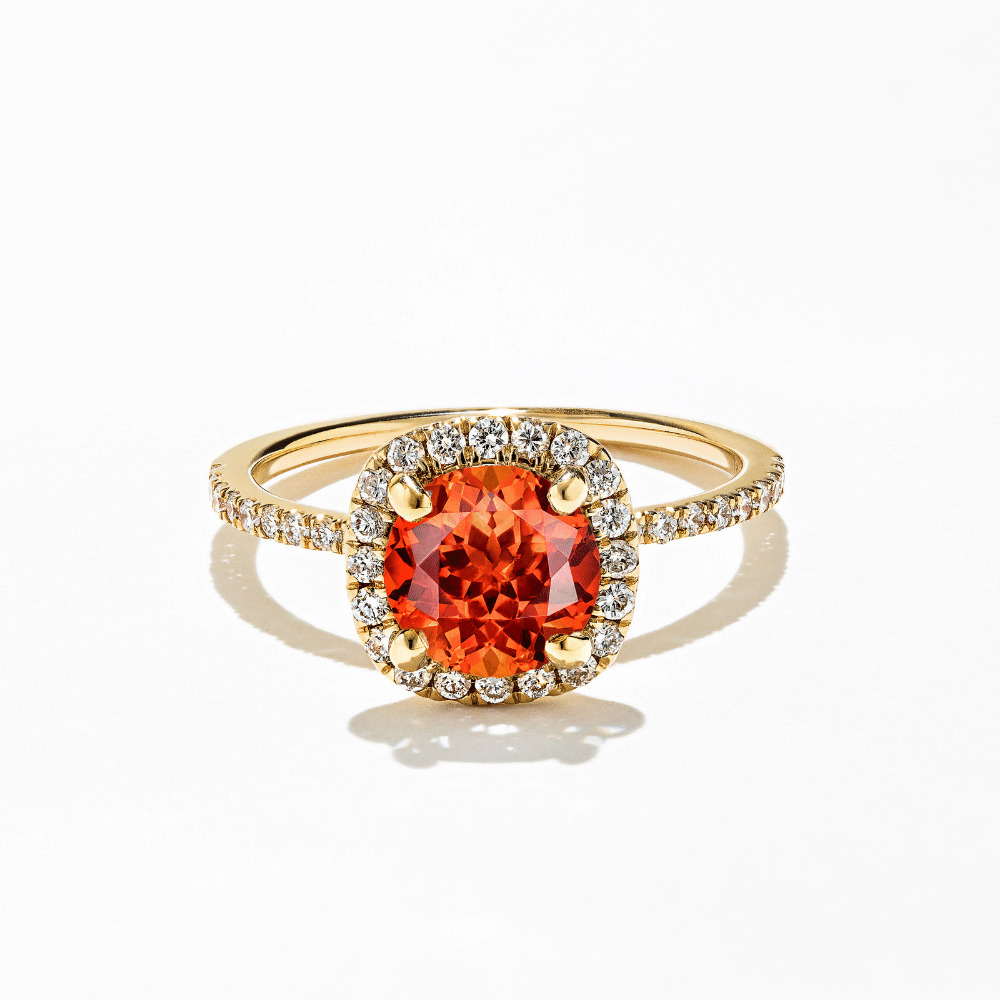 ---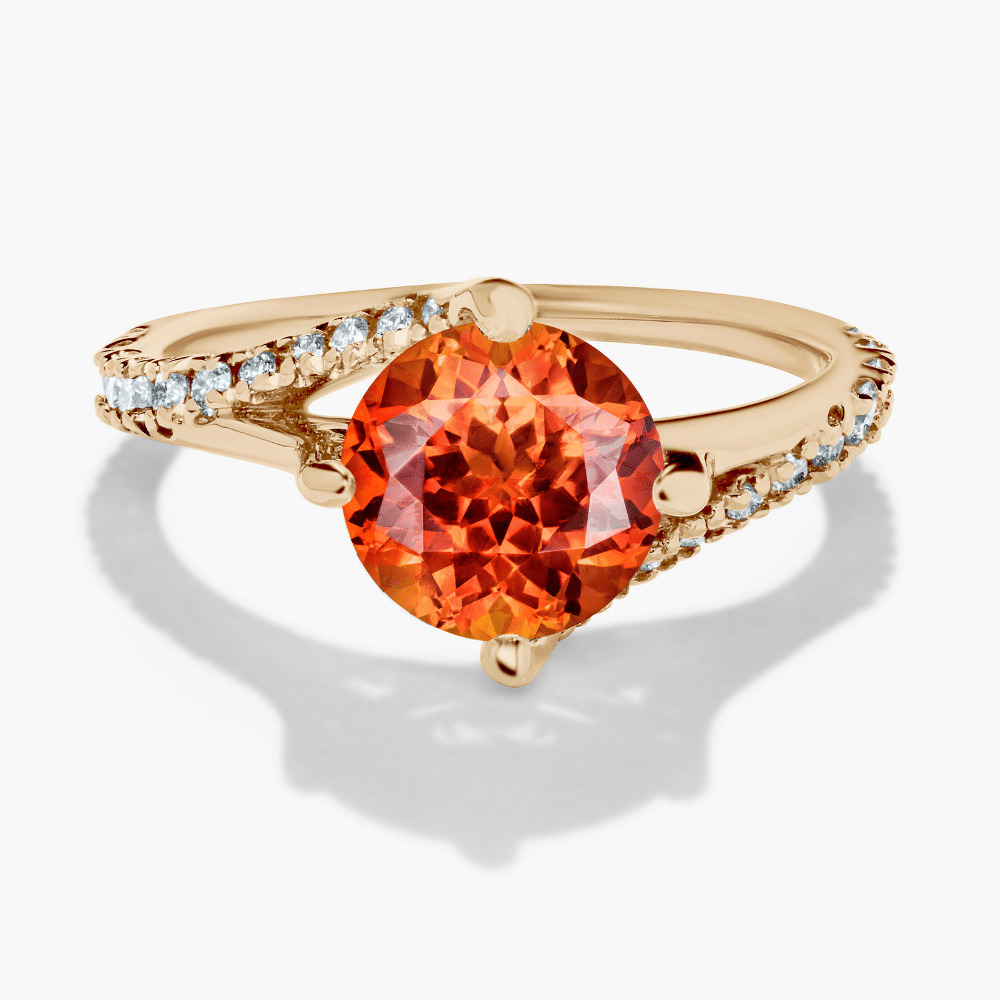 A design that's almost as hot as the love you have for your fiancée, the 'flame' padparadscha ring features a band that splits at the shoulders and gracefully curves outwards. The unique prong setting of the pavé diamonds juxtaposes with the dramatic four-prong setting framing the center stone.
Flame Engagement Ring: Starting at $1,095 (setting only)
---
If you've already tied the knot but want to incorporate this rare precious gem into your jewelry box, why not treat yourself to a sophisticated padparadscha necklace? The peach-gold combo is giving us vintage vibes, and the dazzling round-cut stone shimmers from every angle.
Martini Pendant: Starting at $268 (setting only)

Let's make your proposal more special than a royal one.

If, just like us, you've fallen head over heels for the breathtaking padparadscha sapphire, head over to MiaDonna to discover your dream engagement ring. We pride ourselves on offering a bespoke jewelry design service, so if you'd like to request any changes to the above styles, get in touch and our talented design team can bring your vision to life.