Rachel Macauley's Top 5 Right-Hand Rings
Article by
Why wait for someone to come along and give you your dream engagement ring? The time to celebrate yourself and get the gorgeous Lab Grown Diamond or Gemstone ring you've been waiting for is now! The left hand has long been associated with engagement rings, and now the right hand is becoming popularized to symbolize self-love and empowerment. The term 'right-hand ring' is relatively new, but the idea of wearing a ring on the right hand to signify economic independence has its roots from the 1920s- known as cocktail rings, right-hand rings were often brightly colored, oversized rings that women had purchased for themselves.
That's exactly what Rachel, a MiaDonna customer, did. She wanted to celebrate what she had accomplished and been through during 2020. What better way to do that than to get a stunning right-hand ring? We asked her a few questions about her experience and this is what she had to say:
Why did you want to get yourself a right-hand ring?
Rachel: I started doing research on right-hand rings a while back because I was looking for the perfect way to reward an especially challenging year. Usually, these are rings that women have bought for themselves, and wearing them on the right hand is a way of ensuring that they are not confused with an engagement ring or wedding band. The purchase of the ring was important to me too. I wanted it to be something I researched, picked, and bought all on my own.
I've had a year filled with difficult personal and professional challenges, but in the end, I've endured and I am at a place where I am happier and more "successful" than I have ever been in my life. I want to reward myself for overcoming all the relentless blows of 2020 with a beautiful right-hand ring!
Was there a reason you chose a three-stone ring?
Rachel: I am an extremely sentimental person, so my wedding ring is very important to me. I didn't want a ring that could be confused as a wedding ring or engagement ring (although, they are stunning). The three stones had a different feel.
How was your experience shopping with us?
Rachel: MiaDonna has some amazing options that were ready for purchase in the showroom. But in the end, I wanted to create something unique. The process was SEAMLESS. I created mine through the website and I'm not sure it could have been any easier. I will say I was very nervous waiting to see if I loved the idea of the ring online as much in person, but my expectations were BEYOND met! It was even better than I had imagined online. It feels like my own unique heirloom that no one else will have the same version of-- which I love.

A right-hand ring celebrates your independence, hard work, and love for yourself. Investing in a ring can be a beautiful way to mark a milestone birthday, a professional achievement, or even becoming newly single again. Lab Grown Diamond rings are not reserved for people in love, but should be for anyone who wants to make a commitment to themself! Below are some of the rings Rachel was considering before she ultimately decided on the Selma!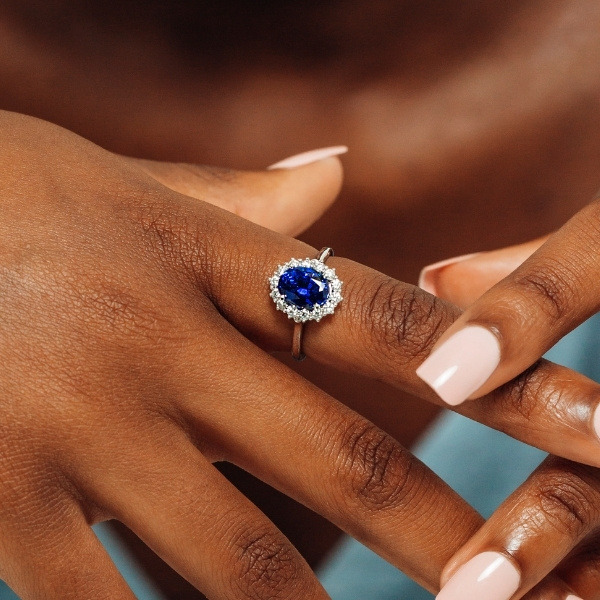 The Flora resembles the ring Princess Diana chose from a tray of eight different engagement rings. A strong woman with a kind heart is exactly the style we want symbolized by our right-hand rings!
Flora Engagement Ring: Starting at $1,929
---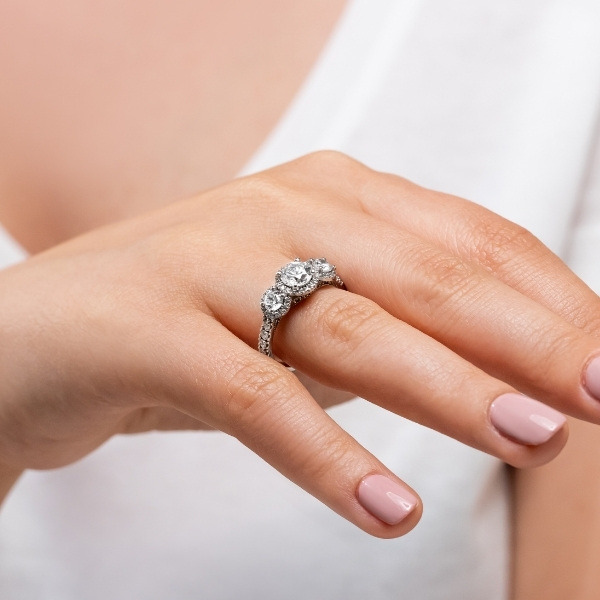 Three stone rings traditionally represent the past, present, and future. We think this is perfect for a right-hand ring because it can symbolize learning from the past, appreciating the present, and a bright future ahead!
Amabella Engagement Ring: Starting at $1,764
---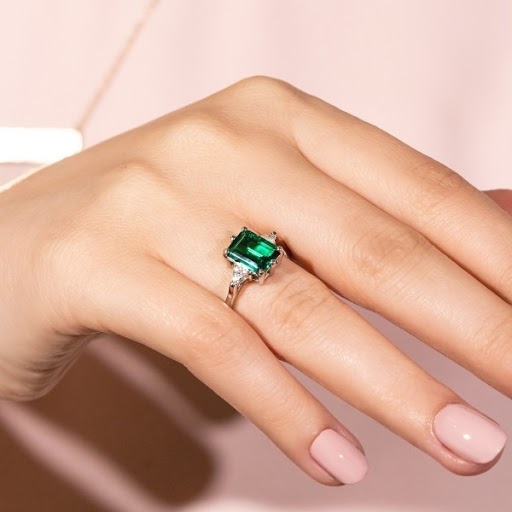 The Orchid features an emerald or radiant shape, which helps to elongate the fingers. We love this style with a lab created emerald center stone- Cleopatra adorned herself and her palace with emeralds as a display of wealth and power.
Orchid Engagement Ring: Starting at $1,433
---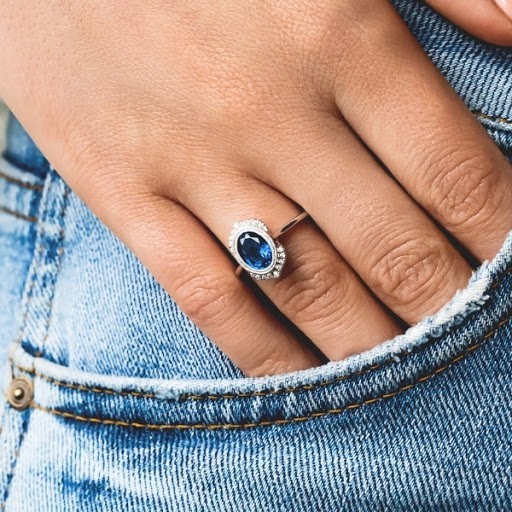 The Arya features an oval center stone in a milgrain bezel with an antique style halo of recycled diamonds. Blue sapphire is our favorite center stone choice for this elegant design.
Arya Engagement Ring: Starting at $1,103
---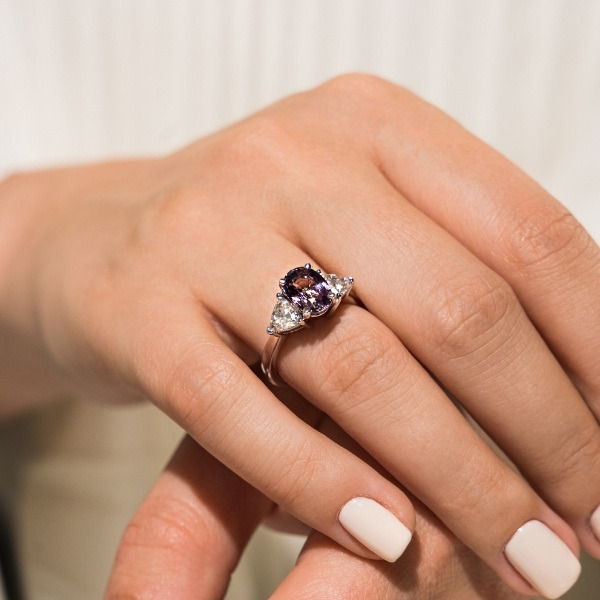 The Selma is the style Rachel chose for her right-hand ring! The 0.50ct Triangle cut side stones are a unique accenting feature. We love this style with a pear or emerald shape.
Selma Three-Stone Ring: Starting at $625
There you have Rachel's top right-hand rings! Start the right-hand ring trend among your social circles and get yourself the Lab Grown Diamond or Gemstone you've been waiting for. You deserve it! If you want to custom design your ring, reach out to our Personal Shoppers. Designing your own ring is empowering; learn more about the process here.