Top 6 Best Alexandrite Engagement Rings for 2022
Article by MiaDonna
Are you searching for a center stone that changes color depending on the light it's in all while symbolizing good fortune? Well, you're in luck, and you don't even have the ring yet! We have the mystical Lab Grown Alexandrite, also known as the June birthstone, which appears bluish-green in sunlight and reddish-purple under incandescent light.
In Russia's Ural Mountains in 1830, miners were collecting emeralds near the Tokovaya River. One miner gathered a handful of stones which appeared as emeralds in the light of day, but later that night in the glow of the campfire the stones shone a red-purplish color! When morning came and the stones appeared green again, they knew they had found a new, mysterious gem. The gemstone was called Alexandrite because it was discovered on the day of Russian Prince Alexander's birthday.
According to the Gem Society, a 1.0ct earth-mined Alexandrite's price ranges from $50,000-$70,000. This is due to the gemstones' rarity. With our Lab Created Alexandrite, you can get a stone that is 100% identical to the mined variety but for only $395 per carat.
Does Alexandrite make a good Engagement Ring?
If you want a distinctive engagement ring then Alexandrite may be the showstopper you need in your life. It's not just because it's Alexandrite Month that these unique stones are grabbing our attention. How could a stone that changes from green to red not hypnotize us into selecting one of these rare stones as the center stone of our next favorite ring? Like Lab Grown Diamonds, not all Lab Grown Alexandrites are created equal. If you see an Alexandrite that doesn't change from green to red, it is indeed an imitation. Many companies sell chemically treated sapphires that appear as Lab Created Alexandrite, but they actually don't possess the same color-changing features. We've browsed through our rings to find the best Alexandrite Engagement Rings for 2022 and we hope you are as excited about these fascinating gemstones as we are! Each one of the rings below can be set with a beautiful Alexandrite simply by clicking on "Build Your Ring", select "Lab-Grown Gemstone" and then sort the "Color" column for "Alexandrite".
The Eden Engagement Ring is a beautiful nature inspired ring featuring a tightly twisted band and "leaf" design set with accenting recycled diamonds.
---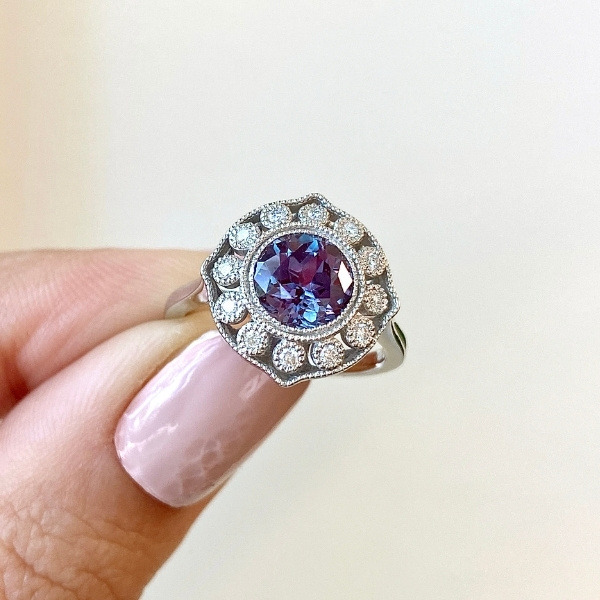 The Florence is perfect for anyone who wants a unique center stone, but still wants a little extra sparkle from the accenting diamonds. This ring has a round cut center stone, with individual bezels holding each accenting recycled diamond.
---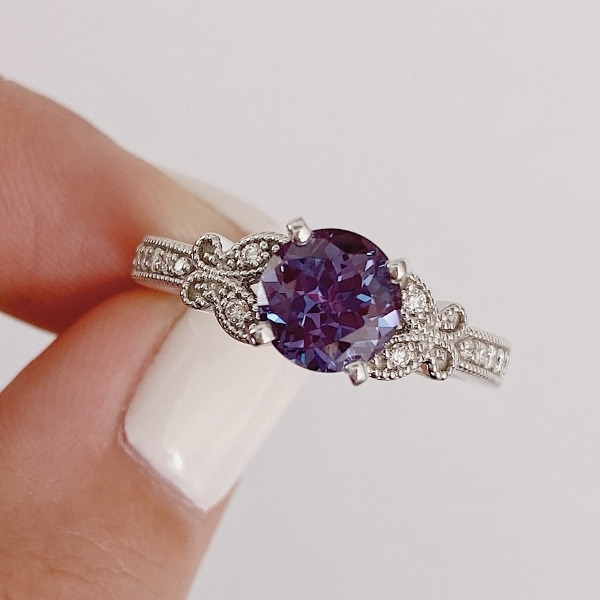 Be reminded of the beauty of spring all year round with this gorgeous ring. Wonderfully accented with two small butterfly designs on either side of the center stone, this is an ideal design to show off your Alexandrite.
---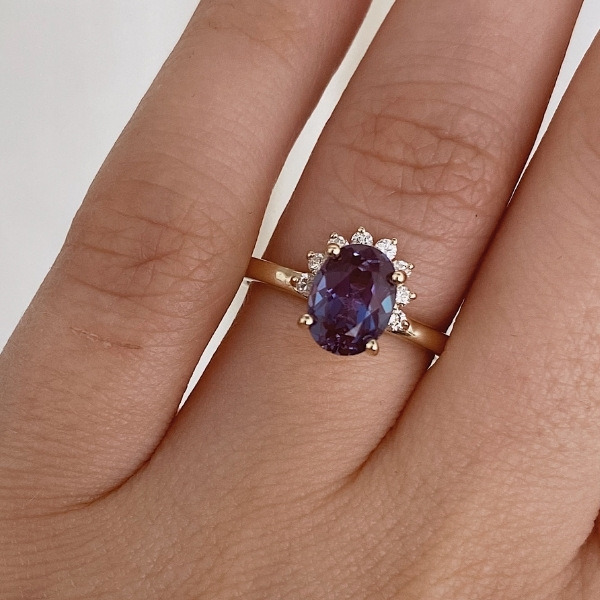 Only 50% committed to a halo? We have the ring for you! The Camilla Engagement Ring is set with an oval cut center stone, accented by an attached half halo of recycled diamonds.
---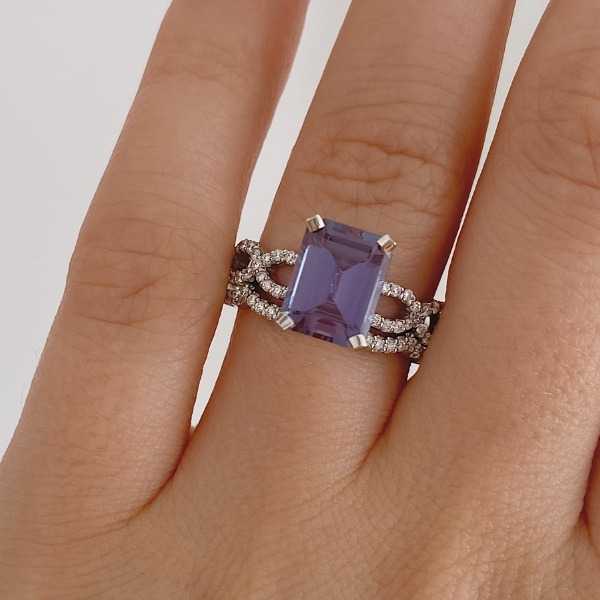 The Allure Engagement Ring has a delicate, twisted shank accented with recycled diamonds. The accenting band surrounds your Lab Grown Alexandrite with plenty of sparkle for a ring that will stand out.
---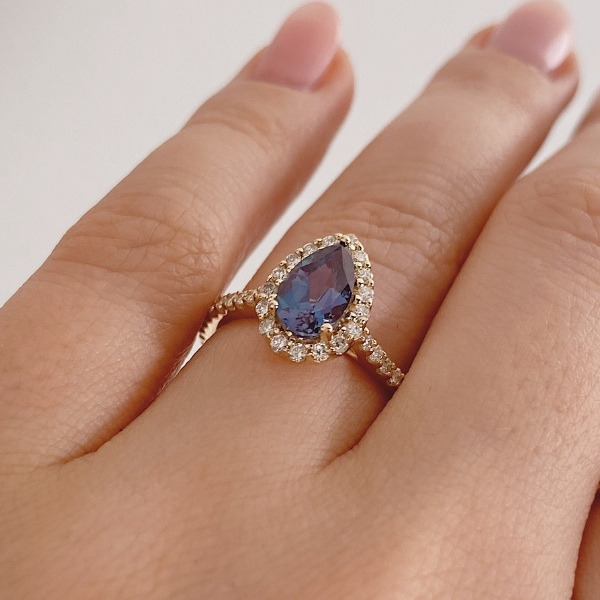 We stare in awe at the color-changing Lab Grown Alexandrite in this setting. Try a pear cut to make this style even more unique. The Heroine is accented with recycled diamonds in a halo around the center stone and down the shank.
We know you can't stop staring at the rings we mentioned above, but just in case you are envisioning something else, we recommend custom designing! You can get the vintage, solitaire, or modern style you've been dreaming of but with your new favorite gemstone, the Lab Grown Alexandrite.
By choosing Lab Grown Gemstones over earth-mined, you are saving the earth from environmental damage, and preventing the mining industries from affecting the people and planet negatively.