Featured Couple: Meagan & Brandon
Article by
A love of the outdoors brought together this month's featured couple, Meagan Cuthill and Brandon West. After meeting on a dating app in early 2018, they quickly bonded over stories of their travels and daydreams about places they wanted to visit.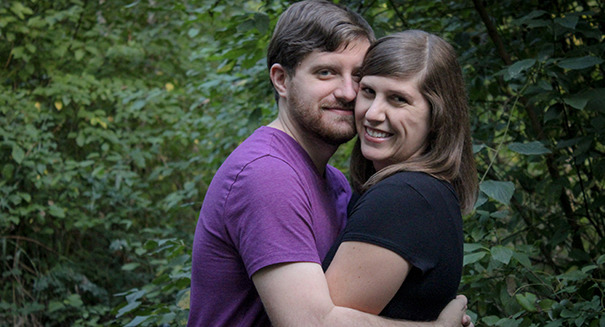 Their first date was at Deschutes Brewery in downtown Portland, where Meagan discovered Brandon is a huge fan of the U.S. National Parks, with plans to visit all of them in his lifetime — there are currently 63! In February 2021, to make their camping trips even more exciting, Brandon purchased a Ram Pro Master Van and converted it into a camper. After several months of working together to install walls, flooring, electrical (complete with solar panels), a sink, a bed, and seating, the camper, lovingly referred to as "The Van", took its inaugural trip to Glacier National Park in Montana. It soon added trips to Crater Lake and Yosemite to its travel log.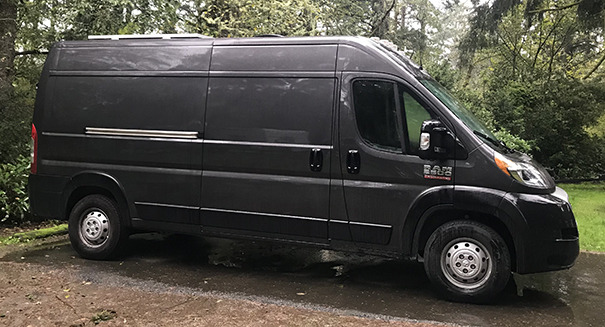 When the couple started talking about their future, they decided to shop for an engagement ring together. As a conscious consumer, Meagan was aware of the negative impacts of mined diamonds, so finding an ethically sourced diamond was extremely important to her. She had heard about MiaDonna's conflict-free Lab Grown Diamonds and since she and Brandon are also located in Portland, OR, she knew she wanted a ring from MiaDonna. In fact, it was the only jewelry store they visited.
The couple set out to find a classic, timeless style with a little flair. After trying on the Cordelia, Meagan fell in love with the sleek solitaire design featuring a hidden halo of diamonds. They selected a gorgeous 1.25ct round Lab Grown Diamond for the center stone. She loves her ring for two reasons: First, because of how it shines and how it feels like the perfect ring for her. The second is because they picked it out together.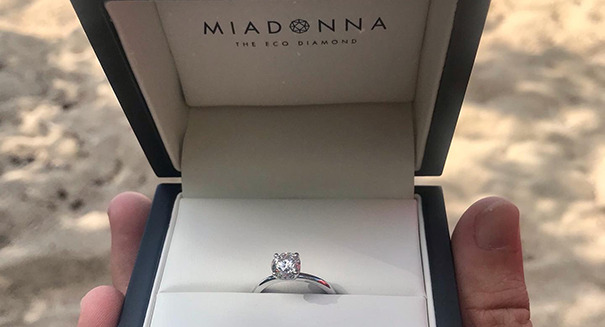 When Meagan and Brandon took a vacation to the U.S. Virgin Islands National Park in December 2021, she thought it might be the trip where he popped the question, and on the morning of the proposal, Meagan had a hunch it might be the special day. They set out on a ferry to the island of St. John to hike a trail that went down to a beautiful beach. At the end of the trail, Meagan stopped to take a picture. When she turned around, Brandon was down on one knee with the ring box in hand. While she figured she would get engaged sometime that day, she was distracted enough that the actual proposal was a surprise, which made it even more special.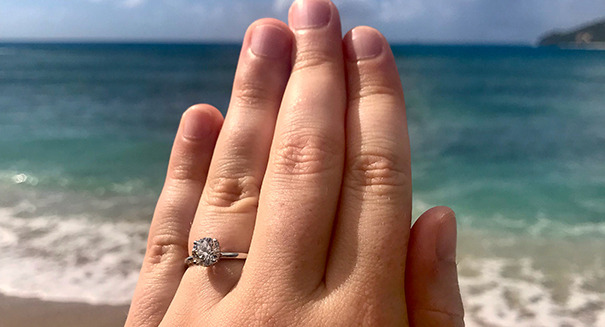 Meagan and Brandon are taking time to enjoy their engagement before jumping into wedding planning. They have August 2023 on the radar and will select a lovely outdoor space in Oregon (possibly a winery) for their big day.
We wish Meagan and Brandon a lifetime of adventures together! They have been busy chipping away at their National Parks list, and have visited 13 together so far. You can keep up with their travels on their Instagram page for The Van at @pnwestvan.
Photo Credit: Meagan Cuthill and @emilyjoyphotog