We don't want to make the other metals jealous, but rose gold is extra special and we are going to tell you why. Firstly, it's a romantic warm color that makes any skin tone look radiant- a few years ago people were even dying their hair rose gold left and right! Secondly, it looks amazing with both white and yellow gold, adding extra spice to your jewelry collection. The "tri-color" of white, yellow, and rose gold has been a hit on the fashion scene for several years now- we don't see that changing anytime soon.
Rose gold gets its color when you mix pure gold, copper alloys, and a small amount of silver. A typical formula may look something like 74 percent gold, 22 percent copper, 4 percent silver- the more copper, the more red the piece; and the less copper, the more pink. Rose gold became popular during the Victorian age and the 1920s. Both time periods were full of highly artistic, lavish lifestyles. In the 1920s particularly, the stylish and fashionable women covered themselves with dazzling jewels. Inspired to add more color, jewelers of that time introduced highly creative designs favoring the use of rose gold to add warmth and femininity.
Another reason we love rose gold is how it looks in a vintage style. Rose gold doesn't tarnish, but after many years it can appear darker due to the copper part of the rose gold darkening. Many people actually seek this out for a more vintage look for their jewelry! So we say go with a vintage style to amplify this effect to your jewelry! Check out our Vintage and Accented Rose Gold Engagement Rings for your very own elegant piece of fine jewelry.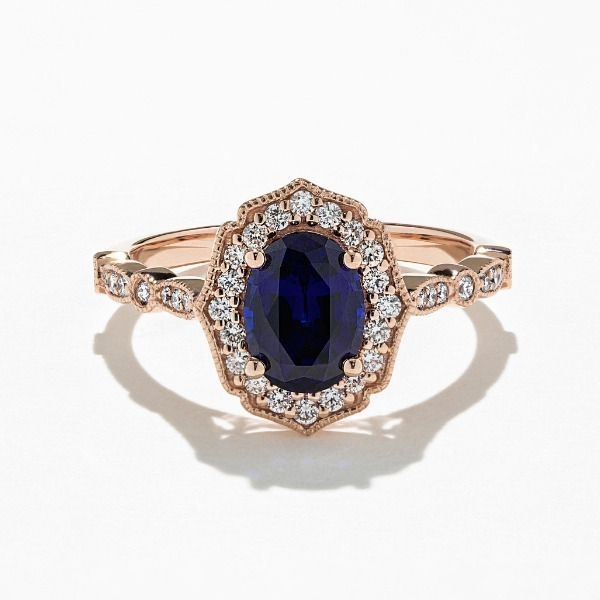 The Paris features a beautiful antique halo design surrounding a cushion, round, or oval shaped center stone with recycled diamonds accenting the band. This charming rose gold piece is taken up a level when set with a colorful lab created gemstone.
Paris Engagement Ring: Starting at $1,313
---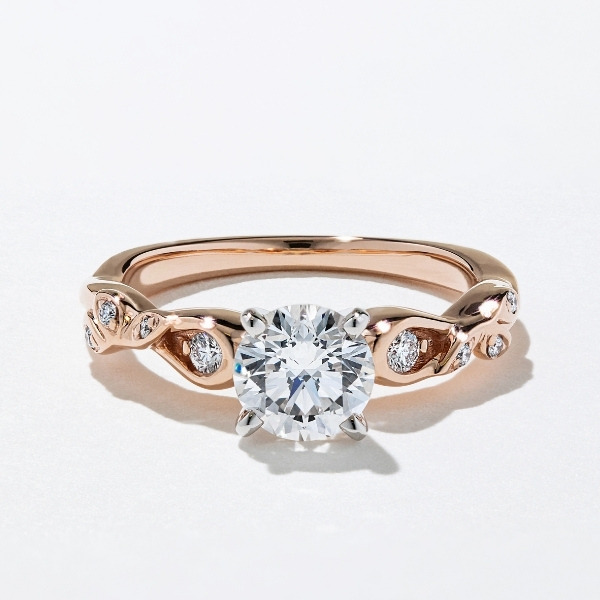 The Eden features a tightly twisted band and leaf design set with recycled diamonds. Get this unique nature-inspired engagement ring in rose gold to accentuate the beauty of this style.
Eden Engagement Ring: Starting at $926
---
The Eternal Monogram allows you to create something truly special by customizing the style. By selecting any three letters of your choosing to be set in the basket underneath the center stone you have a unique vintage style plus an added personal element.
Eternal Monogram Engagement Ring: Starting at $1,943
---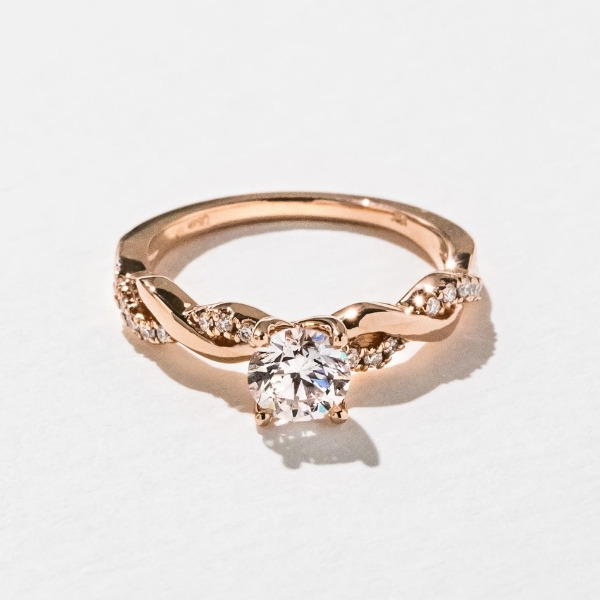 The Beloved has a gorgeous twisted band design with one plain metal band twisting around one recycled diamond accented band. We think this style is extra gorgeous in rose gold.
Beloved Engagement Ring: Starting at $1,095
---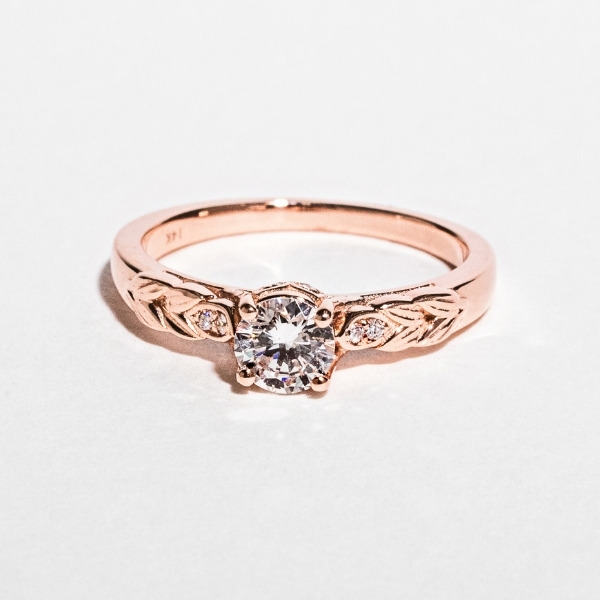 The center stone of the Chapman is accented with a floral-inspired prong head. The ornately carved filigree on the band is a vintage style we adore. This style can also be created using two metal colors (we recommend rose and white gold) to make it very elegant and antique-looking.
Chapman Engagement Ring: Starting at $893
---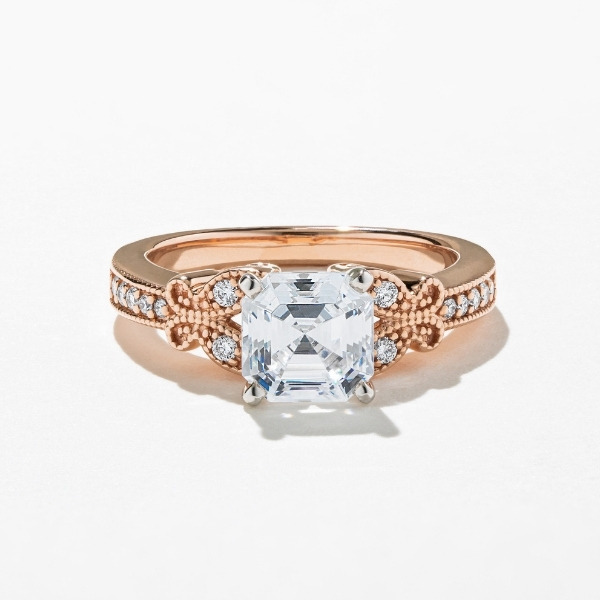 The Charisma is uniquely accented with two small butterfly designs on either side of the center stone. We recommend choosing the asscher cut for your center stone to get an amazing vintage look!
Charisma Engagement Ring: Starting at $1,181
---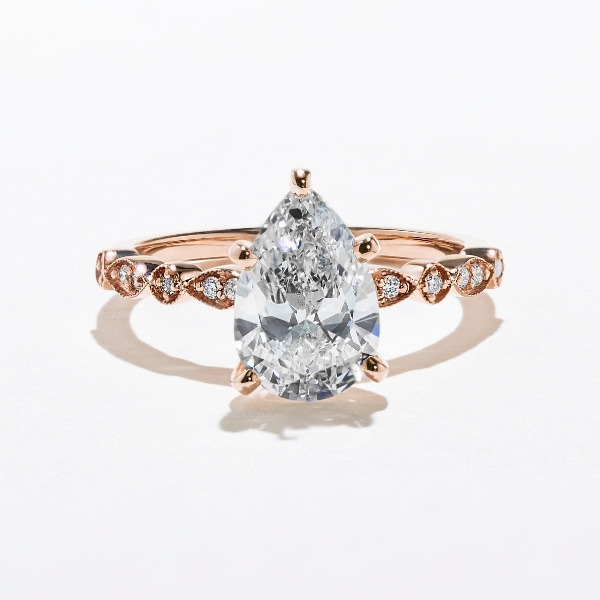 The Amore features a delicate milgrain band accented with channel bead set recycled diamonds. This style is the antique look we are dreaming of, and isn't it stunning with a pear shape center stone?!
Amore Engagement Ring: Starting at $883
---
This ring was custom-designed using inspiration from the Hope Engagement Ring. An emerald shape center stone paired with a rose gold setting is all we need for a unique elegant style.
Hope Engagement Ring: Starting at $1,049
We know you will be over the moon about your rose gold vintage engagement ring. Didn't see exactly what you were looking for above? Browse our vintage styles and explore which ones are your favorite. Reach out to our Personal Shoppers for advice when building your ring and get your dream style in rose gold!