Top 9 Best Wedding Bands for Solitaire Engagement Rings
Article by
Solitaire Engagement Rings are timeless, classic, and traditional. A minimalistic setting can keep your center stone the main attraction, and that's what a lot of us desire for our dream engagement ring. But what if we want a little extra sparkle for the band? There are a variety of wedding sets where the rings are perfectly matched together, but when it comes to choosing a band for your solitaire ring, it's your chance to get creative! We have a few choices for our best wedding bands for solitaire engagement rings to help you feel inspired.
Below are a variety of suggestions for the best combinations when pairing with a solitaire engagement ring. Ultimately though, it is up to your personal preference. The best part about having a fun wedding band is that if you need to take off your engagement ring, you can still glam it up with a flashy band! And keep in mind, your rings don't need to match either. We even have a vintage style in here!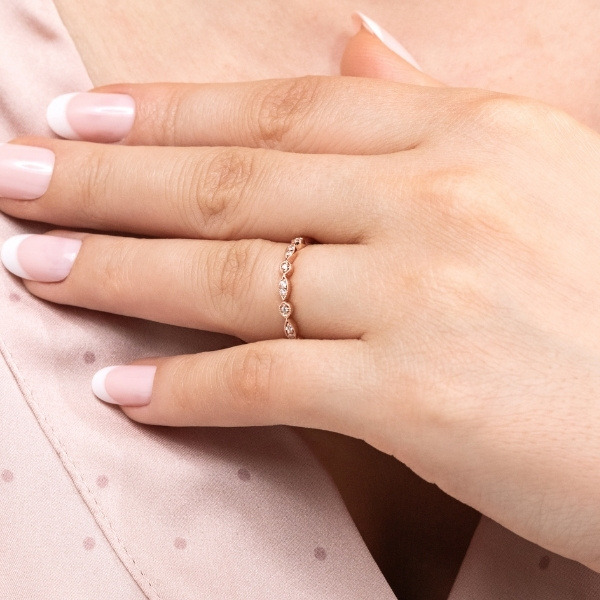 ---
---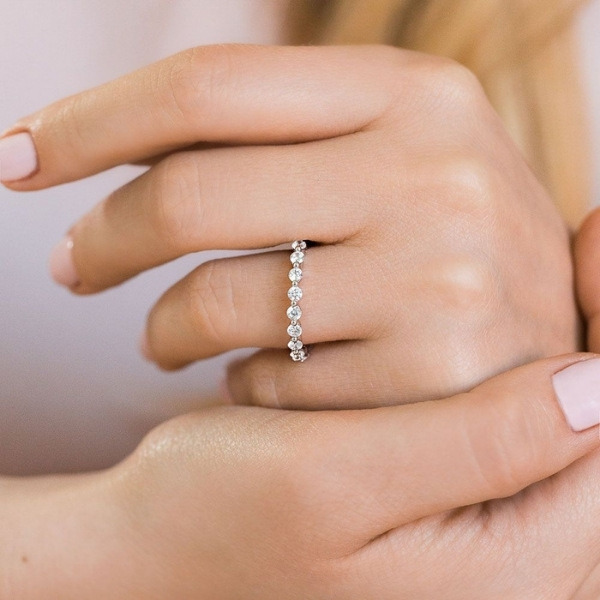 This eternity band is accented with 0.90-1.10 ctw recycled diamonds in an elegant shared prong setting. If you need to take off your engagement ring for work or other activities, the Flux is perfect as a stand-alone band that still shows off your bling.
Flux Wedding Band: Starting at $1,927
---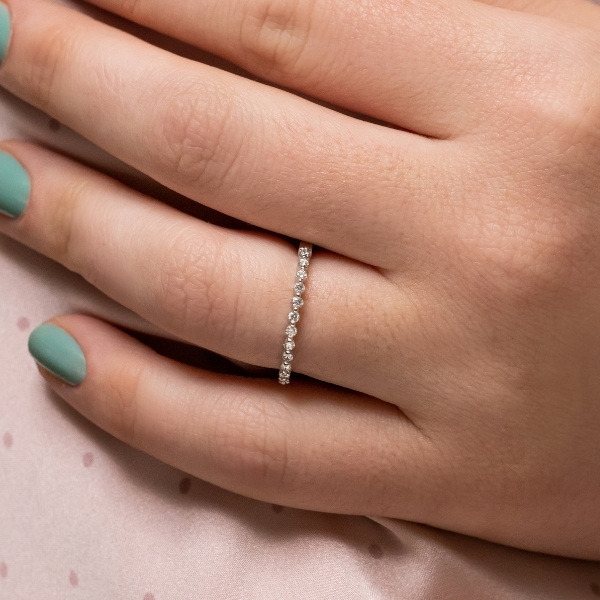 ---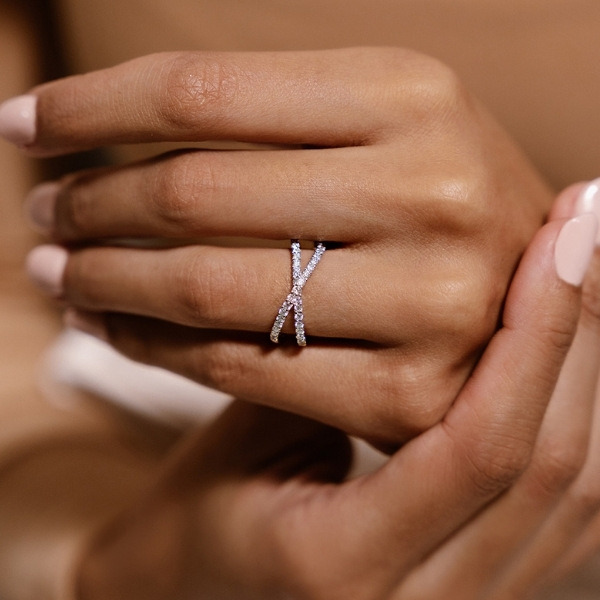 The Criss Cross is a beautiful crossover style ring set with 0.50ctw lab grown diamonds. If you love the look of stackable rings then this style gives the illusion of two rings. When you need to take off your engagement ring, you will still feel your hand is decently decorated.
Criss Cross Lab-Grown Diamond Band: Starting at $940
---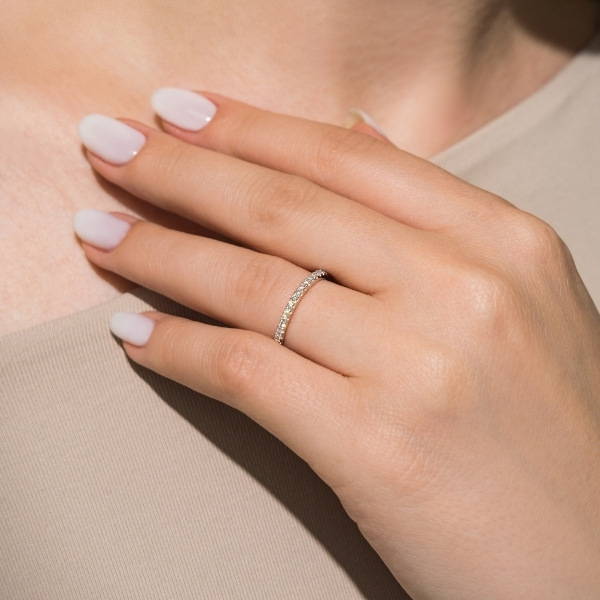 ---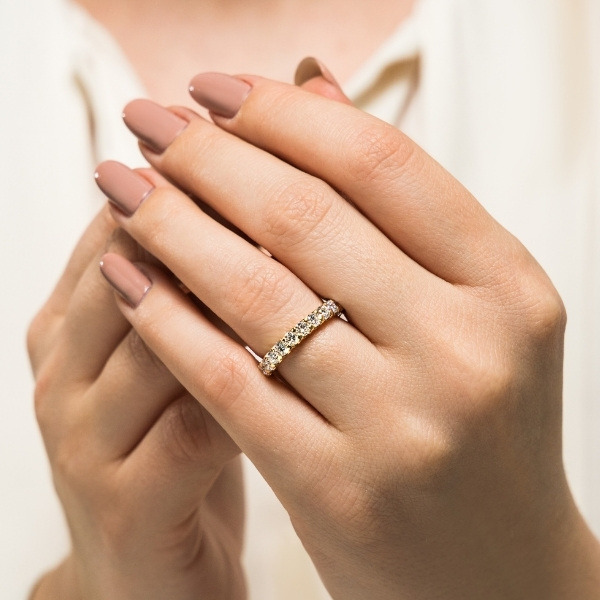 This flashy band uses a secure basket style setting to showcase 11 round cut lab grown diamonds. You choose your carat weight of 0.50, 1.0, or 1.5 so you can have the option to delicately add to your solitaire ring or really make it stand out.
11 stone Lab-Grown Diamond Band: Starting at $765
---
This stunning band has channel set diamonds going all the way around the band, with beaded edges. To add an antique feeling to your wedding set, we recommend this unique band. It's also a great choice for active lifestyles because there are no prongs.
Milgrain Eternity Lab-Grown Diamond Band: Starting at $1,389
---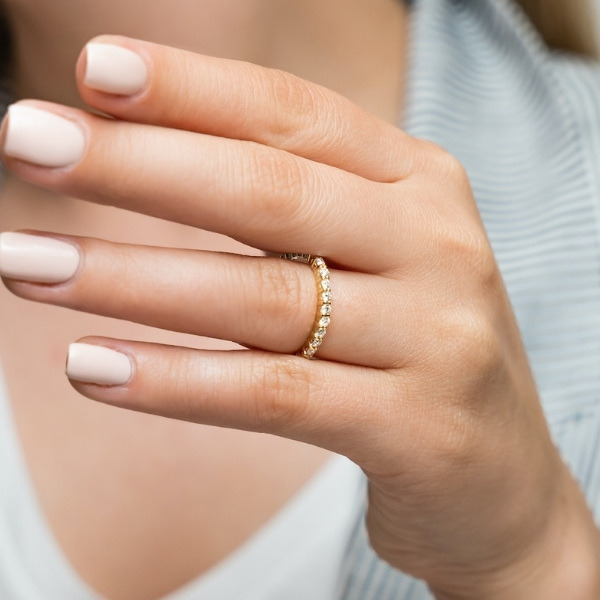 The Arctic is accented with 0.78-0.96 ctw recycled diamonds going all the way around the band. With two prongs in between each stone, this band is gorgeous with yellow or rose gold for a contrast in color. We recommend this band with the Tracie or Dior Engagement Rings.
Arctic Wedding Band: Starting at $1,827
When searching for your ideal wedding band keep in mind the discount you get when you buy your band and engagement ring together. You get 10% off the cost of the wedding band when purchased together with an engagement ring (only applicable to matching sets)! The above wedding bands that come in a set are the Heroine, Amore, Lilac, and Idyllic. Whether you are buying a matching set or creating your own unique pairing, there are a variety of styles to choose from. Please feel free to reach out to our Personal Shoppers with any questions, and make an in-person or virtual appointment to test out various combinations of ring pairs!
Looking for more? Browse all wedding bands.