If you want to jump on the latest trend and sport a truly interesting style, look no further than an East-to-West Engagement Ring. You are getting the first look at the latest additions to our jewelry assortment! In fact, this collection is so new, these styles aren't even on our website yet! We're giving you a sneak peek so you can order now, before they are available to everyone else.
So, what exactly makes a ring East- to-West? It's simply taking the center stone and having it oriented on the band horizontally. Elongated center stones are typically positioned with the longest length pointing north-to-south, and by rotating the stone 90 degrees clockwise your ring will have a completely different personality. Classic stone shapes like ovals and pears as well as emerald and marquise cuts are going horizontal for a new look that is fun and unique.
Nervous to sport this new trend? Don't be! If your fashion taste changes down the line it's an easy adjustment to place your center stone in a new setting. Restyling your jewelry is always an option, and the main decision boils down to what the shape and size of your center stone will be. Whether you glitz up your ring with diamond accents or go for a solitaire setting, an East-West engagement ring is something we encourage you to explore. Certain shapes like the emerald can even make your Lab Grown Diamond appear larger! Explore our collection for East-West styles or create your own with the help of our Design Team.
As with all of our ring styles, you build your ring exactly how you want. When selecting one of the following designs you also choose the size and shape of your center stone, which could be oval, pear, marquise, or emerald. You'll get to select your recycled metal type of white, yellow or rose gold as well as platinum. Justine, our Sales Manager, pointed to the Francesca with an emerald cut lab-grown diamond as her favorite East-to-West design.
One of our tricks to make your center stone appear larger is going with a halo setting. The gorgeous pavé of diamonds encircling your Lab Grown Diamond or Gemstone adds that extra bling for a ring that lights up the room.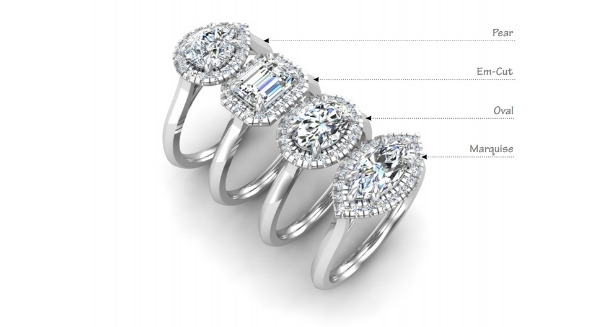 The Juliette is our spin on the Traditional Engagement Ring. With a smooth, sleek solitaire setting, the main focus remains on your center stone, which is showcased in a prong setting, showing off the brilliance from every angle.
Kick the modern look up a notch with this half-bezel setting. With a thick squared edge shank that disappears into the half-bezel, enough light is allowed through to the center stone to display wonderful brilliance and shine.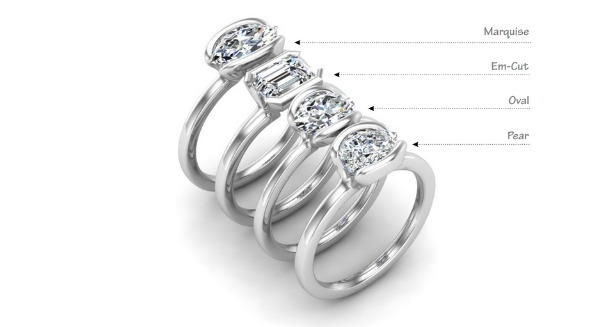 If you crave a little extra sparkle in your life, we recommend a Diamond Accented Engagement Ring. If you'd like to add color to your ring, we can also substitute lab grown gemstones, such as rubies or sapphires on the band.
This is the perfect ring for people with an active lifestyle that don't want to take off their ring. With a low profile bezel setting, there is no risk of getting the prongs of your ring caught on clothing or gloves.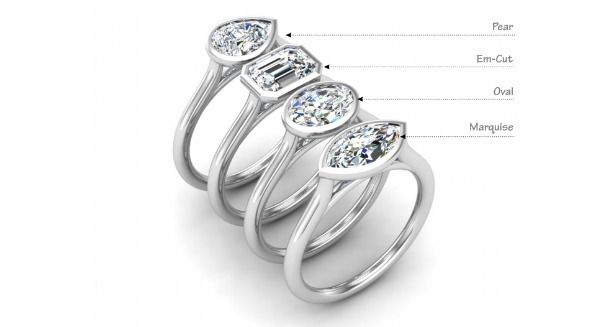 This sturdy design holds your choice of center stone in a modern, sleek setting. The bezel setting has a knife-edge band to add even more intrigue to your East-to-West ring. You won't have to worry about your stone knocking loose in this secure setting.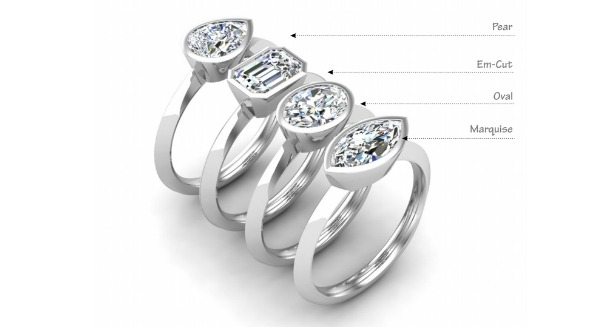 We hope our collection of East-to-West engagement rings inspired the trendsetter in you. We like to put a spin on the traditional, so nothing stopped us from rotating our center stones for a new look. If one of the designs sparked that dream ring feeling but lacked elements you are hoping for, reach out to our Personal Shoppers. By providing them with photos and drawings they are able to create a digital illustration using computer-aided design and then create the perfect ring that you are envisioning.
Looking to explore one of the beautiful east-to-west ring styles you've seen here? Contact us to learn more and explore getting one for yourself or a loved one.