Featured Couple: Angela and Maria
Article by
The story between Maria and Angela is one of instant connection and deep love. They got engaged March 28, 2021 and we couldn't be more happy for this beautiful couple! Maria and Angela were both part of an online wellness group and one day, Angela sent Maria a DM on instagram. "My initial reaction was this girl is so nice. The energy Angela gives off is actually what made me fall in love with her. I've never met anyone with such pure love and energy. The day we met in person on our first date I was in awe of her beauty. I could not believe that we were on a date," remembers Maria. They dated at a distance for months only seeing each other on the weekends. It was difficult for them to be apart so often because they were so enamored with each other. They have the type of love where both people feel seen, accepted, and truly loved. "I knew this would be no ordinary love the moment she walked up to meet me for a drink. The day I met her, I knew that I'd marry this woman one day," beams Maria.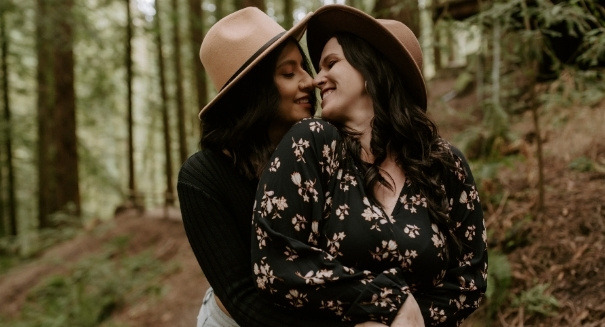 They've been a couple for 7 months and met just over a year ago. If these two can survive dating long distance, and during 2020, then they are certainly ready for marriage!
Angela planned a couple's shoot with their photographer, Analy, but really it was a surprise proposal shoot! They spent the first 30-40 minutes shooting couple photos and then towards the end of the shoot, Analy acted as if she had a surprise for both of them. She blindfolded the cute couple (really just Maria) and walked them over to an area where one of Analy's friends, Arinda, who has her own luxury picnic business, had set up a beautiful picnic for two. When Analy was in position to take photos she called out to Maria to take off her blindfold. Angela was kneeling in front of Maria, beside the picnic set-up holding the Clara Engagement Ring, and that's when she asked! Maria was beyond surprised.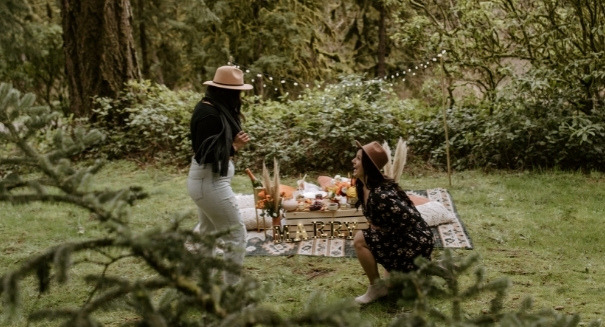 Because of the limitations with COVID, the two love birds plan on having a small, intimate elopement possibly later this fall somewhere in the Oregon forest. They are hoping for a bigger gathering next year with friends and loved ones.
"We started searching for places in Oregon and really aligned with MiaDonna's values the most," says Angela. They chose MiaDonna because they both try to live a more sustainable and eco-friendly life, and MiaDonna is a certified B-Corp! They love supporting women-owned businesses, people of the BIPOC community, and businesses that give back. When they found out about Lab Grown Diamonds, they knew that was what they both wanted for their rings. The cherry on top was discovering that a portion of the profits go towards education and helping those impacted by the diamond mining industry.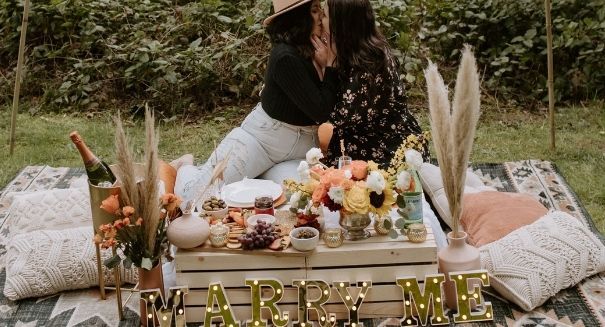 Maria and Angela had discussed what kind of rings they were dreaming of prior to arriving at MiaDonna, and Angela had a general idea of what style she was going to get. Angela wanted to find something simple yet different, and when she saw the Clara engagement ring, she knew that was the one! She ordered it in Rose Gold with a round cut Lab Grown Diamond. "I love the two small bands fused together and the small halo of diamonds below the main set diamond. I knew it would look perfect on Maria!"
The photographer responsible for these stunning images is Analy @analyphoto. analy-photos.com.