How to Plan an Unforgettable Intercultural Wedding
Article by MiaDonna
The beautiful thing about weddings is no two look the same- there is so much variety in planning and traditions. Indian weddings are full of color, weddings in China have tea ceremonies and red dresses, in Scotland men wear kilts and bag pipes play not so subtly in the background. If you and your partner are from different cultures, and your wedding traditions look very different, take aspects from each and blend them together for an unforgettable celebration that both sides of the family will appreciate.
What traditions matter most to you?
You and your partner may want to sit down and write a list of the various traditions you want to incorporate in your wedding. This is a chance to learn more about your partner and be open to their culture. You may also reach out to your immediate families to ask them what is important to them to include on the big day. They may feel strongly about seeing certain cultural traditions as they send you off into your new life and merge families.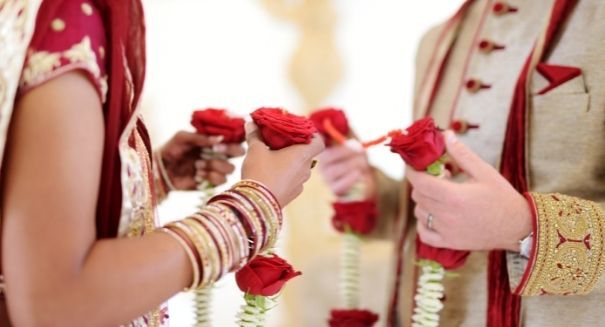 In India and various Asian countries, a wedding date is chosen for the couple. To ensure a happy marriage, a knowledgeable family member, priest, or astrologist determines the luckiest day taking into consideration the birth dates of the couple and phases of the moon. If the date falls on a weekday you can have a small ceremony in the week with immediate family, and have a larger celebration over the weekend. If you are looking to simply avoid unlucky dates, Chinese culture says don't wed March 18, August 18, or September 18. Once you have the lucky date, follow in the footsteps of many Asian cultures and decorate your 'save the date' with red and gold—these two bold colors represent good luck and prosperity.
In Asian cultures, guests wait eagerly to see the multiple wedding dress changes. I don't think too many brides would complain about getting to wear multiple stunning dresses in one day. Have a gorgeous get-up for the ceremony, and switch into your other dress for the reception. In Chinese culture, they wear red for the entirety of celebrations, symbolizing happiness, good luck, and good fortune- all the things we hope for in our marriage. If you want to add a dash of tradition you could simply wear a crown as they do in Norwegian and Finnish cultures.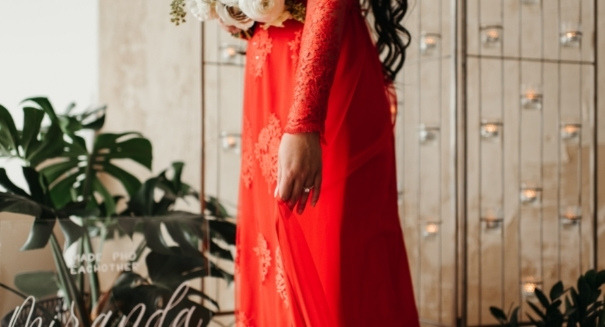 Fun traditions from various cultures to consider
In Ghana and China, the groom must prove himself worthy by coming to the bride and knocking on the door prior to the ceremony. In China, they turned this tradition into a fun game where the groom must perform tasks given by the bridesmaids to prove himself a suitable spouse. During the game, sometimes called chuangmen, the groom is given challenging requests in order to reach the bride, ranging from singing an original song to eating a strange condiment concoction prepared by a mischievous bridesmaid. In Ghana, the tradition is known as kokooko. The groom knocks on the door and asks for permission to enter. After entering, the groom gives gifts to the family, like money and alcohol, making his desire to marry his love clear to her immediate family.
A ritual from West Africa that you may incorporate in your ceremony is the tasting of four flavors put in decorative glasses. Couples taste four flavors that are meant to represent distinct stages within a marriage: cayenne for spiciness, lemon for sourness, vinegar for bitterness, and honey for sweetness. As the couple makes various facial expressions, guests are entertained. If you want another tradition originating from West Africa, you may also include the custom of jumping the broom, in which the betrothed jump over the threshold into their future together. This symbolically "sweeps away" their former single lives and concerns.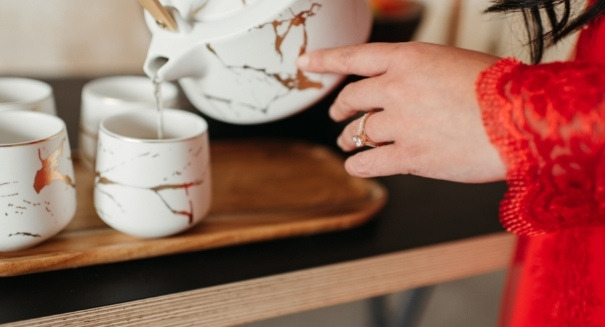 If someone in the couple is from China we suggest the Chinese tea ceremony, an intensely emotional ceremony between the couple and their parents. Most tea ceremonies involve the wedding couple serving tea to their parents as a sign of respect. The tea is sometimes paired with traditional ingredients such as lotus seeds and red dates, a combination that symbolizes sweetness in the marriage.
In Jewish weddings, the groom stomps on a wine glass wrapped in a cloth to ward off bad luck from the marriage. Tyler and Kelly, who had their wedding in the Virgin Islands in the summer of 2018, decided to have a Christian ceremony. At the end of the ceremony they smashed the wine glass, incorporating a Jewish tradition as a way to include both of their religious backgrounds.
Feel inspired by another culture's beautiful tradition?
Megan and Vance grew up in Portland, Oregon and they incorporated pagan traditions into their fall wedding that took place on Sauvie island under the Harvest Full Moon. Megan's grandparents were from Ireland and she felt inspired to look into Celtic traditions to add a little something different to her ceremony. In her research, she discovered the tradition of handfasting. The handfasting ceremony has its roots in ancient Celtic tradition and dates as far back as 7000 B.C. The hands are tied together to symbolize the binding of two lives, and in medieval tradition, the couple is supposed to be tied together until midnight. Most people take it off after the ceremony as it makes dancing at the reception a little easier. It's encouraged to try to slip it off with the tie intact to bring it home as a keepsake.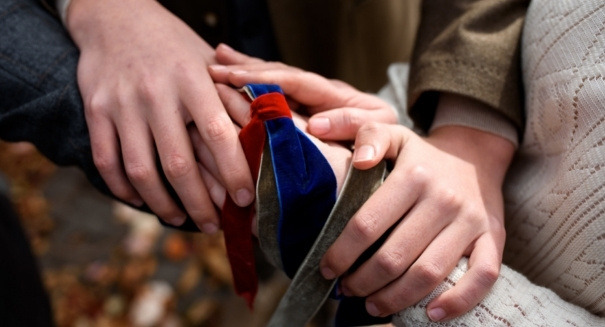 Historians say that cavemen bound themselves to their partners with a cord of woven rushes as a symbol that their spirits were one. The tying together of couples is the oldest wedding tradition that various cultures have incorporated throughout time. In Mexico the bride and groom are linked together with lazos (cords or lassos) to symbolize the ties of love and trust joining them.
If you are getting married through a religious institution you may want to check that they are open to interfaith unions. Most are, but some are not. For Jewish and Christian, the priest and rabbi will perform the ceremony together. In Hindu and Catholic ceremonies, that is not the case and it has to be separate.
For Emily from Oregon, and her now-husband who is from India, they decided to have two ceremonies. When asking Maid of Honor Kelsey what her feelings were about the two ceremonies she said, "It was so fun! I have never been to an Indian ceremony and to be a part of it and wear the colorful outfits and do the henna was a highlight for me. I'm so happy they did both because they went all out for both." If you have the time and budget it may be worth considering two ceremonies to make all the family happy and feel included.
If you want to incorporate two cuisines you have the option of either showcasing one cuisine for appetizers and the other for dinner or fusing the two cuisines! Some foods go together well and have similar flavors and spices, so it's an easy adjustment. Find a caterer that has experience with fusing foods and let them know what you are expecting on the big day. You can even share family recipes to incorporate into the course. Just make sure to taste the meals ahead of time to ensure there isn't a fusing disaster. Sushi pizza may seem like a fun idea, but you'll want to test that out first.
Pick a venue that can accommodate you
Find a wedding planner that has experience fusing different cultures together. It will be helpful for them to know the timing of events and make sure you have enough time to squeeze it all in. They may also help you find the right venue based on your wedding planning criteria.
In Indian weddings, the couple will exchange flower garlands and toe rings. But before entering the temple or church, they must go around a sacred fire seven times as this is said to invoke the gods to grant them a happy life. If you are incorporating this Indian tradition you may need to find a wedding venue that accepts an open flame.
In the US we usually give gifts that are practical like household appliances or new bedsheets. We rarely give cash, but in other countries giving cash is the norm. The majority of European countries write the couple a check or deposit directly to their bank account- it's normal to give between $100-$300. In Chinese ceremonies, gold jewelry is one of the frequent gifts given for its good luck. Well, that's something we absolutely want to get on board with! At MiaDonna, all our gold is 100% recycled, so you can rest assured your wedding gifts are ethical and sustainable.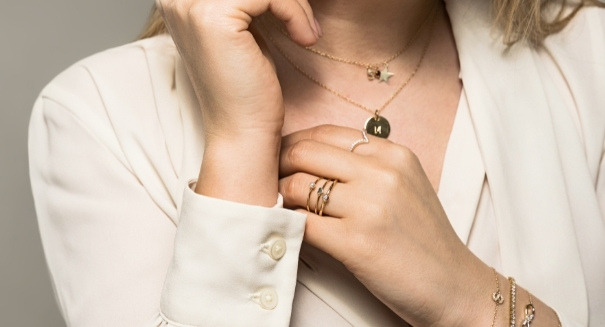 We are so excited for you to plan your multicultural wedding! Have fun, be open-minded, and experience the beauty of another culture's traditions. Reach out to us with your stories or tag us at #miadonnaheroes. We love to see what you create!