The Latest News Behind Porsha Williams' Engagement Ring
Article by
Calling all Real Housewives fans! We've become accustomed to our favorite Bravolebrities being entwined in controversy. After all, that's what keeps us coming back, right?! This week is no exception as Porsha Williams keeps the scandals coming with the flashing of a stunning engagement ring and the announcement that she is engaged to co-star Falynn Guobadia's estranged husband, Simon.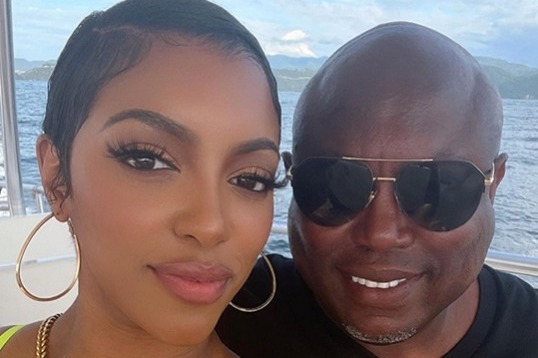 Check Out Porsha's Engagement Ring
Have you seen Porsha's giant sparkler? First making its debut via Instagram on May 11, the ring sparked a controversy of its own (we'll get to that in a bit). It's estimated the center stone is a 12-15ct emerald cut diamond in a páve diamond accented band. Depending on the grade of the diamond it could well be worth $1.0M - $1.2M.
Do you love the look, but don't have that kind of cash lying around? Don't worry! We have similar settings that you can style to match your own preferences and non-reality star budget.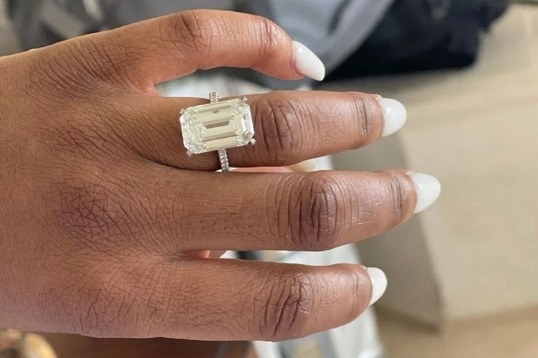 Our version of Porsha's ring features páve recycled diamonds halfway down the band with your choice of center stone shape and size in a 4-prong setting. If emerald cut is not your favorite, you can opt for any of our other shaped center stones. The matching band fits perfectly for a complementary look. The Hope is shown here with a 2.45ct emerald cut lab-grown diamond.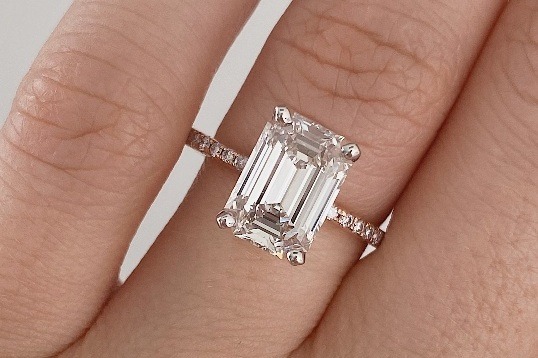 The Traditional Engagement Ring
If you like the size and shape of Porsha's engagement ring center stone, but prefer a ring without the extra bling on the band, we suggest the Traditional Solitaire Ring with a 4-prong head. It's shown here with a 6.28ct elongated cushion cut lab-grown diamond. With this setting, the center stone is truly the star of the show!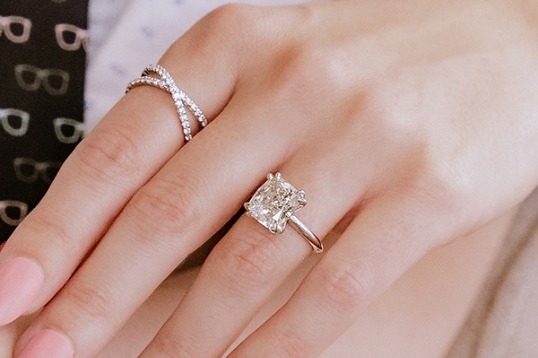 What's the Controversy With Porsha's Engagement & Ring?
Leave it to Porsha to go big or go home! Not only is the engagement raising eyebrows (for multiple reasons), but so is the engagement ring. Porsha's new fiancé is in the process of getting a divorce from RHOA cast member, Falynn Guobadia. The Guobadias first made an appearance on the show in season 13, and Falynn was later brought on as a regular and labeled as "a friend of Porsha's." The couple married in 2019 and in January 2021, Simon originally filed for divorce. On Valentine's Day 2021, the couple used social media to announce a reconciliation, but just 5 days later, Simon refiled for divorce. They officially announced their split on April 22, 2021.
Fast forward a short 3 weeks later, and Porsha and Simon made their relationship and engagement public. While Porsha insists her relationship with Simon did not play a role in the Guobadia's divorce, many are left scratching their heads. Porsha tried to dispel rumors by posting on her Instagram, "Our relationship began a month ago—yes we are crazy in love."
The timing of the divorce and quick engagement are leading people to speculate Porsha is pregnant, although that remains unconfirmed. What do you think: Is PJ going to be a big sister?
What's the Tea on Porsha's Massive Ring?
Clearly Simon has a type… not in women, but in rings! Falynn's engagement ring also featured a large emerald cut diamond on a petite band which led Twitter followers to speculate that Simon used Falynn's ring for Porsha's proposal. She quickly responded with the simple statement, "That's a lie."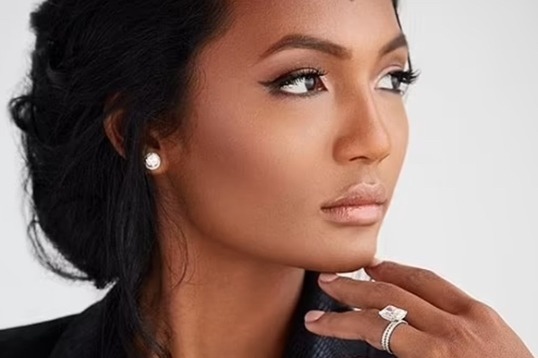 More About Porsha's RHOA Timeline and Plot Twists
Fans met Porsha in 2012 on the 5th season of RHOA and she has been the focus of many explosive plotlines ever since. The first controversy began with the dissolution of her first marriage to Kordell Stewart in 2013 amid rumors about Kordell's sexual orientation and his controlling treatment of Porsha.
Viewers of the show were thrilled when Porsha found love again with Dennis McKinley in 2018 and welcomed daughter Pilar Jhena (PJ) soon after. But joy was soon replaced with heartbreak as cheating allegations quickly tainted the relationship between Porsha and Dennis. While no longer together, the pair maintain a friendly co-parenting relationship and continue to care for each other, albeit from a distance. Porsha even posted a picture on Mother's Day showing her celebrating the holiday with both Dennis and Simon.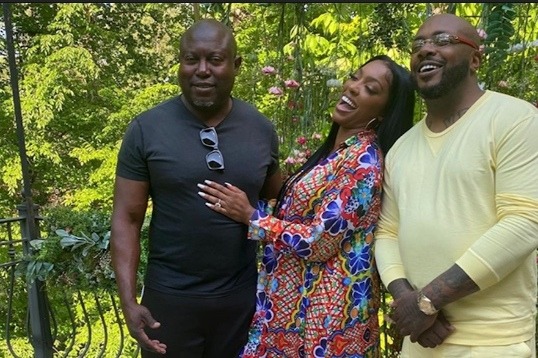 Whether you love her or hate her, Porsha has made her mark on the Real Housewives' franchise and will go down as one of the most talked about stars on Bravo. One thing is for sure, Porsha is never shy about defending herself or sharing her story. We can't wait to see what her tagline will be next season!