Top 9 Trending Sapphire Engagement Rings
Article by
Lab Grown Sapphire month had us thinking, although we love the other lab gemstones, the variety of color and beauty of the sapphire always steals our attention. Classified as a precious stone, sapphire is one of the most sought-after colored gemstones in the world! One of the most famous sapphires is the "Star of India,'' which is an astounding 563.0ct. However, you may be more familiar with the famous Princess Diana Engagement Ring (worn by Kate Middleton today) that has a 12.0ct blue sapphire center stone with a halo of diamonds, or maybe you think of Elizabeth Taylor's sapphire engagement ring. Either way, the sapphire is special enough to consider it as the main attraction for your ring! One of the most important factors that determine the value of a sapphire is its color. Though blue is the most popular color of the sapphire, it is also available in other hues- we have pink and champagne! In general, sapphires with the most intense color, like deep blue, are regarded to be the most valuable.
Sapphires were discovered in Kashmir around 1881 when a landslide high in the Himalayas exposed a large pocket of blue crystals. Word of the gorgeous gemstone quickly spread around the world- rulers from the Persian empire believed that the sky was painted blue with the reflection of sapphires. And later on, they were used medicinally- people believed they restored balance within the body and prevented unwanted thoughts. Today, the September birthstone symbolizes protection and good fortune and is traditionally given on 5th and 45th wedding anniversaries, but is also becoming popular to have as an engagement ring! We are big fans of that fact.
At MiaDonna, we have stunning Lab Grown Sapphires that come in blue, pink, and champagne! A 9 on the Mohs scale, these sparkly beauties are durable, but you should still wear them with care because they aren't quite as hard as the Lab Grown Diamond which scores a 10. When you choose a Lab Grown Sapphire you are getting a stone that is identical optically, physically and chemically to the earth-mined variety, but up to a 90% lower cost! Because our gemstones are grown in an extremely controlled environment, we are able to grow vivid colored gems without the need to use enhancement or color treating. You are getting the real thing! We chose a few of our styles to showcase the gorgeous sapphire- enjoy!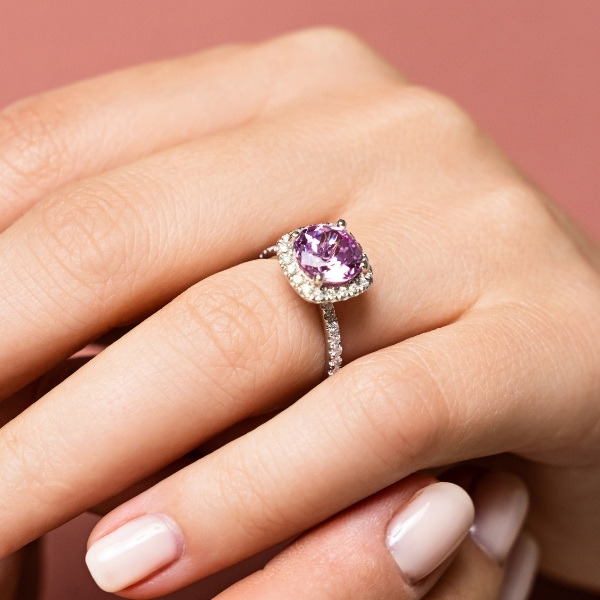 The Venetian is a petite cushion shaped halo set ring with recycled diamonds circling a round center stone. The pink sapphire in this setting is feminine and elegant- get this style for an extra sparkly look!
Venetian Engagement Ring: Starting at $1,208
---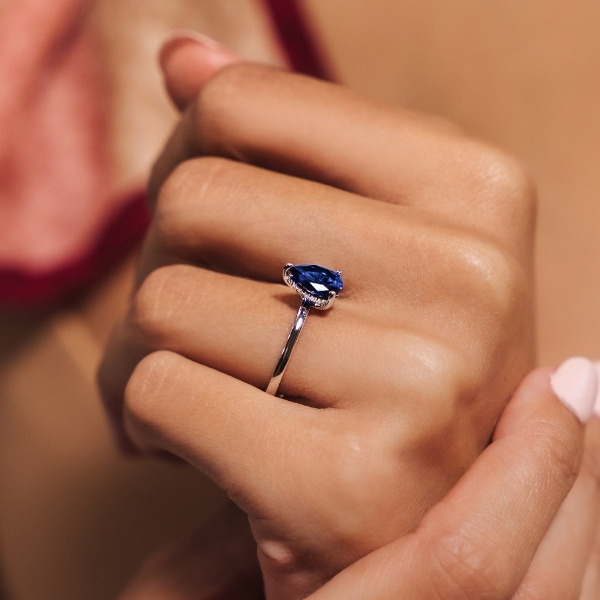 We keep coming back to this style for its beauty and unique design. Not only does it have a hidden halo, but it features a pear shape! This style with a blue sapphire shows off the recycled diamonds beneath it!
Cordelia Engagement Ring: Starting at $940
---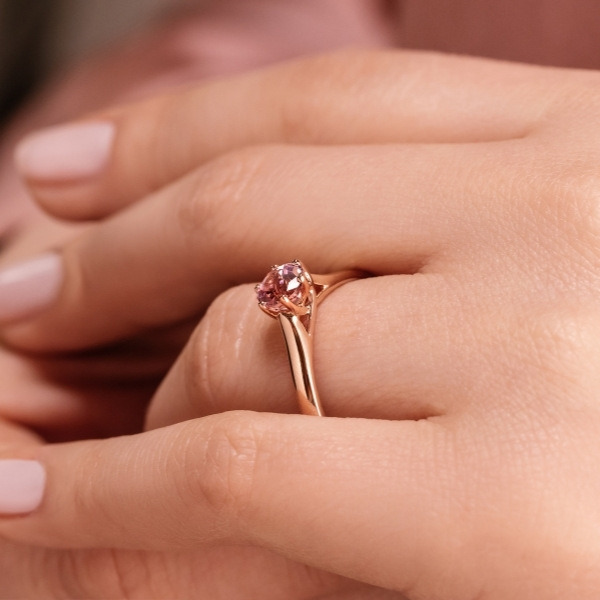 This setting has a trellis style 6 prong head that holds a gorgeous champagne sapphire atop a wide, slightly squared edge band. This is the perfect setting for someone looking for a solitaire minimalist design.
Calista Engagement Ring: Starting at $625
---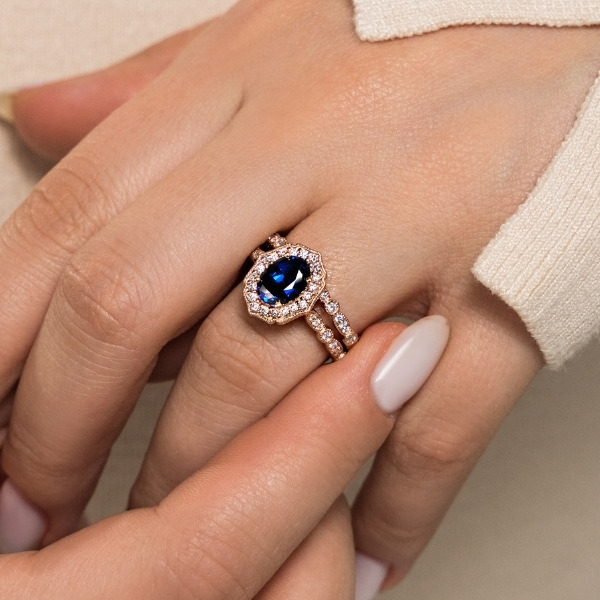 This vintage style is a continuing favorite. The accenting recycled diamond halo and band are accentuated by the contrast of a deep blue stunning lab grown sapphire. Get this style for a truly elegant look!
Paris Engagement Ring: Starting at $1,313
---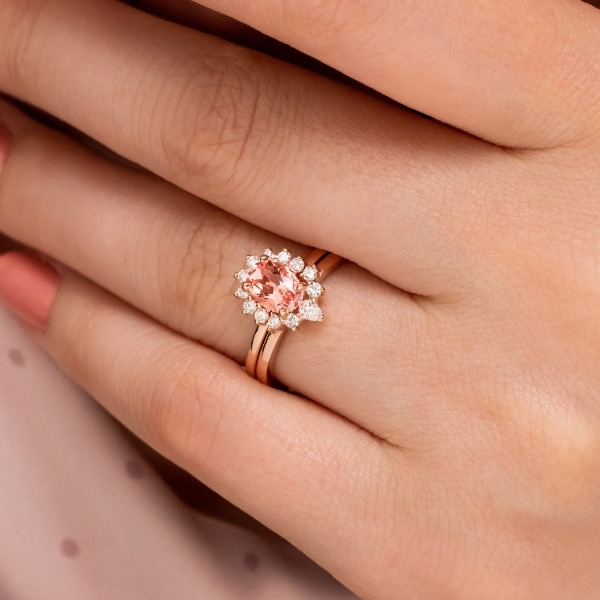 This style is distinctive with its half halo design. The center stone with a champagne sapphire highlights the surrounding diamonds. Get the matching wedding band to make it a full halo!
Camilla Engagement Ring: Starting at $1,099
---
Maybe a modern look is more your thing. The Karina is a fun twist on the traditional solitaire setting. We love this style with a blue sapphire and marquise shape for the center stone.
Karina Engagement Ring: Starting at $578
---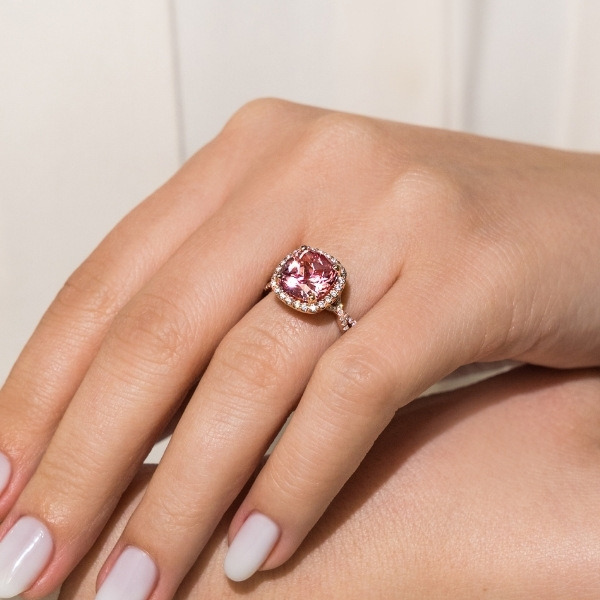 The Eternal Monogram allows you to create something truly unique by adding your initials beneath the center stone in the basket. By adding any three letters of your choosing your ring will feel extra sentimental.
Eternal Monogram Engagement Ring: Starting at $1,943
---
The Flora resembles the ring Princess Diana chose and this isn't the only reason we are drawn to it. The wonderful blue sapphire is beautifully enhanced by the encircling recycled diamonds!
Flora Engagement Ring: Starting at $1,929
---
The Grace is an elegant vintage style that looks good with any gemstone center. We can't get enough of sapphires, and love to see the deep blue accentuated by the intricate detailing of the Grace setting.
Grace Engagement Ring: Starting at $1,037
When choosing your Lab Grown Sapphire ring, remember that you get to choose what your ring symbolizes for you. Maybe you've chosen a Lab Grown Sapphire for the center stone of your engagement ring to symbolize the growing love in your relationship or to bring good fortune. Either way, we are here to help you build your dream ring and get something you are truly happy with. Please reach out to us with any questions!