Your Guide to Purchasing an Engagement Ring from America
Article by MiaDonna
You've stumbled across MiaDonna in your quest for an ethical engagement ring, but we are located in America, so now you are wondering the best way to go about buying a ring from the United States. We have some tips and tricks to help you get exactly what you are hoping for! Spoil your partner with an engagement ring that is high-quality, ethical, and absolutely breath-taking!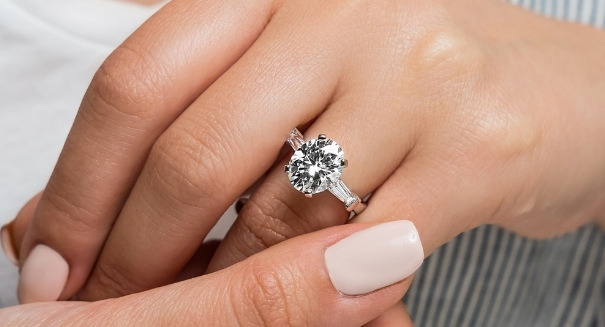 Why purchase an engagement ring in the United States with us?
We've been around a while (15 years!) and we are Lab-Grown Diamond and Gemstone experts. You could say we are ahead of the game and know what we are doing. When you shop with us you are getting high-quality fine jewelry and buying from a sales team that will do everything to make sure you're happy with your purchase. When buying an engagement ring it's important to shop with a company you can trust, and when it comes to getting the ring of your dreams- you can trust us! People that are drawn to MiaDonna are often conscious consumers looking for a product that they feel isn't causing any harm to the planet. We are 100% conflict-free, and our ethical engagement rings are set in 100% recycled metal. It doesn't stop there though. Every purchase at MiaDonna contributes to our foundation, The Greener Diamond, that repairs the lives and land negatively affected by the mining industries. We also plant a tree through One Tree Planted for every order.
Get set up with a virtual appointment
People living in Portland, Oregon shouldn't get to have all the fun. With virtual appointments, you can meet with a Personal Shopper and they can help you get exactly what you envision. We conduct online appointments from our store, where a jewelry expert will be able to show you Lab-Grown Diamond options, and different ring styles. They can educate you on why our Lab Grown Diamonds and Gemstones are a superior quality, and explain the 4Cs. It's very helpful when making a big purchase to have an expert walk you through all the possible styles and varieties of your engagement ring. You'll be able to see everything as if you were standing in the store. This is a more personal way to make a purchase- besides, we want to see your pretty faces!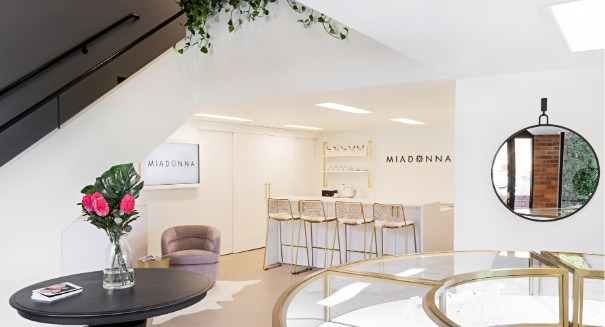 Just like shoes, US ring sizes differ from many International sizes. We make it easy for you by having a ring-size converter built into our website, so when you are designing your ring, you won't have to guess the correct size. We recommend people go to a reputable jeweler to get their exact measurements before purchasing a ring so it fits just right when you receive it. If this isn't an option because you want the ring to be a surprise, we recommend buying a ring sizer and checking your partner's ring finger while they sleep (maybe after a big night out or event so you know they are really in la la land).
Another factor to consider when purchasing your ring are the ever-changing exchange rates. The relative strength or weakness of the U.S. dollar can play a huge part in how much money you save. As it changes month to month, do a quick check to see where it's at. It could be in your favor and make the ring you're considering an even better buy!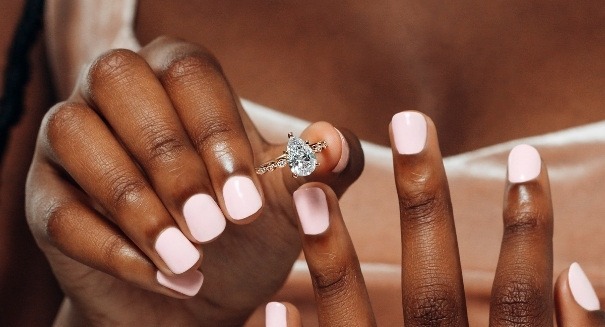 We ship Fedex two-day international shipping for $70, and your jewelry is fully insured. There may be a potential custom hold for a further couple of days, but that is rare. You can be sure your jewelry will arrive safely and quickly!
Learn about lab grown diamonds and gemstones
Lab-Grown Diamonds are as real as the diamonds they find in the ground and therefore graded exactly the same. Both are evaluated using the 4Cs. Understanding the four C's is an important way to make sure you are getting a high-quality stone that will look even more brilliant in person than what you view virtually. The first C, Clarity, is the purity or quality of a diamond and is the relative measurement of the inclusions and blemishes- check out our table to see the different grades. You can go as low as I1 depending on where the inclusions are located and still have a gorgeous Lab-Grown Diamond. The jump in price from an SI2 to VVS1 clarity is significant but with an SI, you could still have an "eye clean" Lab Grown Diamond. The second C, Color, determines how much color is in a diamond, which is usually tints of yellow or brown. Grade D, E, and F are colorless, while G and H have a slight hint of color that only a gemologist would notice. The third C, Cut, determines how your diamond interacts with light, creating captivating visual effects, like brightness, fire, and scintillation. The cut is the most important part of a diamond's beauty, so selecting the highest cut grade your budget will allow is one of the best ways to get a ring your partner will love- we recommend going with an ideal or excellent for the cut. As far as the fourth C, Carat, ask our Personal Shoppers for reference guides during your virtual appointment to determine the size of your center stone. A 1.0ct round cut Lab Grown Diamond with clarity VS2, color H, and an ideal cut costs around $2,231. If set in a solitaire style like the Dior, the total price is $2,826. For an earth-mined equivalent, it could be up to 40% more than that! So in that case, you may as well go bigger and get the 2.0ct, right?! Right!

Hopefully, you are now on the path to getting your perfect ring for your forever person. We want you to get the ring of your partner's dreams and we hope these tips helped! If you have any questions, reach out to us and we will be happy to lead you in the right direction.