The prongs that securely hold up the center stones of our engagement rings beautifully showcase our gems. But what if we paid more attention to how they were decorated like we do for the rest of our engagement ring? When viewing a ring like the Crown from above you may simply see a gorgeous vintage style, but what we are really excited about is what is revealed when you turn to see the beautiful under-gallery. The design makes your ring look like a royal crown!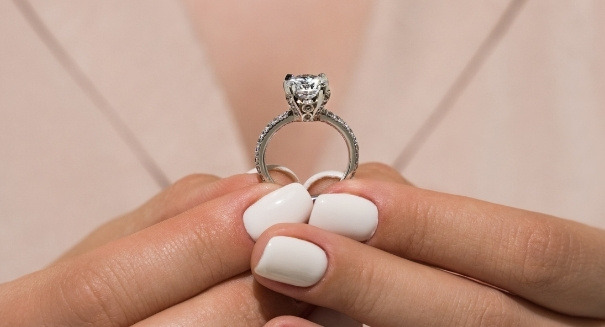 We have selected a few of our favorite decorative engagement rings for you to take a look at. Like the hidden halos, they create an element of surprise to your ring that isn't noticed at first glance, but completely endearing once you do. Some are diamond accented and some have intricate metal work, but all are wonderfully stunning!
---
Looking for an elegant style that makes you feel like royalty? The Crown has an 8 prong head adorned with channel bead set stones running along the sides of the shank. You will feel like a queen or king when you sport this style.
Crown Engagement Ring: Starting at $1,358
---
A graceful antique style, this ring is accented with hand carved filigree and 0.14ct recycled diamond accents. This ring embodies a timeless vintage look with intricate details that will keep you staring in amazement.
Ella Engagement Ring: Starting at $1,040
---
---
The Winter Rose appears to be a beautiful solitaire from above, but when rotated to the side it shows off the accented prong head. Each prong contains 4 channel bead set recycled diamonds with a bezel set recycled diamond in between each prong.
Winter Rose Engagement Ring: Starting at $940
---
When first admiring the Queen you may think it's simply a diamond accented engagement ring, but when you look closely at the prong head you'll be amazed by the bezel set stones placed in between each prong.
Queen Engagement Ring: Starting at $2,039
---
The Spicy certainly spices up the classic engagement ring with channel bead and bezel set recycled diamonds running up the 4 prong head and along the top of the rounded band.
Spicy Engagement Ring: Starting at $1,293
---
The Quimby is set in an ornate floral prong head, accented by recycled diamonds in the band. A perfect design for nature and floral lovers, this style is a truly unique twist to your classic diamond accented engagement ring.
Quimby Engagement Ring: Starting at $1,076
---
Won over by these decorative styles? You just might like vintage style rings. If you didn't see exactly what you were hoping for, but you felt inspired by the designs, reach out to our Personal Shoppers about custom designing! Anything you dream up, we can create! You can even mix various elements from a few different rings to find the most unique choice for you.