Top Fall Jewelry Trends of 2021
Article by
We don't want you to fall behind the trends this fall. We have quite a few suggestions that we are excited to discuss! As always, stacking is very on-trend and we recommend getting some staple pieces for your jewelry wardrobe to mix and match with other pieces. And as far as rings go- three stone rings as well as buying larger center stones with elongated shapes, like the emerald or oval, are big right now.
We also can't leave out the fall jewelry trend of cocktail rings also known as right-hand rings! People often go for lab grown gemstones, like a sapphire, for their center stone of choice rather than a lab grown diamond (which is often associated with an engagement). But we say do whatever you want! Have a lab grown emerald for your engagement ring and a lab grown diamond for your right-hand ring. There are no concrete rules- you do what feels right to you!
There is a lot to consider when stacking pieces with different stones, shapes, and colors, but once you find your style, the possibilities are endless! When you have a full collection of all your favorite pieces, stacking will become second nature- we selected a few pieces we love to stack to get you started.
The Glow adds a touch of elegance with a 0.03ct round recycled diamond bezel set on a smooth plain metal band. We love this style ring in yellow gold and like stacking it with two other bands on the same finger.
Glow Stackable Ring: Starting at $385
---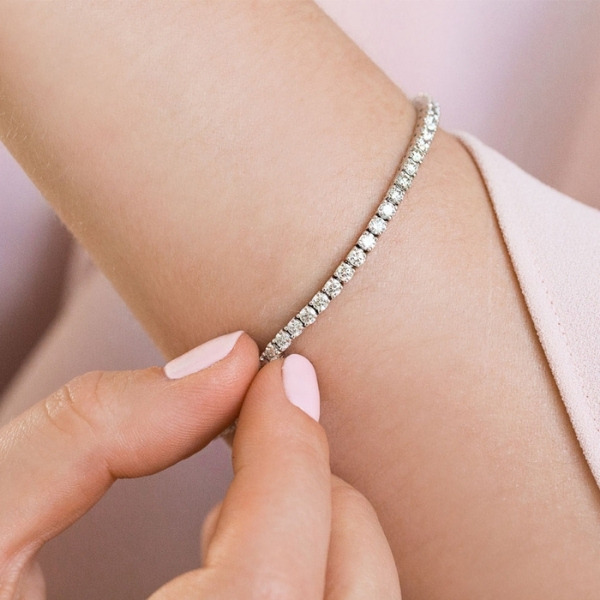 If you don't already have this gorgeous bracelet then this is a must-buy! You will truly appreciate having this bracelet in your jewelry collection to make any outfit a bit more exciting. Stack it with other bracelets to add the "wow" factor to your wrist.
Lab-Grown Diamond Tennis Bracelet: Starting at $2,620
---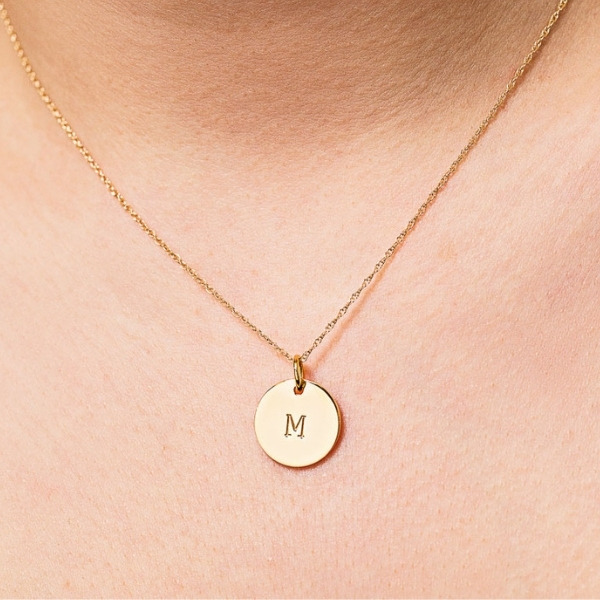 Personalize this beautiful gold pendant necklace with your initial or an initial of someone you are close to. You can add this to your neckline as a stackable with other necklaces for a trendy look!
Solid Initial Disc Necklace: Starting at $597
These rings are great as right-hand and engagement rings! They represent past, present, and future love and to be on trend get a three-stone ring with a large elongated center stone! Below we have a few styles we know you will love!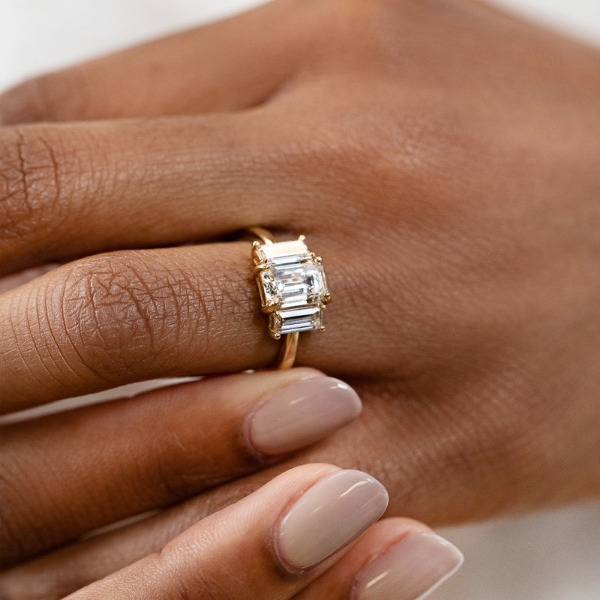 The Isla is a favorite style among our sales team and our customers around the world. This ring features a stunning basket-set emerald shape stone with smaller emerald or baguette cut stones on either side- we recommend a lab grown emerald as the center stone for something unique! 
Isla Engagement Ring: Starting at $772
---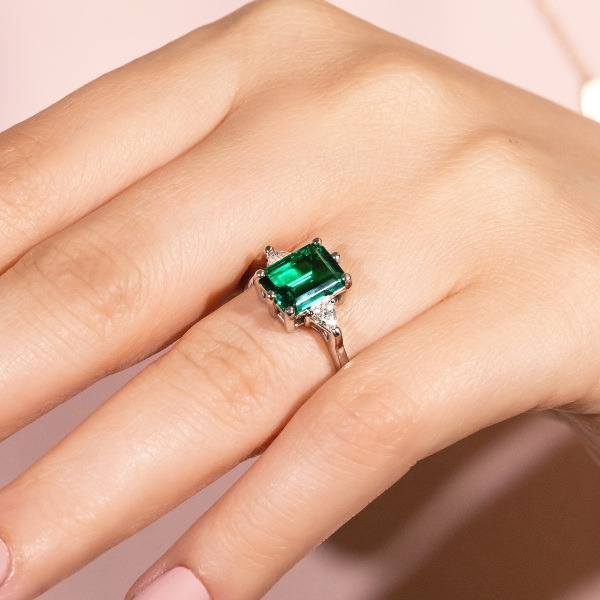 ---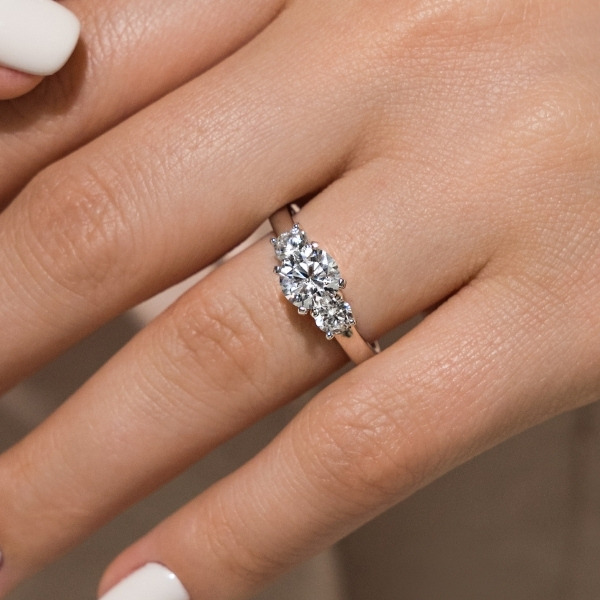 Looking for a delicate, gorgeous three-stone ring? The Mary is accented with two 0.25ct round brilliant basket-set side stones. We like this one with lab grown diamonds but also think a lab grown ruby is breathtaking in this style.
Mary Three-Stone Ring: Starting at $730
Considering we love unique personal touches in every aspect of engagements, we're already on board with this trend. Ariana Grande rocks an asymmetrical design as well as supermodel Emily Ratajkowski. But the trend was starting before these two celebrities jumped on. It's the chance to create a ring no one else has and make it your own. Check out our asymmetrical design below!
Lab Grown Gemstones are making an appearance onto people's ring fingers. If you aren't a traditionalist and sapphires or rubies have always been your favorite- we say go for it! Having a halo style means you can rock both a lab grown gemstone and recycled or lab grown diamonds. But don't stop at just a ring! The deep, rich colors of gemstones look great in any piece of jewelry, especially in fall.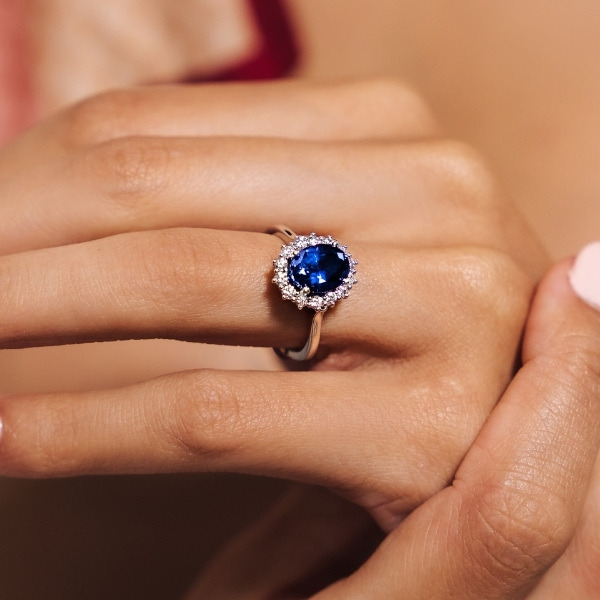 The Flora resembles the ring Princess Diana chose and this isn't the only reason we are drawn to it. The wonderful blue sapphire is beautifully enhanced by the encircling recycled diamonds and represents protection and love!
Flora Engagement Ring: Starting at $1,929
---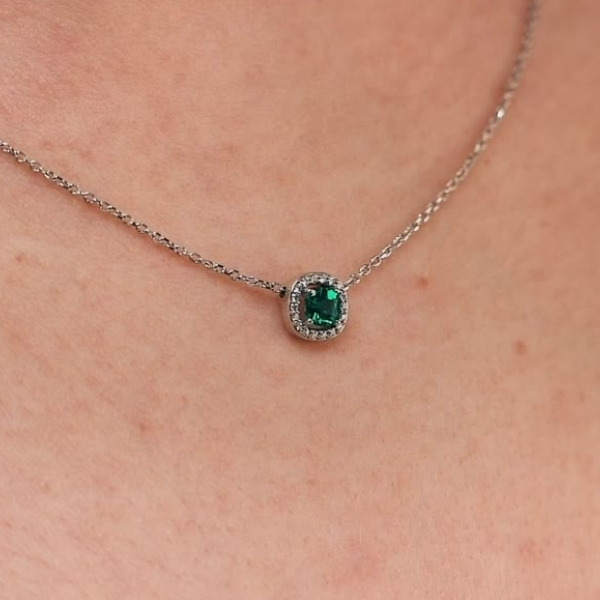 With Zoom calls being part of our daily lives it's worth getting a necklace that will stand out. The combination of Lab Grown Diamonds and Lab Grown Emerald add a pop of color that will surely be noticed by those near and far.
Diamond Halo Cushion Pendant: Starting at $507
Found a trend that speaks to you? Follow your instincts and lean in! Combine different trends like gemstones and stacking jewelry to cover all your bases. This fall is about wearing neutral clothing with fine jewelry that stands out.