8 Inspirational Fall Wedding Plan Ideas
Article by
The slightly cooler weather and lovely colors of fall lend themselves to a beautiful wedding theme. Depending on the location of your wedding, this is an opportunity to take the elements of autumn and create a warm and inviting celebration that your guests will never forget. I remember I was invited to one such wedding. Maybe it was the full harvest moon, the gold velvet bridesmaid's dresses, or perhaps the burnt orange color theme featuring rich green centerpieces? I'm not sure what it was, but that wedding was magical. And you too can have one that everyone will define as magical as well!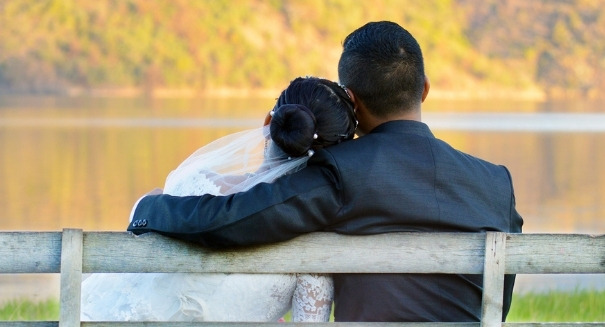 We are obviously obsessed with ethical fine jewelry, but we also appreciate what comes after the engagement ring- the big day! We've searched high and low to find fall wedding plan ideas to make your special day shine. Depending on your budget you can go all out on the following ideas or find less expensive options for a wedding that is just as gorgeous!
Nothing says rustic wedding like a barn. Cover the outside and inside with fairy lights to create a comfortable atmosphere for your guests. Having a barn for your venue can serve as a picturesque backdrop for photos, and provide a warm place for guests if it happens to become a chilly autumn day.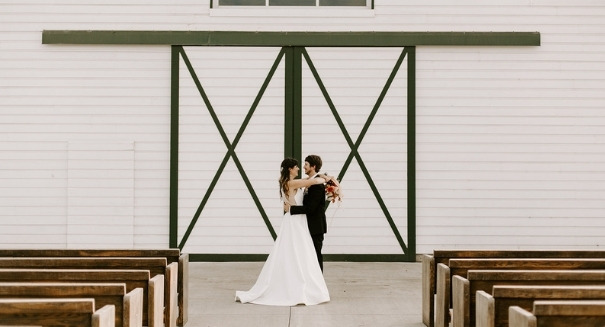 2. Velvet bridesmaids dresses
Velvet is just the right balance of cozy and chic—perfect for fall. Choose the same color for everyone with variations of strapless, short, and long sleeves. As far as colors- we recommend warm darker tones of gold, orange, or green!
Forget the bar! People will be circling around the s'mores station for warmth and tasty treats. Fall is when we want to snuggle up near a fire and what is more fun to have at a wedding than a designated area for roasting marshmallows? If you have any kids at the wedding, this can also be a fun activity for them.
A bohemian altar woven with flowers, branches, twigs, and vine provide a nature-inspired retreat perfect for the ceremony. Choose rich greenery to pop against the textured wooden arch. To amplify this style of altar, place it in front of the barn doors!
Every wedding needs a signature cocktail. What is more delicious and inviting than spiked apple cider? Depending on the weather on your wedding day, this delicious beverage can be served hot or cold. Garnish with spices such as cinnamon and rosemary.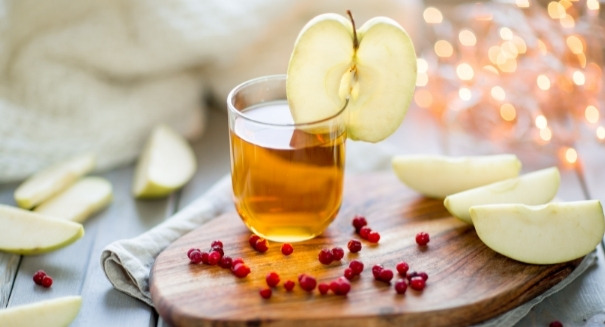 Although people could stand around the s'mores station all night for warmth- why not provide a blanket for people who would rather sit at the dining tables chatting? It's important to make everyone comfortable, and by providing blankets, people can bundle. You could even consider adding a monogrammed date on each one and giving them away to your guests. Decorate your space with candlelight and warm hues to get everyone extra cozy.
If your venue isn't a barn, but you still crave a rustic look, then play with the decorations! Vintage china, branches, and wildflowers are perfect accenting for the dining tables. Use woodland-themed accents for your wedding decor like pieces of moss, wood rounds, and fairy lights- they all go well with a rustic style. You can also use a burlap table runner to tie it all together!
Choose seasonal flowers for your bouquet and don't stop there. Cover everything in flowers that are signature to fall! Ranunculus flowers come in a wide variety of bright colors- reds, oranges, and purples. Heather flowers symbolize adoration and good luck- in Scottish culture, putting a sprig of heather in a bride's bouquet brings good luck to the marriage. To top everything off, decorate the centerpieces and bouquets by adding a pop of bright color with hawthorn berries!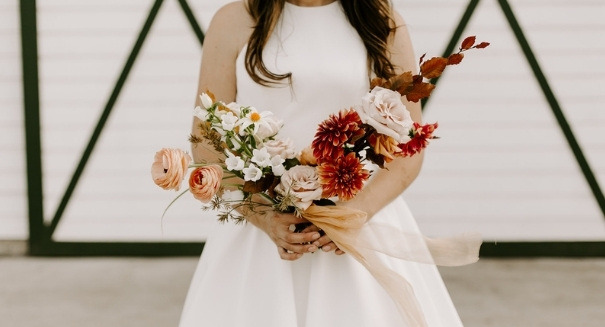 Pick up some ideas to incorporate into your wedding plans? The s'more plans, the more fun! If fall is your favorite season, make sure to add all your favorite elements for a truly enchanting experience. We can't wait to see what you come up with! Tag us with #MiaDonnaHeroes in your gorgeous fall wedding photos so we can see your magical day.