5 Trending Rings For June's Birthstone, Alexandrite
Article by
You may not be familiar with alexandrite, but you will definitely want to get to know them. Alexandrite is a striking gemstone that changes color from bluish green in daylight to reddish purple in incandescent light. This is a great center stone for anyone who's not afraid to stand out and be unique!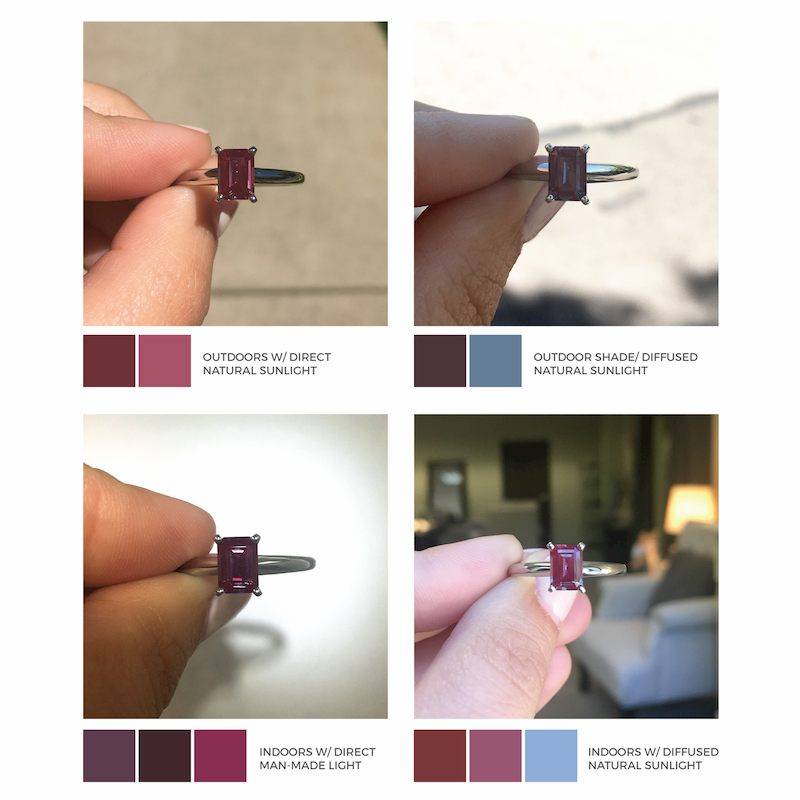 Mined alexandrite is quite rare and it's very difficult to find high quality stones, which make them very expensive. MiaDonna's lab grown alexandrites have exactly the same properties as mined alexandrite. Unfortunately, many companies sell lab created alexandrite that are actually chemically treated sapphires and don't possess the same color changing features. If you see an alexandrite that doesn't change from blue to red, it is an imitation.
Due to their rarity, earth mined alexandrite retail for up to $15,000 for a 1.0ct stone. Alexandrite over 1.0 carat range from $50,000-$70,000, according to the Gem Society. With our lab created alexandrite, you can get a stone that is 100% identical to the mined variety but for only $395 USD per carat.
Now that you're intrigued about this remarkable gem, here are some rings to inspire you. Remember, any MiaDonna ring style can be created with a lab grown gem as your center stone, so there is no end to the creative design possibilities. If you don't see what you're looking for, we can work with you to design a custom ring.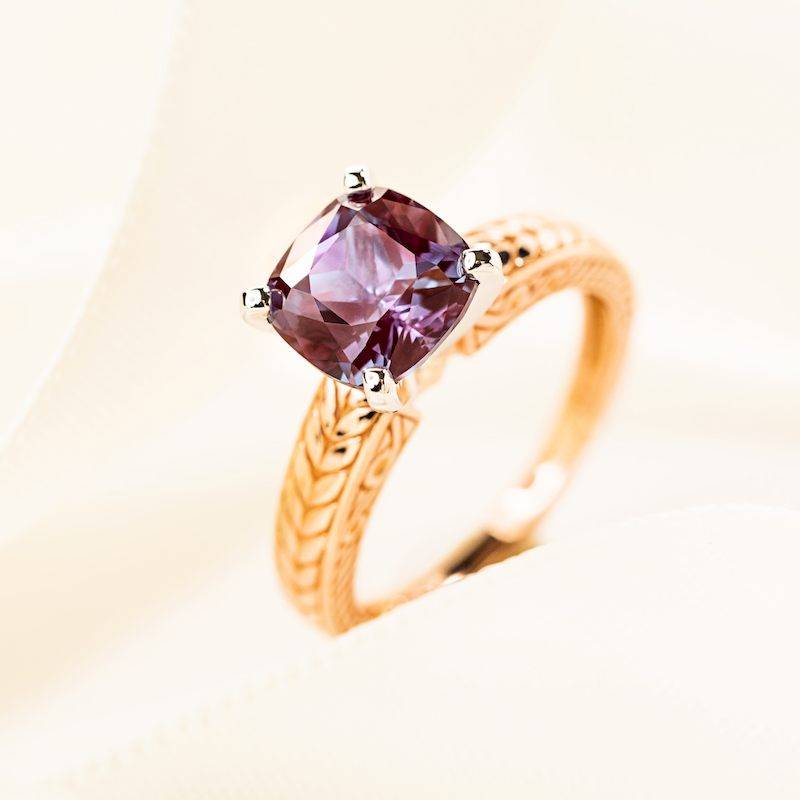 The engraved shank gives this ring an antique look that is beautiful from any angle. We love to create this ring with a princess cut center stone, but it can accommodate any shape center stone with a 4 or 6 prong head.
1.20ct cushion cut, lab created alexandrite, rose gold engagement ring - $1,054
---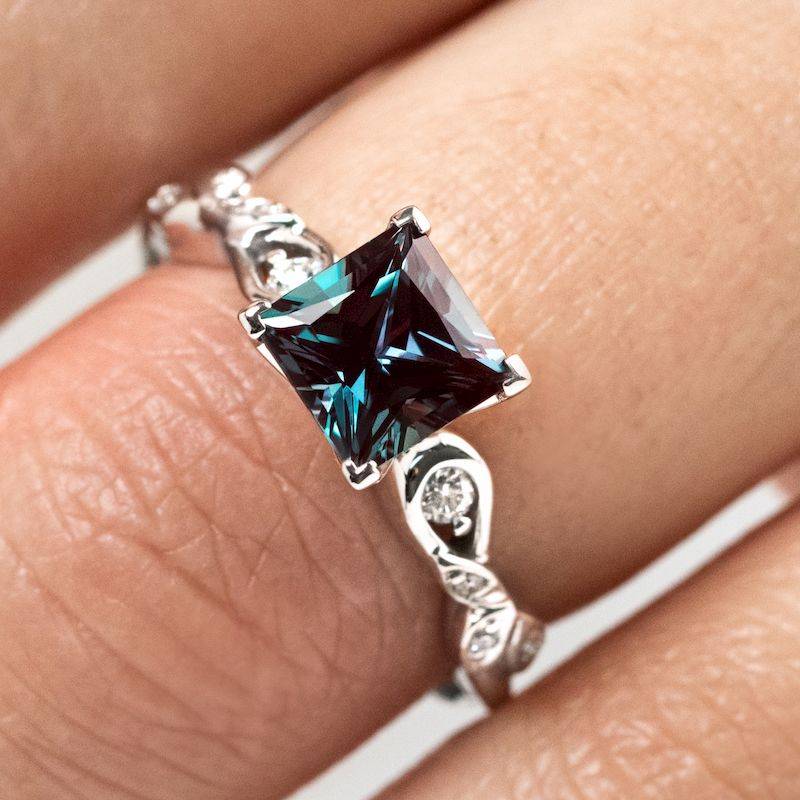 Unique and special, this setting is perfect for showcasing a lab grown alexandrite. The nature inspired leaf pattern on the shank is accented with recycled diamonds. The Eden provides a great mix of delicate and sweet with bold and eye catching.
1.65ct princess cut, lab grown alexandrite, white gold engagement ring - $1,492
---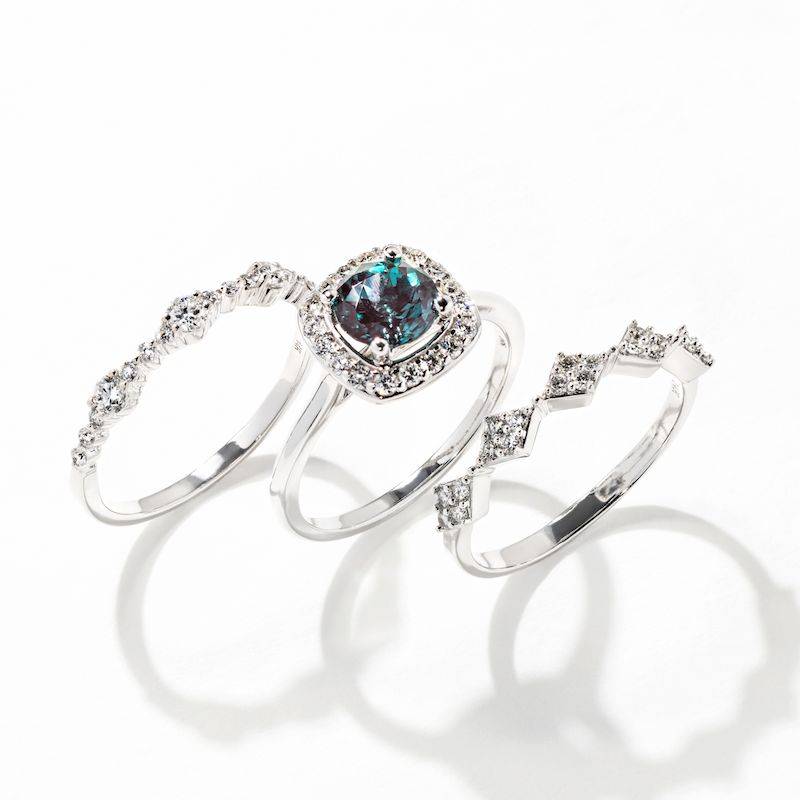 Make a big impression with this halo style ring. The recycled diamond halo beautifully highlights the alexandrite center stone. This is also a fun style to pair with stackable bands to switch up the look. The straight sides of the shank make it easy to pair with a straight side wedding band.
1.70ct round cut, lab created alexandrite, white gold engagement ring - $1,782
---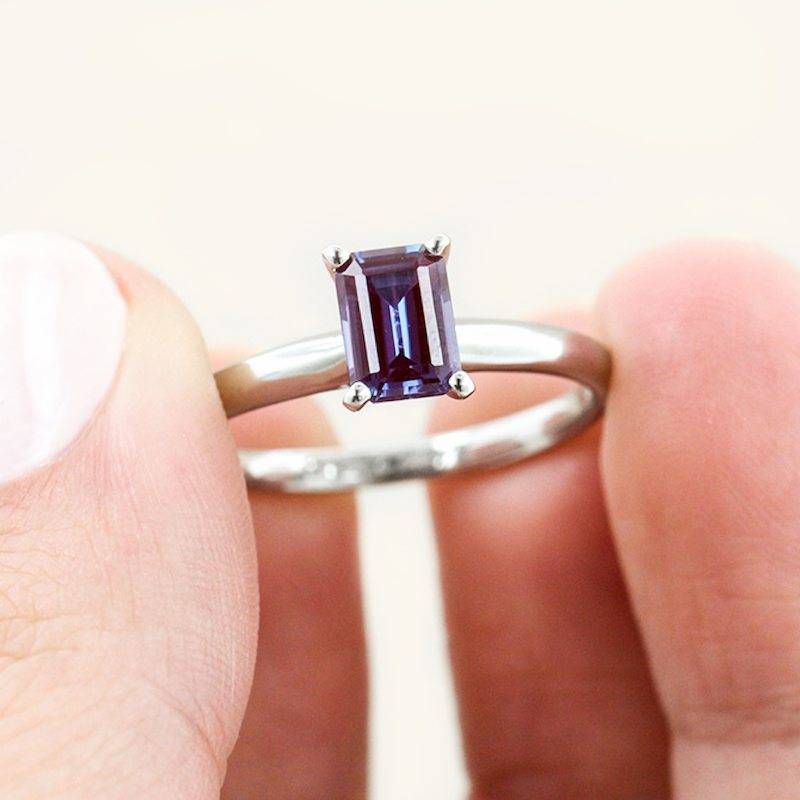 Your alexandrite center stone is the true hero of this ring. Our traditional solitaire engagement ring is inspired by the Tiffany Solitaire Engagement Ring. With a simple solitaire you can put the emphasis on the center stone and your wedding band. One popular trend is to stack your traditional solitaire ring with multiple bands.
0.65ct emerald cut, lab created alexandrite, white gold engagement ring - $755
---
Simply gorgeous is how you'll describe your Willow Engagement Ring. Accented with 0.17ctw of bar set recycled diamonds, this ring is graceful and elegant. Because it is so delicate, you will need to take extra care while wearing it. It may not be a good choice for someone who is active or using their hands a lot in their professional life.
1.70ct round cut, lab created alexandrite, white gold engagement ring - $1,479