Featured Couple: Adam and Nicole!
Article by
This month's featured couple has a beautiful love story to share with you! Adam Nelson, founder and CEO of Workhouse and Nicole Abbruzzese, founder of One Yoga with Nicole got engaged on New Year's Day 2021 at Kaaterskill Falls in the Catskill Mountains of New York. What a way to kick off the new year!
The two lovebirds met at a 2020 New Year's Day party through mutual friends. Out of everyone in the room, Nicole was immediately drawn to Adam. There were a few across-the-room glances before he approached her to introduce himself. Adam urged Nicole to sing along with everyone to Can the Circle be Unbroken, which she did, but the night ended all too swiftly. A few weeks passed and Nicole noticed she had an unread message on Instagram. Low and behold, it was Adam! The two exchanged messages for a few days before Adam asked Nicole on a date. Before their scheduled meetup, Nicole was invited to attend a large dinner by a friend of Adam's from the New Year's Party, only to find out upon arrival that Adam was already there! They spent the rest of the night together talking, laughing, and dancing, and the rest as they say, is history. The two moved in together six months later, and have been inseparable ever since. From ice skating, to hatchet throwing, long bicycle rides and beautiful walks, their romance has been a fairytale come to life. Throughout the pandemic of 2020 and the shelter in place order, their relationship grew even stronger, and Adam knew he had found the woman he wanted to marry.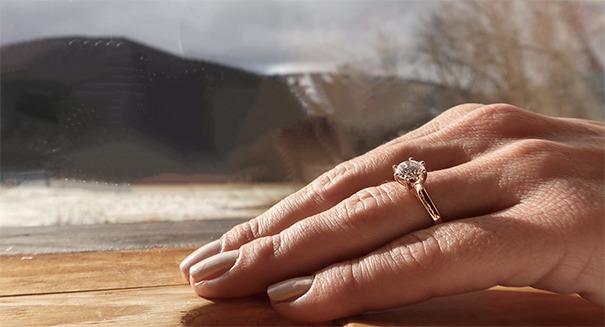 On the one year anniversary of their first meeting, Adam proposed. Planning a proposal during a pandemic was no easy feat, but it worked out perfectly. Adam arranged a covid-safe sanctuary weekend at Eastwind, a Scandinavian-style boutique hotel that boasts tiny A-frame cabins with rustic charm deep in the mountains. He was unfamiliar with the local landscape, wary of the weather, and was having difficulty coming up with the best place to propose to Nicole when suddenly a eureka moment occurred! During the summer, Nicole had suggested to Adam that they spend time chasing waterfalls. It was a compelling idea, but one that hadn't come to fruition as of yet. Kaaterskill Falls is considered one of the crown jewels of waterfalls in the state of New York. With two tiers falling over 260 feet, it has been considered a romantic destination by many. Its wild beauty has been celebrated by Indigenous cultures, painters, poets, and writers across the ages. After a short hike down the mountain through a winding trail, the beauty of the waterfall lay ahead. When they arrived at the icy falls they were completely alone, and Adam knew this was the moment he had been waiting for. Surrounded by evergreens, icicles, sparkling snow, and an ice-clad waterfall, Adam got down on one knee and asked Nicole for forever.
The two plan to wed once it is safe to travel so that their friends and family will be able to attend. They're looking forward to an outdoor wedding somewhere beautiful, and with a proposal like that, we can see why!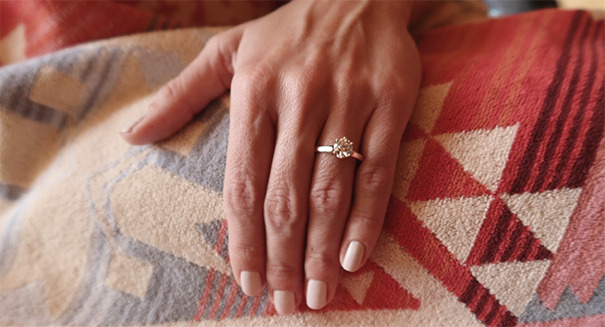 Adam chose MiaDonna for a variety of reasons, the primary being our mission. As he learned more about the negative impact of earth-mined diamonds, he grew fond of lab-grown diamonds. Knowing his fiance as well as he does, especially with her socially-conscious beliefs, MiaDonna was the perfect company for them. The gift of an ethical engagement ring sets a strong standard, and Adam wishes to maintain those ethical values in their marriage. Nicole's ring is a stunning 1.17ct round cut lab-grown diamond set in our Calista setting. They both adore its simplicity and elegance, and Nicole says she couldn't have chosen a better ring herself. The sparkle is unmatched, much like the love these two have for one another. We're so thankful to have them in our MiaDonna family!