How to Find the Best Engagement Rings for Doctors & Nurses
Article by
You want to pop the question to your loving partner, but you've realized there is the small problem that they work in an environment where a whopper of a ring might not be ideal. Don't lose sleep- you can still present them with a ring that will blow them away, and that they can wear to work safely.
Healthcare workers lose count of how many gloves they put on, and how many times they wash their hands, in a given day. It's important they have a ring that can withstand these conditions. We have a lot of healthcare workers, or fiancé's of health care workers, come to us wondering if they or their partner can pull off a ring in the workplace. Our answer is yes! Our ring suggestions vary depending on the nature of your job. A physical therapist may be able to get away with an engagement ring with a sizable stone while someone working in surgery may need to forgo a center stone and stick to a band.
What characteristics should I look for in a ring?
The key is to hunt for a durable engagement ring setting. Bezel settings are what we suggest because they are less likely to rip gloves or get caught on a patient's clothing or gown. They hold the center stone in a sturdy setting that protects any jewel. You or your partner won't have to worry about anything knocking loose or becoming damaged.
Solitaire styles are the best option for the most germ-resistant rings. With a solitaire design, there is less possibility of germs getting trapped, especially compared to accented bands. A smooth metal band is easy to clean and a bezel setting means nothing getting stuck among prongs. We also recommend going with a round shape for the center stone. Most other shapes, like pear and emerald, have corners that can get caught.
You will also want to consider a strong metal type. Constant hand washing and being present in environments with a lot of chemicals can degrade low-strength metals very quickly. We suggest 14K yellow gold or platinum. Platinum is stronger and more durable than all forms of gold, which makes it the best choice, and you can still have a white gold look. Platinum is also a hypoallergenic metal, so it's perfect for healthcare workers who suffer from skin reactions to other metals. You may also consider platinum to keep patients with skin allergies protected.
We recommend low-profile engagement rings or bezel settings. Prongs and accenting diamonds are a no. Rebecca, who works as a dentist in a Portland office says, "I wanted a ring I would never have to take off. I ended up with a low profile setting and I have no issues with my ring at all. No ripping of gloves ever!" Rebecca went with a super low profile design without diamonds on the band or surrounding the center stone. We have selected 4 engagement ring styles that are the ideal choice for someone who doesn't want to take their ring off every day.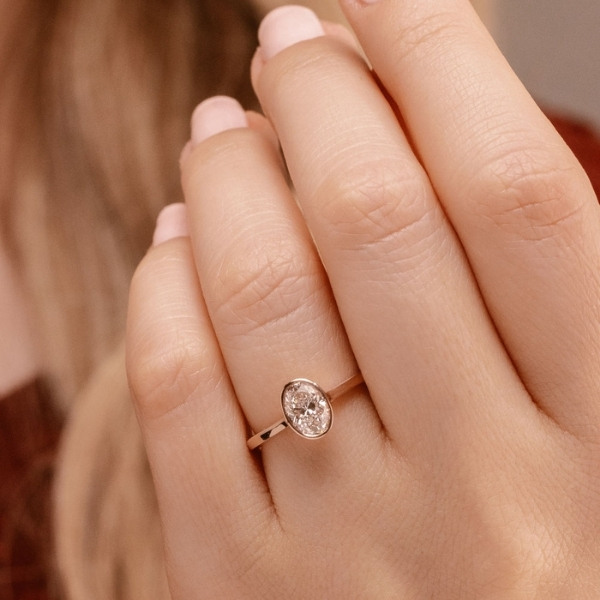 This easy to clean ring features a thin bezel halo on a petite plain metal band with flat sides so it sits perfectly flush. Your choice of center stone is well protected in this gorgeous, secure setting.
Lilac Stackable Engagement Ring: Starting at $572
---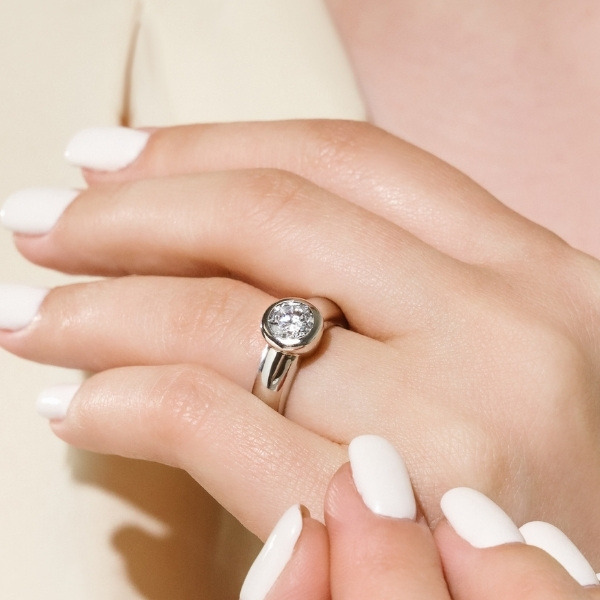 ---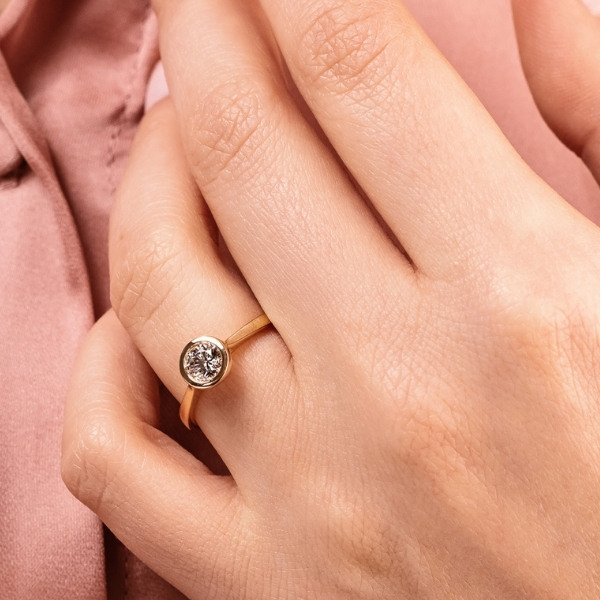 Your gloves will go on easily with no threat of a tear with this minimalistic design. With a low-profile bezel setting, you won't even notice your ring is there during busy moments. Spice it up with a two-tone metal design.  
Elsa Solitaire Engagement Ring: Starting at $625
---
Many doctors and nurses don't have the option to wear engagement rings and instead are only allowed to wear bands. Luckily, we have some stunning options that still have a little sparkle. If you want the peace of mind of a band over a ring featuring a center stone, these rings will still give you the elegance you crave. You work in a challenging field, you deserve a little sparkle to join you at work!
The Three Stone French-Set Band is accented with 0.04ctw Lab Grown Diamonds. Three stones symbolize past, present, and future love- what a beautiful message to be reminded of while working.
Three Stone French-Set Band: Starting at $436
---
The Single Stone is accented with a single 0.02ct Lab Grown Diamond and available in your choice of recycled metal. The center stone sits flush with the metal meaning zero chance of a snagging incident.
Single Stone Stackable Band: Starting at $399
---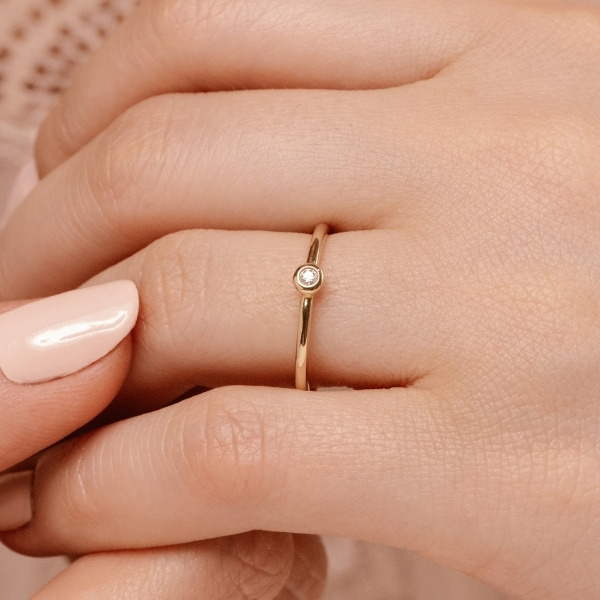 The Glow has a 0.03ct round cut recycled earth-mined diamond bezel set on a smooth plain metal band. This ring is my personal favorite for an alternative to an engagement ring. It's simple, yet breathtaking.
Glow Stackable Band: Starting at $385
---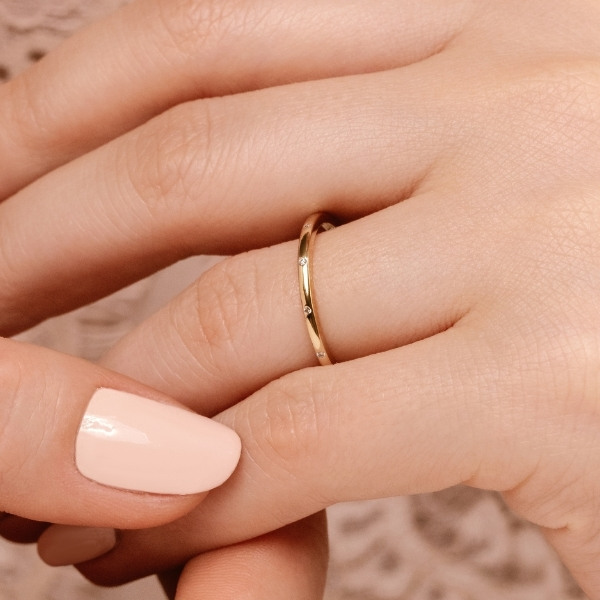 There you have our top choices for the best Engagement Rings and Wedding Bands for doctors and nurses. Your love spends their day protecting the lives of others, so it's only fitting they have a ring that won't cause any threat to them or their patients. You can select any of the rings above knowing your partner's engagement ring will last. We won't have any torn gloves around here!
As a company that prides itself on caring for people first, we appreciate the big hearts of healthcare workers. We are offering a 10% discount for first responders, doctors, and nurses- learn more here. Thank you for supporting our mission to supply ethical jewelry and empower our planet, people, and industry by moving toward a sustainable future.