Your Dream Wedding Ring: How to Make It a Reality
Article by
You found a partner you want to spend the rest of your life with, now it's time to find the ring you can't stop staring at! It may seem daunting at first- but we've put a lot of thought and years of experience into what has led us to our dream wedding rings. Since your ring will be with you for a very long time, it's vital to choose something based on a combination of personal taste and meaning. Maybe you are going for a design that reminds you of your grandmother's ring or maybe you want a ring similar to one of your idols. Either way, your ring should fill you with excitement and joy every time you glance at it.
If you've started shopping for rings you may have noticed there are a lot more factors behind choosing the perfect ring than what you initially anticipated. There are a few questions you will want to have the answers to before starting the hunt. You will also want to set a budget. Luckily, we have a few insider tips so you can get as close to your dream ring as possible.
First of all, going for Lab Grown is the easiest way to cut costs. Lab Grown Diamonds are up to 40% less than earth-mined diamonds while being identical optically, chemically, and physically. Secondly, go a tiny bit smaller. A diamond weighing 1.98ct can be significantly less expensive than a diamond weighing 2.0ct with no visual size difference. You can tell everyone it's a 2.0ct and get away with it- your secret is safe with us! Thirdly, go down in clarity and color, and go up in cut. An excellent cut diamond will reflect light so well, it will hide many imperfections. Lastly, If you want to mask any color in the diamond, opt for yellow or rose gold for the ring setting. A lower color grade diamond (J-K) will be more noticeable in white gold, but in yellow gold, you can't even tell!- it's also convenient that yellow gold is a trending style.
Ultimately, finding the perfect ring can either end quickly with you finding the dream style right away, or it can lead you down the path of custom design. There are 3 categories to consider when making your dream ring a reality. You'll want to choose a style, a center stone, and a metal type.
Are you liking simple, minimalistic, and traditional? Or are you one for an elegant show-stopper? Maybe you just want a classy modern look? Browsing different styles can be a way to feel inspired, and we have seven categories! Vintage, Modern, Solitaire, Two-tone, Three-Stone, Accented, and Halo. When looking at photos and videos of the different options, make a list of your favorite types.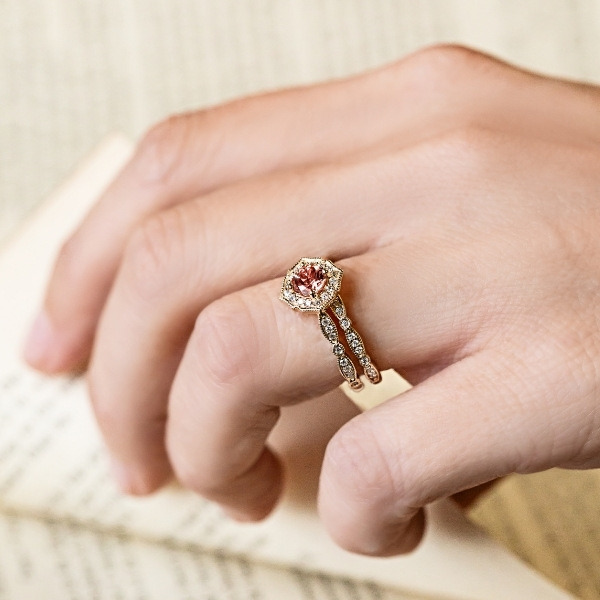 If you're leaning towards a vintage style, check out the Paris. It has elements that make it especially unique like the vintage accented band and the halo. It also has a matching wedding band making it great for a wedding set.
Paris Vintage Engagement Ring: Starting at $1,250
---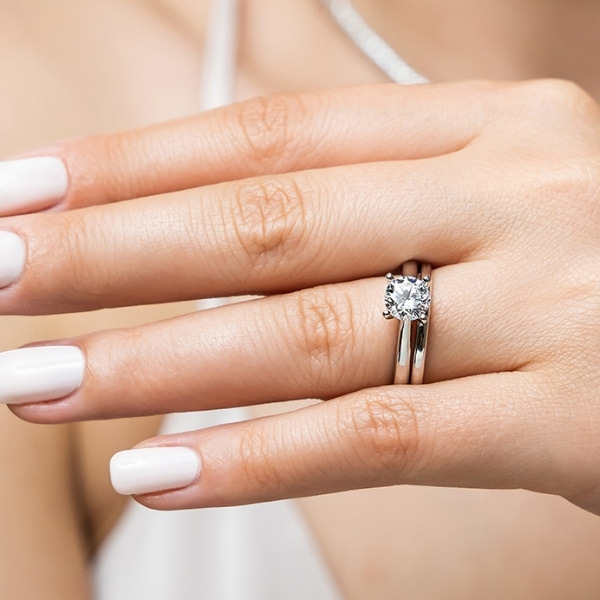 ---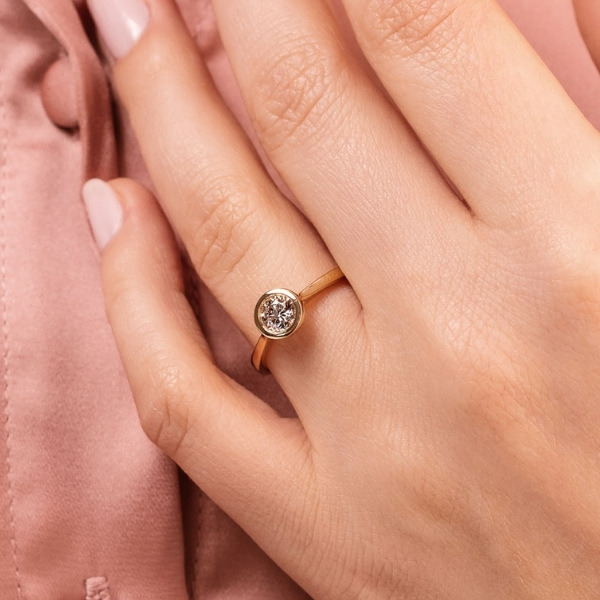 How to Choose a Center Stone
Are you wanting to go with the traditional Lab Grown Diamond? Maybe you want a Sapphire or Ruby for a pop of color. There are quite a few factors to consider when thinking about your center stone. The Shape- round, princess, cushion, emerald, radiant, oval, asscher, pear, marquise, etc. The Carat- if you are shopping on a budget you can always start with a smaller carat size and go bigger later! (Check out our upgrade program!)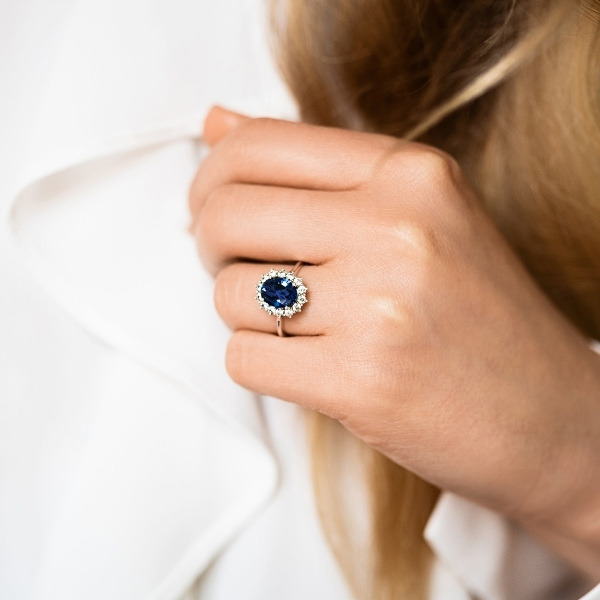 A Gemstone is what Princess Diana and Kate Middleton chose, and maybe it's what you are wanting to go for as well. A diamond halo gives your ring a traditional element while focusing on the center stone of your choice.  
Flora Engagement Ring: Starting at $1,837
---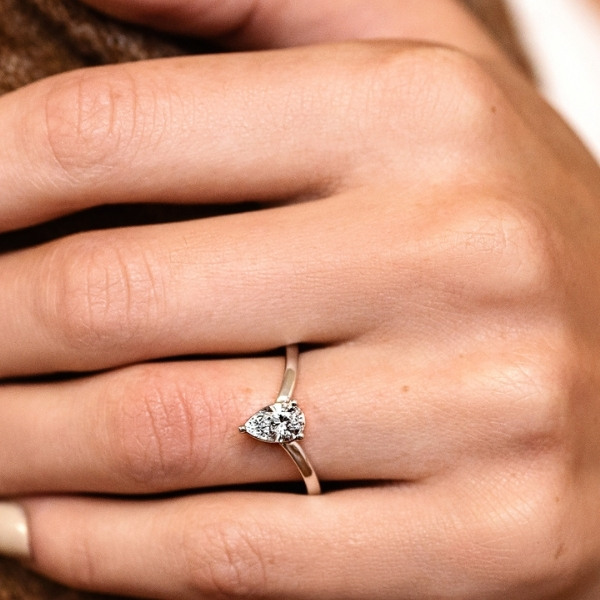 The pear shape, also referred to as the "teardrop," is trending right now! And it's no mystery why. The Lyanna band moves in the direction of the pear center stone coming to a fetching triangular point.  
Lyanna Engagement Ring: Starting at $650
---
A new ring in our collection, we all adore the 10 Stone Ring. If you are on a budget, you can go down in the center stone carat size and know that with the Accenting Lab Grown Diamonds, this ring will still be a show-stopper.
10 Stone Accented Engagement Ring: Starting at $990

How to Choose a Metal Type
The feeling of your ring can be completely different depending on the color of your metal type. If you're drawn to cooler hues and silver-toned jewelry, then platinum or white gold is the way to go. Yellow gold or rose gold are good choices if you gravitate toward warmer tones. Mixing metals is fun, and on trend, so there's no going wrong on what you choose in the end. If you really love the concept of mixing metals you can achieve this in the same ring- we have a whole collection of two tone engagement rings! Platinum is the most durable of our metals and is a great option if you wear your ring all the time, or if you have an active lifestyle.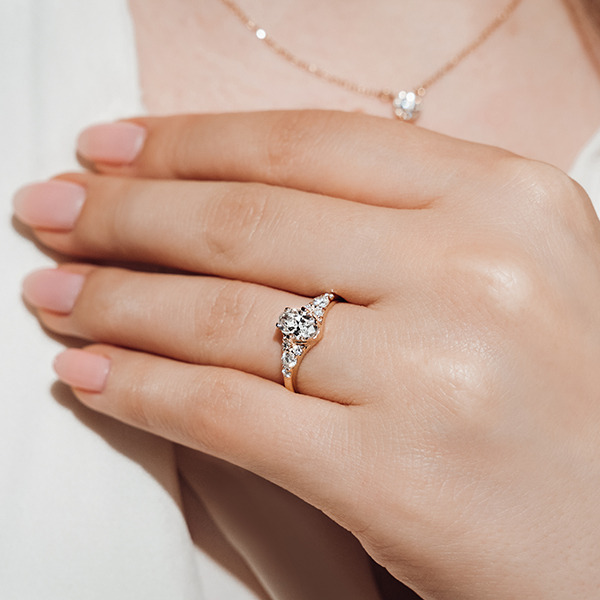 Today's brides are looking back to the previous generations and choosing yellow gold for their dream rings. The Amira looks stunning in all the metal colors, but we think it stands out most in yellow gold.  
Amira Engagement Ring: Starting at $1,113
---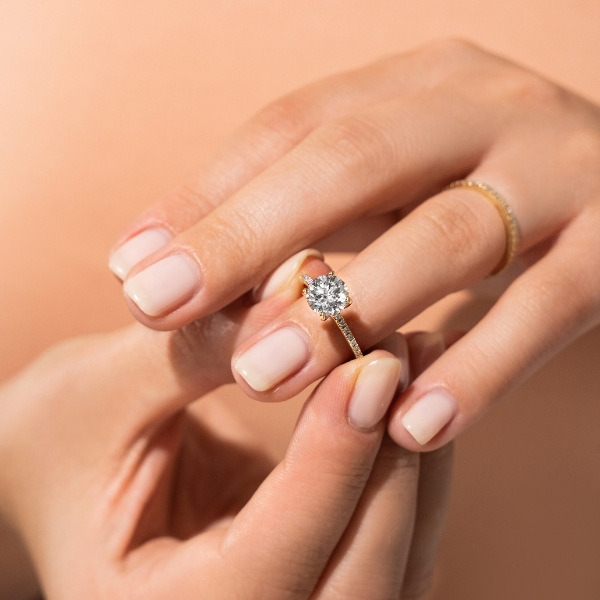 Rose gold is so alluring, and the Hope is extra flashy with this choice of metal. A delicate band makes your Lab Grown Diamond pop and the accenting diamonds add the extra sparkle most of us desire.
Hope Engagement Ring: Starting at $999
---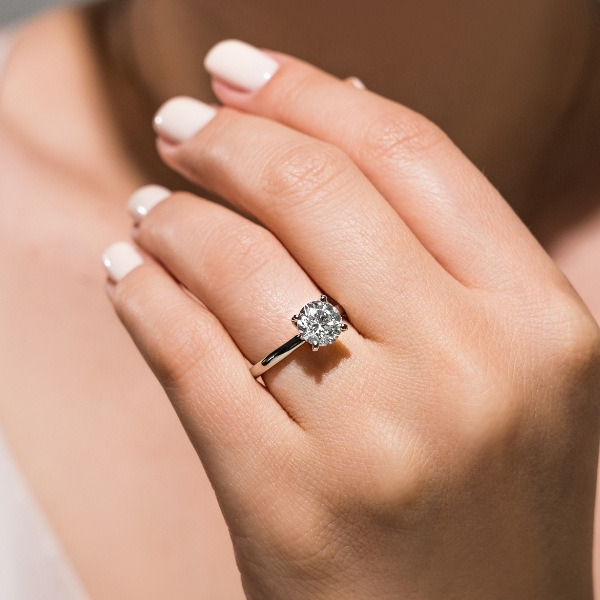 The Traditional is a style we love to see in white gold. The metal's cool, clean luster amplifies the look of your Lab Grown Diamond while providing a neutral color that matches everything.
Traditional Engagement Ring: Starting at $575
Find rings you love and ask yourself what you love about them. Is it the accenting diamonds? The center stone? Which rings made your heart race? It's possible three of them made the cut and there were aspects you loved about each one. Well, we have some good news- you can custom design any ring you dream of! Maybe you want the band from the Paris, and the halo style from the Flora. Anything you imagine, we can create. Share your sketches and images with our designers as inspiration in the process of creating your ring. Based on what you tell us you would like, we create a digital illustration using computer-aided design (CAD). The CAD is then sent to you for review and approval via email. At that stage, you'll have the opportunity to make adjustments to the design before it is handcrafted! We go through each stage with your approval so any changes can be made early on.
At MiaDonna, every ring is meaningful because each one contributes to our foundation, The Greener Diamond, and helps us meet our goals for improving the lives of people around the world who are negatively affected by the gold and diamond mining industries. We appreciate all our clients, you are our #miadonnaheroes!