Planning a Fall Proposal: Inspirational Ideas for 2022
Article by MiaDonna
Fall is here whether you like it or not and it's time to mull over various proposal ideas while sipping on a pumpkin spice latte. If you are living in the northern hemisphere you are subject to the beautiful colors of autumn leaves, which is the perfect vibe for a picturesque proposal. It's the ideal time to pop the question and then cozy up for the remainder of fall to plan your wedding together! We have a few ideas for a simple and magical fall proposal that will never be forgotten.
Are you and your partner big foodies? A festive idea to celebrate the season and cuddle closely is to plan a picnic in a beautiful park where the leaves are all changing! Pack a fluffy blanket, some of your favorite wine or an insulated mug filled with warm apple cider, some snacks, and sit back and enjoy each other's company! You could have an area set up before you arrive, or even plan to have a photographer there to capture a special moment for you!
The plan: Go grocery shopping for the picnic supplies, find lanterns from your online shop of choice, and ask a friend that can stand by so no park goers think it's a surprise picnic for them. Add all your partner's favorite foods for a decadent feast among nature.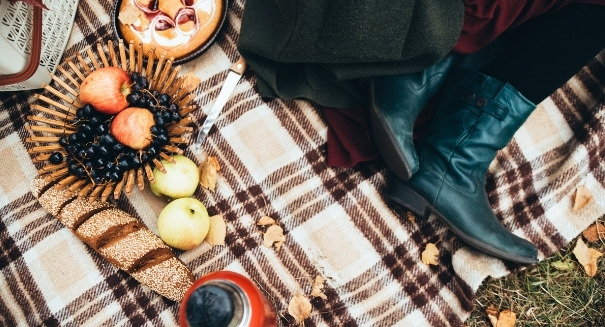 Pop the Question with a Pumpkin
What's more fun than carving pumpkins together? You can sit opposite each other, have a contest, and then reveal your designs to each other when they're complete! When they see "Will you marry me?" on your pumpkin/s, that's your time to get down on one knee and tell them you want to spend the rest of your life together.
The plan: Use five small pumpkins. Write each word of "Will you marry me?" on each pumpkin and for the fifth one carve a diamond shape or a circle depending on your carving abilities. Place your engagement ring inside the fifth pumpkin and while they're besotted with the moment, hold the fifth pumpkin to them to reveal what is inside!
What better way to work up an appetite than a proposal? This is a great option for couples that are close with their friends and family and want to share the moment with everyone. Proposing before the feast will turn the night into an exciting celebration.
The plan: Have everyone bring their favorite dish. For the moment when everyone goes around the table and says what they're thankful for, tell everyone ahead of time to make it something about your partner. When it gets to you, talk about all the things you love about your partner as you get down on one knee. Then pop the question!
Another thing that comes into harvest around autumn time is wine! Is your partner a fan of grapes of the alcohol variety? A weekend winery tour is a fun, romantic, and very interactive stage for a proposal. Pick your partner's favorite type of wine and find a vineyard that specializes in it. You can dance through the vines and even make some wine yourselves. Pop the question during sunset amongst the vines.
The plan: Call the winery of your choosing ahead of time to make sure there is availability for the date you are hoping to propose. If you give the winery enough advance notice, they should be more than happy to help you make the moment extra special!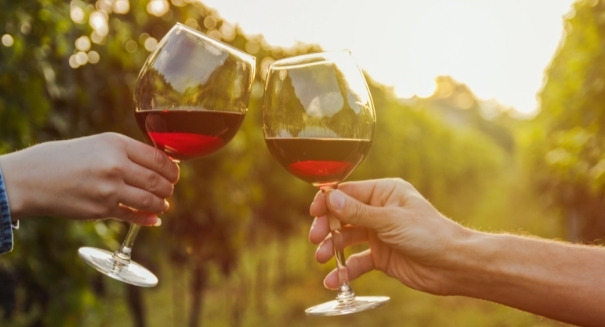 Fairytale Sunset Proposal
Sunset can be the perfect setting for a spectacular proposal. The sun bounces light off the leaves and creates a gorgeous effect that will make the moment feel mystical. As you tell them how special they are, present them with a ring they can't say no to.
The plan: Buy fairy lights, candles, and lanterns to make a starry romantic setting in your favorite sunset location. This one is easier if you have a friend willing to help you out and get some of the elements in place before your intended arrival.
We can't go into colder weather months without mentioning s'mores by a fireside! Finding a cozy AirBnB with a beautiful fireplace is a great idea for a weekend staycation! You may also be able to find a cute coastal spot with a safe stone fireplace on the beach to wrap up and enjoy some s'mores while watching the sunset! Either way, we're all about being cozy, comfortable, and happy! This could be a perfect, intimate moment to ask your partner to share forever with you.
The plan: Fire, marshmallows, chocolate, and graham crackers. After they munch down their first s'more, that is the sweet moment to tell them you want to be their forever love.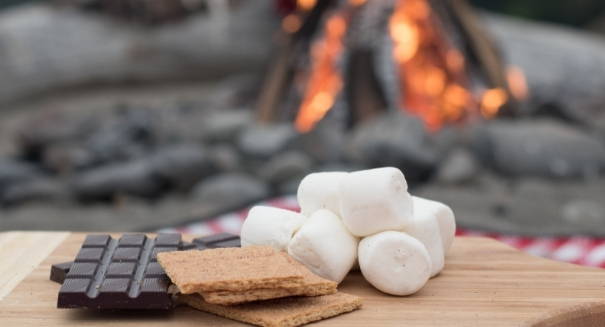 You'll only want to do this one if your first date was something to write home about. As you go through the night they'll start to realize you are recreating their first date! At the end, bring them somewhere new and express how you want to continue having new moments with them as well as celebrating the old- forever!
The plan: Make sure to book reservations or that the elements of your first date are still available.
Send us a message @miadonnadiamond and let us know how your proposal goes, and if you have any fun fall proposal ideas!