MiaDonna's Showstopping Line-Up of Gorgeous Gemstone Jewelry
Article by MiaDonna
Be dazzled by these sparkling additions to our Gemstone Jewelry Collection.

Gemstones have been long admired by humankind. Since ancient times, they have adorned the ears, necks, and hands of the rich and royalty — reinforcing their statuses of wealth and power. Although their prestigious reputation still lingers today, gemstones bring joy, vibrancy, and sparkle into the lives of many people in the modern world.
A token of true love and the ultimate way to mark a momentous occasion, gemstone jewelry also has the ability to convey profound emotions. Whether it's receiving a scintillating diamond on a breathtaking engagement ring or a sparkling sapphire on a cherished family heirloom, these jewels hold the power to evoke special memories.
What is Gemstone Jewelry?

There's no doubt that they make an impact in many of our lives, but what exactly is a gemstone and where does it come from? Traditional gemstones are minerals or rocks that have been mined for their beauty, durability, and rarity. Before being fused with gold or silver to craft precious jewelry, they are cut and polished to further enhance their allure.
But despite their glamorous appeal, the majority of gemstones on today's market have a not-so-glamorous origin. The reality is that earth-mined gemstones are often unethically sourced, causing conflict within communities and significant environmental damage.
The good news for sustainable shoppers is that MiaDonna specializes in 100% ethical and eco-friendly gemstones. This means that you can wear your jewels guilt-free, knowing that you haven't negatively impacted some of the most precarious communities on earth.
The best part? They are chemically, physically, and optically IDENTICAL to the earth-mined version, and they will only set you back on average $395 per carat. So, if you're wanting to upgrade your gemstone jewelry collection, check out the newest additions to our collection.
MiaDonna's Gemstone Jewelry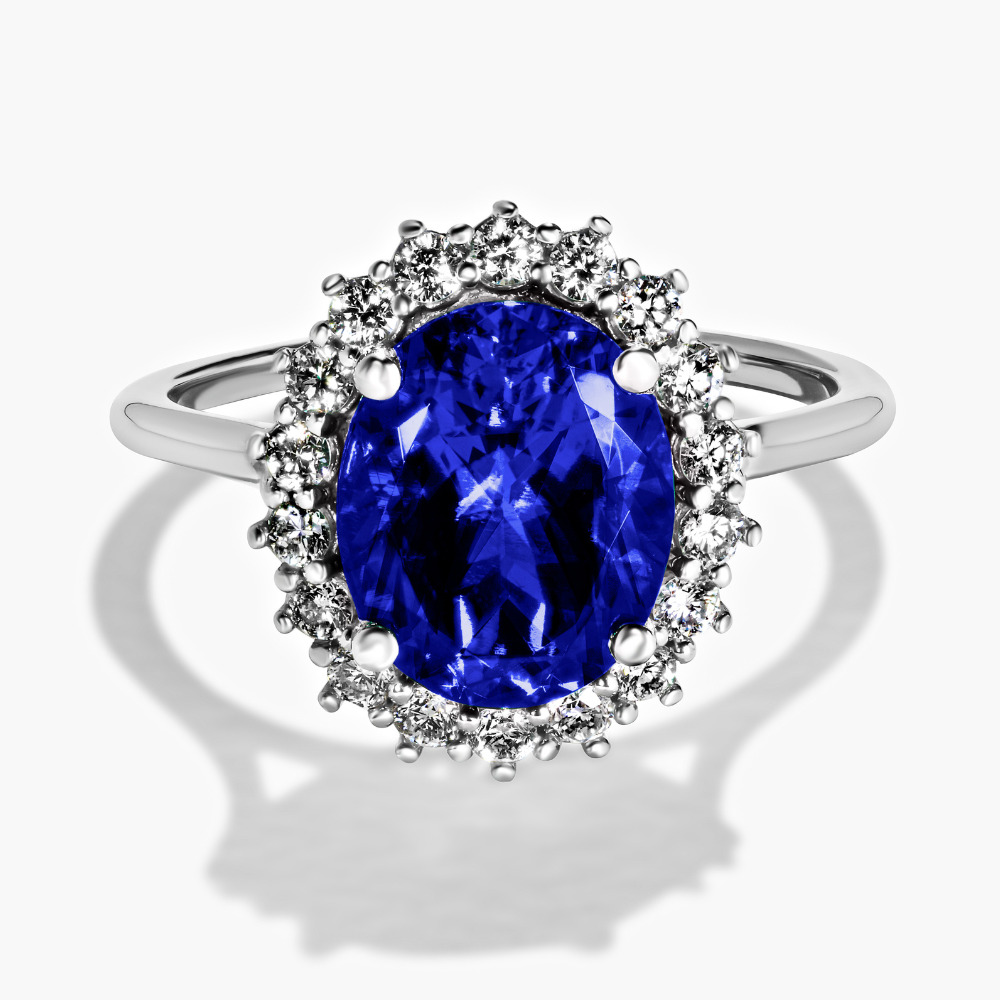 If you were in awe of Princess Diana's iconic engagement ring, this sparkling masterpiece was made for you. It showcases an unapologetically bright and bold Lab Grown Gemstone, encircled with a halo of shimmering Lab Grown Diamonds that maximize its impact.
Flora Vintage Gemstone Ring: Starting at $1,929 (setting only)
---
Can't decide on a single stone? Opt for two! This gorgeous gemstone duo is a match made in heaven — just like you and your fiancée-to-be. You can customize the elegant pear cut jewel in a shade of your choice; pair it with an emerald cut gemstone for a stylish color clash.
Fleur Toi Et Moi Gemstone Ring: Offered at $2,595
---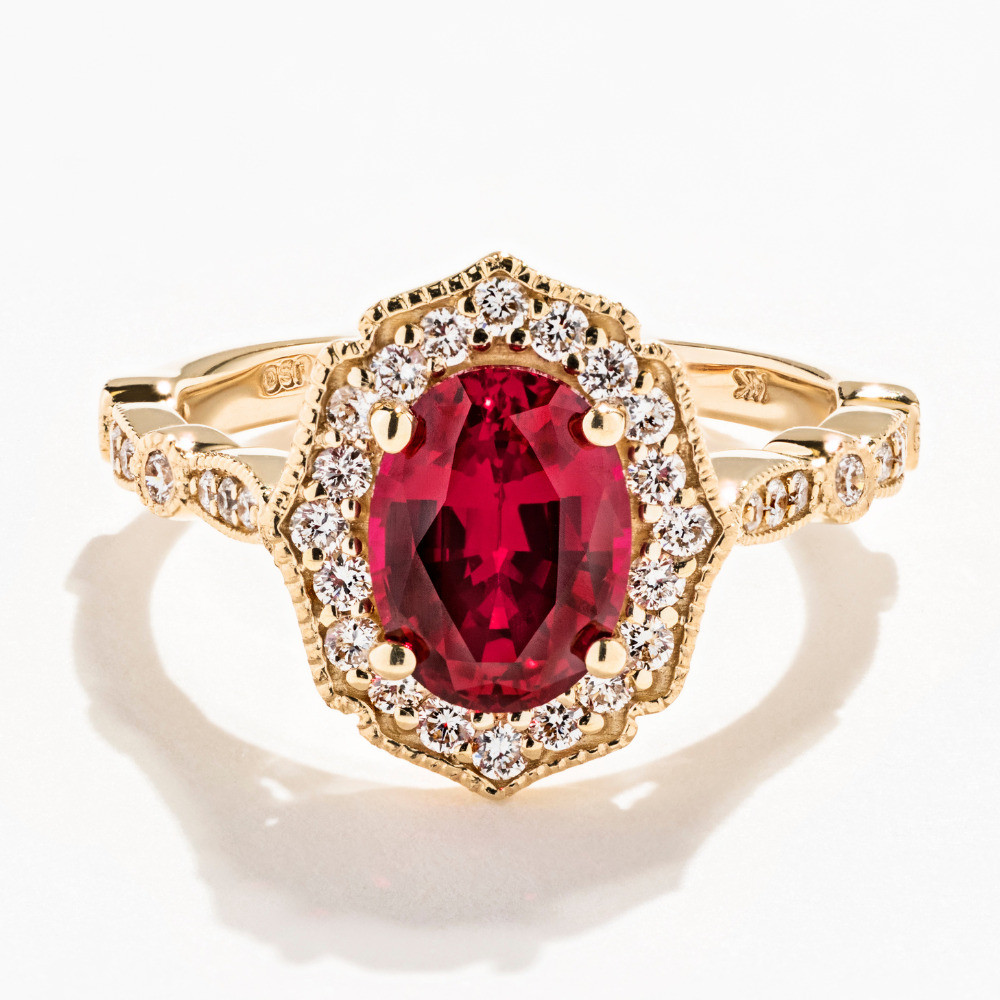 This stunning engagement ring is giving us vintage vibes. Keep it classic with a Lab Grown Sapphire gemstone, boasting deep blue hues that are nothing short of mesmerizing. Or why not opt for a romantic Lab Grown Ruby gemstone to convey the love and passion in your relationship?
Paris Stackable Gemstone Ring: Starting at $1,395 (setting only)
---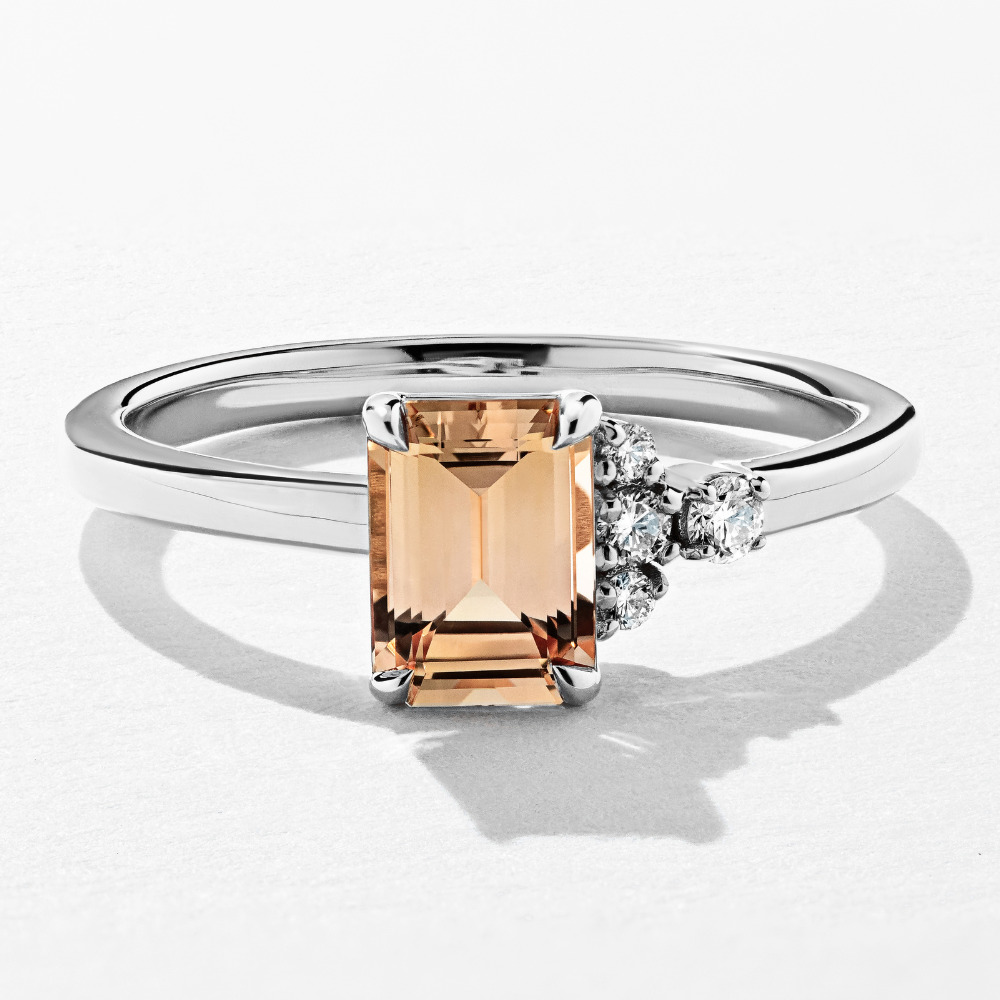 If you're looking for an emerald cut ring, you're in good company. Celebs like Beyoncé, Demi Lovato, and Jennifer Lopez are fans of this art déco shape. Our Juniper ring takes this stunning style to the next level, adding a scattered selection of Lab Grown Diamonds on one side.
Juniper Gemstone Ring: Starting at $795 (setting only)
---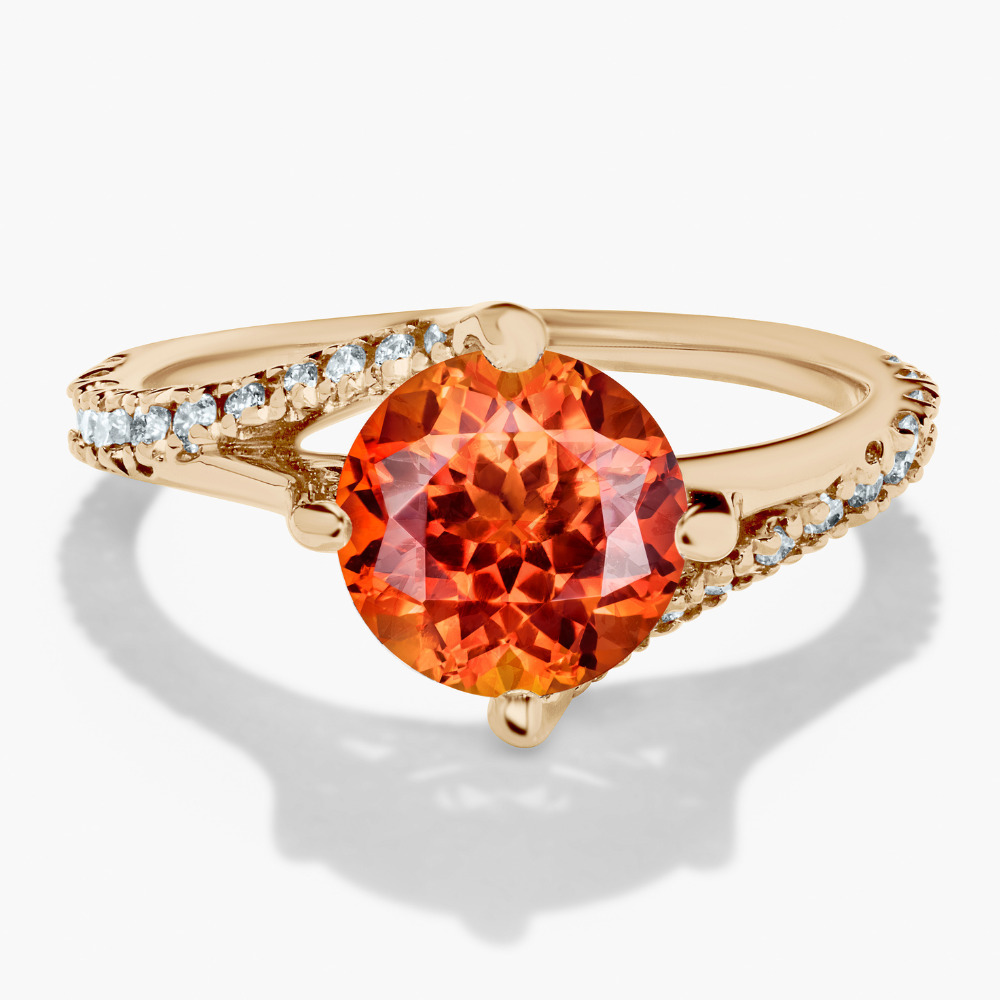 This gemstone jewelry collection just got hotter. The twisted shank of this ring mimics the shape of flickering flames, and the setting of the pavé Lab-Grown Diamonds appears to "melt" into them. Select a bright orange center stone to continue this fiery theme.
Flame Gemstone Ring: Starting at $1,095 (setting only)
---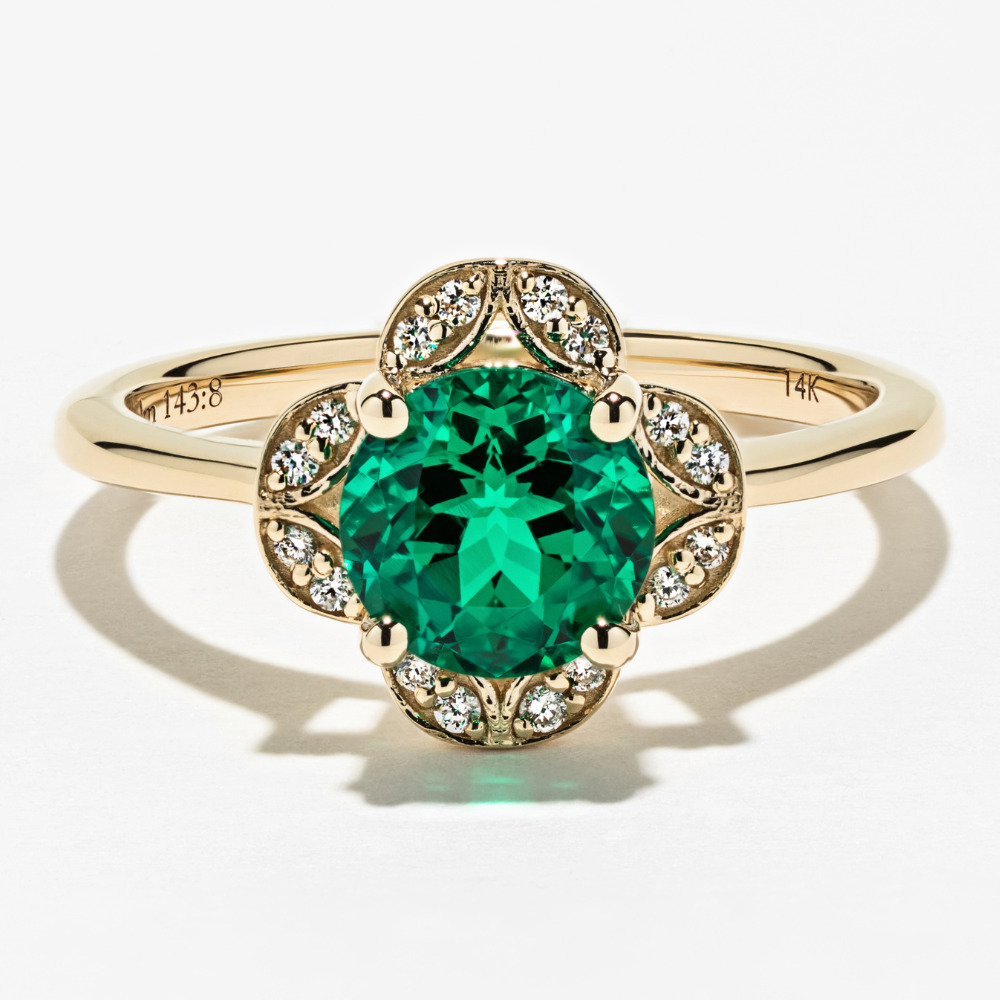 Reminiscent of a flower in full bloom, Grace evokes pure elegance. It houses a dazzling round cut gem that sparkles from all angles, further enhanced by a vintage-inspired frame of dainty diamonds. What more could you want from a gemstone ring?
Grace Gemstone Ring: Starting at $1,095 (setting only)
---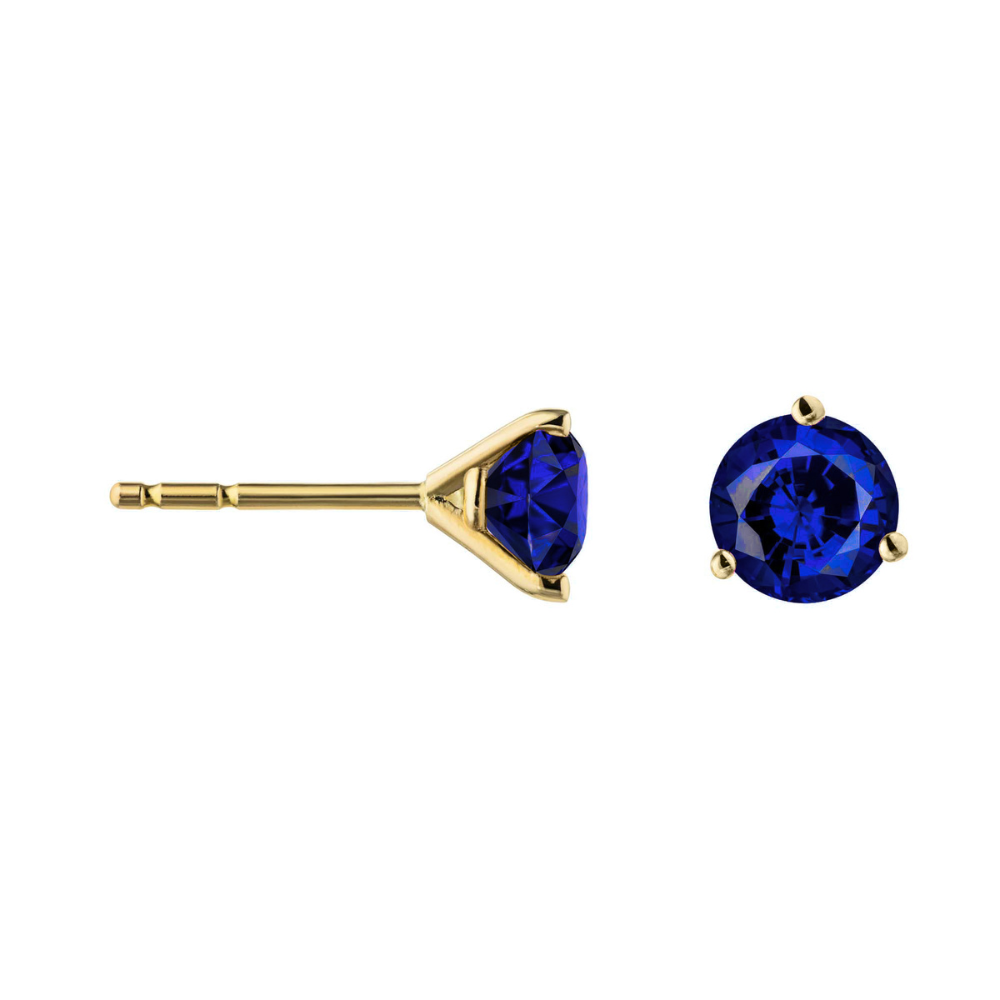 A jewelry box staple; everybody needs martini gemstone earrings. This pair holds round cut stones in an elegant triple-prong setting. Colorless diamonds are an obvious choice, so why not customize yours with a brightly colored Lab Grown Gemstone instead?
Gemstone Martini Stud Earrings: Starting at $390
---
Dress your neck in pure luxury with this shimmering gemstone pendant. With an array of colors on offer, a color-changing Lab Grown Alexandrite gemstone is a mesmerizing choice for this style — switching between deep purple and turquoise hues depending on the lighting.
Halo Twist Gemstone Pendant: Starting at $1,090

Discover Your Dream Gemstone Jewelry

Appreciate the full beauty of these bright and bold jewels by checking out the entire Gemstone Jewelry Collection. Here you'll discover an exquisite selection of earrings, pendants, and fashion rings. Every piece showcases stunning Lab Grown Gemstones that are even more special than their natural counterparts, courtesy of their ethical origin.