Most Popular Men's Wedding Bands This Season
Article by
When looking for wedding jewelry, engagement rings and women's bands get most of the glory, but we can't forget the guys! Today's men can find a large variety of bands in a range of ring widths and finishes so they are certain to find something that matches their personal style and tastes.
When shopping for men's bands, keep in mind that the wider the band, the larger the size will need to be to accommodate going over your knuckle. However, many men make the mistake of going too large and then end up losing it within months of the wedding. Make sure you work with a trained jeweler to get the perfect fit.
Let's take a look at some of our trending men's wedding bands.
A classic band with a variety of metal choices, finishes, widths, sizes, and the option to engrave? Yes please! The Canyon Men's Wedding Band is so customizable, you can make it yours in numerous different ways! Try it in rose gold with a stone finish for a modern take, or in platinum with a high polish finish for a classic look!
Customize the look with the following finishes: Cross Satin, Wire Matte, High Polish, Sandblast, Shiny Hammer, Satin Hammer, Satin Finish, Stone Finish, or Glass Bead.
The Canyon is available in the following widths: 2mm, 4mm, 5mm, 6mm, 7mm, 8mm, or 9mm.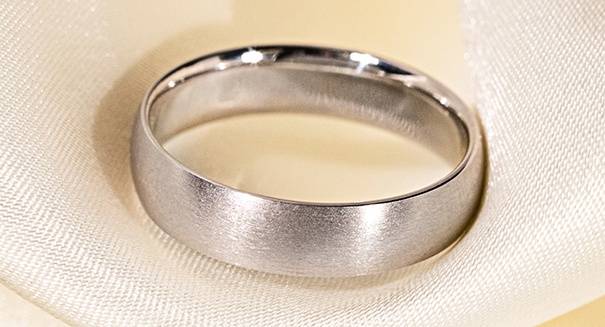 Another popular choice for men's wedding bands is the Vale Band, a flat, satin finish comfort fit band carved with twin high polish metal indents. You have the option to customize it further by making the indents two-tone for a truly unique look. The contemporary design is perfect for someone who likes tradition but wants a little extra flare in their ring.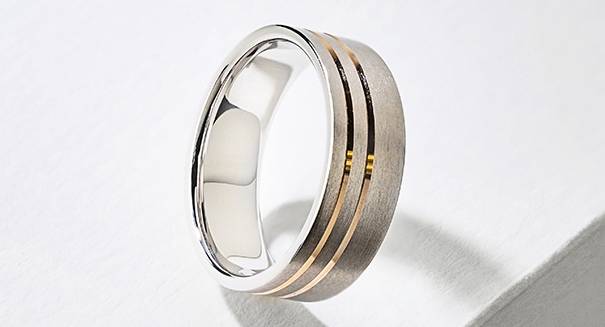 If you're looking for something with a little edge to it, the Dune Men's Wedding Band features a slightly concave design and smooth edges. The understated, sleek design can be customized in any width and also has an option of being created with a two-tone look. The Dune is a gorgeous representation of your commitment no matter your style!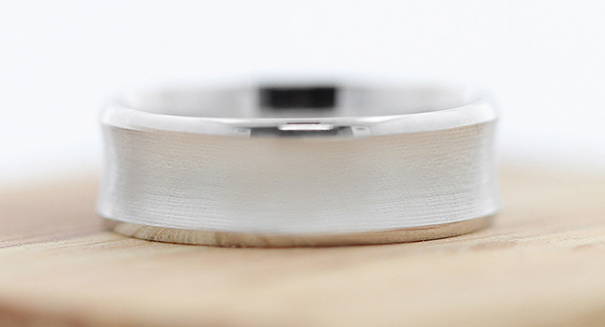 The Graeme is an accented wedding band featuring Diamond Hybrids®. Nine stones are channel set for a sophisticated, refined look that shines. Do you prefer lab-grown diamonds or gemstones? No problem! We can customize the band with your choice of accenting stones and with any finish or band width!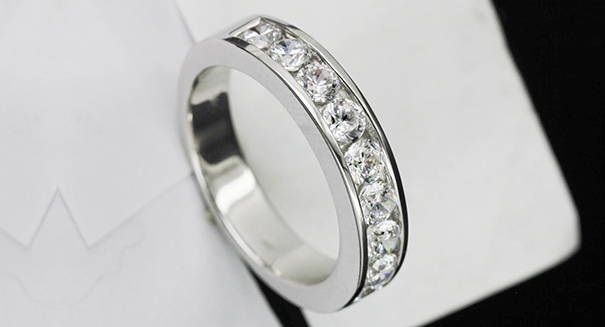 For those who like subtle shine but don't want lab-grown diamonds or gemstones, we recommend the Slate Men's Wedding Band. It is a diamond carved band with rounded edges providing the utmost in comfort. The many facets on the surface of the band are a unique contrast to traditional wedding bands, and it reflects light beautifully! This band can also be customized to accommodate any preference in finish or band width.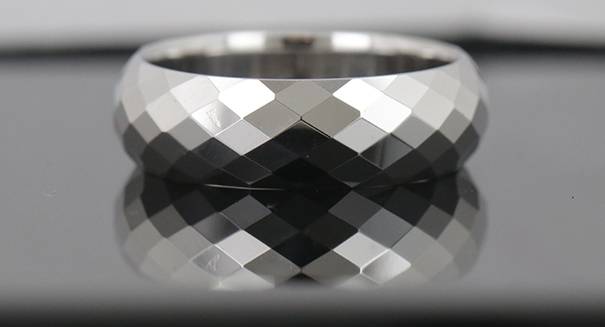 While much of the wedding ring budget tends to go towards the Bride's rings, the groom's wedding band can be made to reflect his dream ring and celebrate your love for one another!