Russian Diamonds Are Blood Diamonds
Article by MiaDonna
Since 2005, MiaDonna has been helping victims of diamond mining abuses; healing people, communities and the environment. The current situation in Ukraine is no different for us. Victims of this war are directly affected by an aggressor nation partially funded by the proceeds of their diamond mining operations. This is a classic case of Blood Diamonds and is really identical to what has historically plagued many countries on the African continent. Through the month of April we are channeling a portion of our profits to help the Ukrainian refugees who have been forced to flee their native homeland.
When people think of conflict diamonds, most will only think of those mined to fund civil wars on the African continent. However, the uncomfortable truth is that their reach extends far beyond Africa; they continue to fund countless conflicts worldwide, including the Russian invasion of Ukraine.
Although many are unaware of Russia's involvement in the blood diamond trade, the country is the largest diamond producer globally by volume and the second-largest by value. Moreover, it accounts for 28% of the global diamond supply, meaning that around one-third of the earth-mined diamonds on the market are Russia-derived.
A blood diamond is any diamond that has been mined in a war zone to fund the warlord's military efforts. The term itself demonstrates the catastrophic consequences of this highly unethical practice which revolves around violence and oppression.
Considering Russia's conflict with Ukraine, approximately 1 in 3 earth-mined diamonds on the market today are effectively blood diamonds, as their trade is likely being used to fund the invasion of Ukraine. Although the U.S. has recently placed sanctions on Russian diamond imports, blood diamonds are still being exported to certain countries such as India and then arriving in America as "clean" diamonds, thus fueling Russia's attack on Ukraine.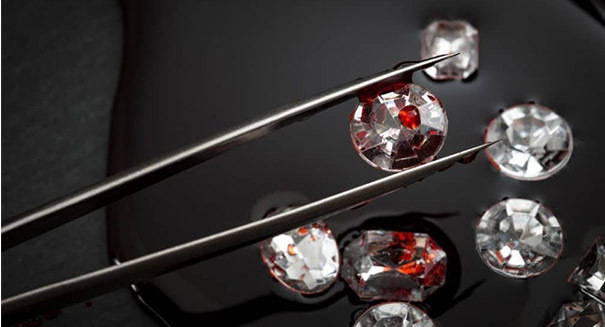 With your help, here is what we are doing about it:
Initial Support: We have provided accommodation and meals in Poland for 200 Ukrainian refugees so far.
Ongoing Support: Every conflict-free jewelry purchase from MiaDonna in the month of April provides an overnight stay and meals for a Ukrainian refugee in Poland. MiaDonna is partnering with Fundacja Ocalenie to provide their organization with much needed financial assistance that is put to immediate use helping countless refugees arriving in Poland daily. Fundacja Ocalenie is a non-government, grass-roots organization that has been serving the needs of Ukrainian refugees in Poland well before the current crisis unfolded.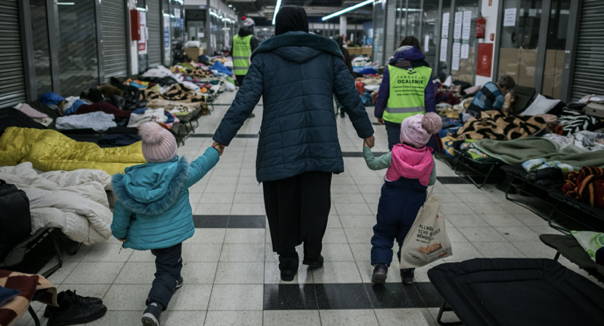 What Is Going On In Russia?

Russia's invasion of Ukraine has shocked the world, as the violence escalates daily and innocent civilians are subjected to unimaginable horror. However, most people are unaware of how the diamond trade contributes to this devastating conflict.
According to the U.S. Treasury, diamond mining corporation Alrosa is responsible for 90% of Russia's diamond production. The Russian government owns 33% of this corporation, and an additional 33% is owned by Sakha, the Russian Republic where the company's headquarters are located. Furthermore, Alrosa CEO Sergey Ivanov Jr. has been added to the specifically-designated nationals sanction list.
Ultimately, the corporation acts in the interest of the ruling forces in Russia, who are responsible for the atrocities happening in Ukraine right now. Considering the high volume of diamonds being exported from Russia, the trade fuels the ruler's military regime, crippling Ukraine further and causing unthinkable violence.
How You Can Help Stop The Blood Diamond Trade

No one can deny the seriousness of the active blood diamond trade, particularly in light of the current conflict between Russia and Ukraine. However, there are numerous things that we can all do to help support Ukraine and reduce the trade of blood diamonds.
1) Stop buying earth-mined diamonds:
Russia has been stockpiling diamonds, so when their assets get frozen, they will still have an ample supply of transferable goods that the Russian government can draw upon to provide a steady flow of hard currency. This can and will be used to fund their war efforts for years if the trade of blood diamonds continues.
Although it is likely that not all earth-mined diamonds on the market are being used to fund this conflict, there is no way to know if a product contains blood diamonds considering that only 1 in 9 diamonds can be traced back to their origin.
Seeing as 1 in 3 diamonds on the market are being exported from Russia, the risk of purchasing a blood diamond is incredibly high. Therefore, it is best to avoid buying earth-mined diamonds altogether to ensure that you are not contributing to Russia's economy.
2) If you own an earth-mined diamond, donate:
Although MiaDonna does not usually advocate for one-and-done donations, they can be life-saving during times of crisis. If you possess an earth-mined diamond but want to take action against Russia's blood diamond trade, the best thing to do is donate to a grassroots organization supporting Ukraine.
Large-scale aid is often inefficient; MiaDonna witnessed this firsthand as part of our work in West Africa during the Ebola crisis. Billions of dollars of American assistance did not reach those in need even though it was vital for their survival. Studies have even demonstrated that only 38 cents of each aid dollar reach beneficiaries in the form of food, clothing, and other emergency supplies.
If you are searching for a grassroots organization to donate to, we recommend:
Based in Lithuania, Blue-Yellow has been doing important work in Ukraine since 2014 and has close connections to those on the frontlines.
Razom for Ukraine has been fighting for the people of Ukraine since 2014; it is currently prioritizing its fundraising to provide urgently-   needed medical supplies.
The National Bank of Ukraine has opened a multi-currency account to raise funds for the Ukrainian Army. It is open for transfers from international partners and donors and Ukrainian businesses and citizens. For donations in USD, the details are as follows:
SWIFT Code NBU: NBUA UA UX
JP MORGAN CHASE BANK, New York
SWIFT CODE: CHASUS33
Account: 400807238
383 Madison Avenue, New York, NY 10179 USA
Bank account: UA843000010000000047330992708
Fundraising for those displaced by the conflict in Ukraine is easier than you might think, and it can make a huge difference to those in need. There are plenty of ways to get involved, such as taking on a sporting challenge (like the "Together We Run" events taking place all across the US), organizing an event at work, or simply asking for donations instead of birthday gifts.
3. Shop from a Social Enterprise that is B Corp certified:
If you are buying diamond jewelry, be sure to shop from a company that is a B Corp jewelry brand. Social enterprises like MiaDonna are     committed to repairing the damage caused by the blood diamond trade. Every Lab-Grown Diamond purchased at MiaDonna from now until April 30th will provide emergency food and accommodation for one Ukrainian refugee through the Polish organization Fundacja Ocalenie.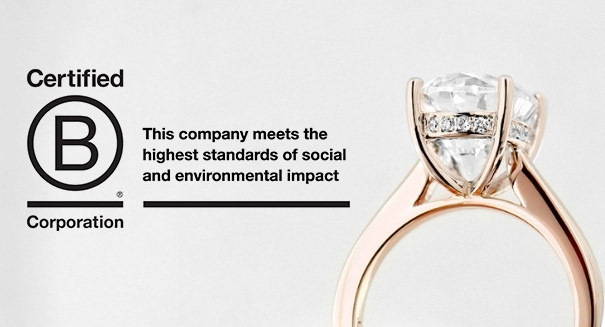 What MiaDonna Is Doing To Help

MiaDonna and our foundation, The Greener Diamond, were created nearly 20 years ago by a mother who wanted to protect other mothers and children caught in the middle of wars funded by earth-mined diamonds. We are committed to advocating for diamond mining communities and the environment, and we will continue to work until the blood diamond trade is eradicated.
Our Lab-Grown Diamonds are chemically, optically and physically the same as earth-mined diamonds, resulting in sustainable jewelry as beautiful as it is ethical. Our business refuses to support illicit diamond mining networks that fuel human rights abuses. We will not stand by as innocent civilians suffer at the hands of the Russian ruling forces.
Before buying your next piece of jewelry, we urge you to consider the horrific consequences of the blood diamond trade and opt for Lab-Created Diamonds as a socially-conscious alternative. Take a stand for Ukraine, and say no to Russian blood diamonds for good.