How to Measure Ring Size at Home
Picking out the perfect ring for a magical proposal takes precedence, but having the proper fit is essential, too. Instead of popping the question and then taking the engagement ring to get adjusted, use a measurement method and have the fitted ring ready and waiting.
Are you wondering how exactly to measure ring size at home? Here are four foolproof ways to get it right.
How to Measure Ring Size Effectively: Plastic Ring Sizer
The simplest, most effective method is using a plastic ring sizer. It slips onto your finger like a ring, helping you get a precise measurement based on what feels most comfortable. But it's hard to place it on someone else's finger without giving the game away, which might ruin the surprise! We offer a 27-ring plastic ring sizer for just $5 when shipped within the continental US.
How to Measure Ring Size Quickly: Printable Ring Sizer
Wondering how to measure your ring size — right now? If you need to measure a finger as soon as possible and can't wait for shipping, download our printable guide to get a measurement rapidly. Use the printed version to wrap around your finger in place of the plastic sizer, and get an accurate reading that way.
How to Determine Ring Size Subtly: A Ring Size Chart
A true-to-size ring chart, like the one on our website, will help you assess the right size from a pre-existing ring. It's the smartest way to figure out your partner's size without letting them know you are doing it — just borrow a nicely-fitting ring they wear on the correct finger and compare it to a realistic size chart.
Two Tips for Using a Ring Sizer
Fingers expand when warm, so don't do the test on cold hands.

Measure your finger at the end of the day, as they are at their largest then.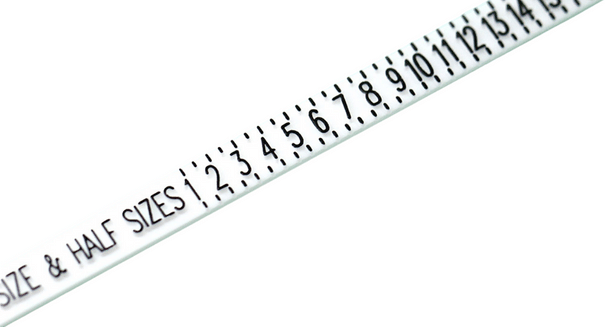 How to Alter an Incorrect Measurement: Resizing
If you don't get it right — no need to worry. We know that keeping it a surprise can be more important than the perfect fit, which is why our resizing services are free within 90 days of purchase. Although this isn't the ideal route — as she won't have the ring to show off to her friends and family — it is an option if needed.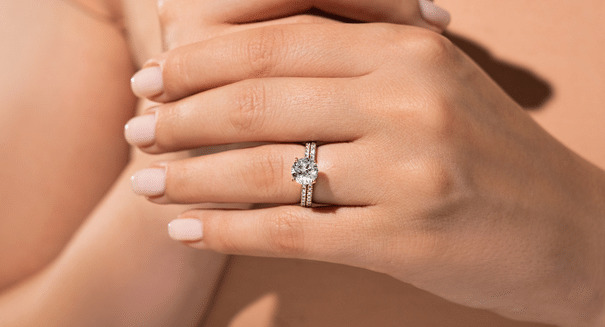 Heading to a jeweler for a professional measurement will get you the most accurate fitting, but these easy options do the trick if that's not possible. You could even ask a friend to subtly enquire about your partner's ring size. Or, you could also slip a plastic measurer onto their finger at night (if they are a deep sleeper).
When taking the measurements for their ring size, remember that you want it to be snug on the base of their finger so that it doesn't move over the knuckle without a little push. If you want a spot-on measurement, try several of these methods together to ensure you get the same size each time.